Industry voices
Launching STEM into the School Curriculum: What Kingsgrove North High School did first
As the world of work changes, the skills taught and the learning that takes place must also change.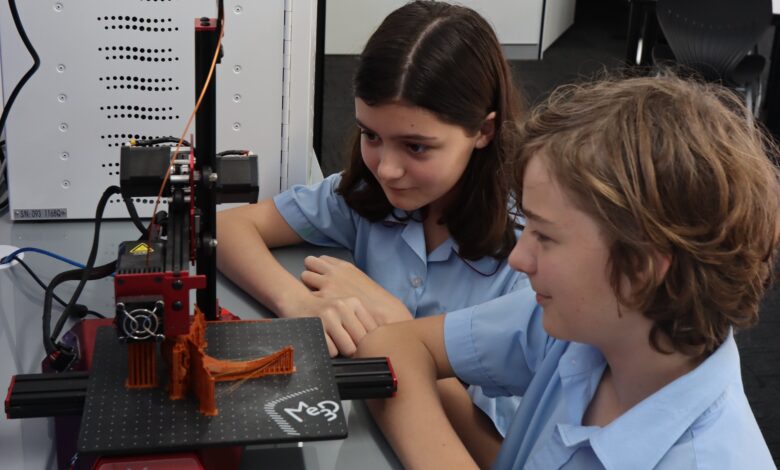 The knowledge generated in the education system is widening and the skills demanded by employers are growing so, at Kingsgrove North High School (KNHS), we are embracing the limitations schools face by prioritising science, technology, engineering, and mathematics (STEM).
This innovative subject is paving the way for contemporary teaching and learning and, as we at KNHS see education constantly evolving we too, need to foster creativity and divergent thinking, to motivate and inspire young people to generate new ideas.
Science gives learners an in-depth understanding of the world around them, and STEM provides students the opportunity to become better at research and critical thinking.
Technology prepares young people to work in an environment full of high-tech innovations and constantly evolving fields.
Engineering allows students to enhance problem-solving skills and apply knowledge in new projects and Mathematics enables students to interpret and understand data better, helping them to make more informed decisions.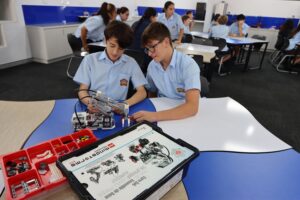 STEM education thus links these disciplines into a cohesive structure.
With a focus on practice and innovation, inquiry-based assessments, teamwork, and collaboration, students are free to explore and embrace flexibility and curiosity, while undertaking project-based learning activities. As ME Program Director and author of the NSW Stage 5 iSTEM Curriculum, Dr Scott Sleap explains: STEM teaches students how to problem solve in the real world. This is where project-based learning comes in as a dynamic classroom approach in which students actively engage in real-world challenges and develop deeper insight into effective strategies that solve problems.
KNHS has been paving the way in the delivery of STEM, not only within our school but also through networking in our local community. Over the past three years, we invested heavily in resources, upgraded facilities, and delivered an inclusive program with nine neighbouring primary schools.
Initial Planning and Ideas
Our journey towards future-focused learning began in 2016 when the STEM initiative proposal was first introduced as a trial with a focus group of volunteer students. The initial response was very positive, students were engaged, enthusiastic, and came away from the ten-week experience wanting even more.
This Raised the Question: How Do We Move Beyond the Trial Period?
Our first response was to establish a dynamic team of teachers from different key learning areas, Mathematics, Science, Industrial Arts and Technology. They were given the opportunity to embark on this journey by attending the STEM seminar developed by Dr Scott Sleap, lead developer of the iSTEM course, while he was a teacher at Maitland Grossmann High School in 2015. This was crucial to ensure we put together a strong team with expertise from various faculties. Careful planning also brought to light the need for ongoing staff training, the implementation of STEM into the curriculum and of course the development of a specialist room. The initial journey was far from smooth and required numerous team meetings, collaboration, critical thinking, and problem-solving strategies to overcome roadblocks as they were presented. Roles and responsibilities were assigned, and detailed organisation was launched.
Staff and Training
Once our dynamic STEM team was established, on-going training took place with an outreach program offered by Sydney University. Teachers took the initiative to upskill and ensure they had the knowledge, understanding and strategies to deliver the pedagogy successfully. Implementing STEM into the curriculum was effortlessly embraced by the school executive as we are always looking for new and innovative ways to engage our students. The coordination of programs and managing the increasing demand for STEM at KNHS gave new opportunity for a Head Teacher role to be created and Athena Varvaressos was appointed as our Head Teacher Future Focus.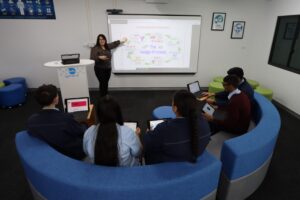 Launching STEM into the School Curriculum as an Elective
Following the success of the trial, STEM was officially launched as an elective in 2017 for Year 9 students. KNHS commenced with two classes initially and allocated a newly renovated STEM classroom for 30 students with exciting technology like the Mindstorm robots and a laser cutter. Student engagement, collaboration and critical thinking skills developed, blossomed almost instantly. Their excitement and keen interest to learn in this way was spread throughout the school. The new STEM elective grew in popularity there was now a waiting list of students who missed out exceeded the maximum capacity of the classroom.
More resources were purchased to enhance the already positive classroom climate. KNHS was extremely fortunate to have the support of The WestConnex Community Grants Project where successful applications for funding allowed the school to invest in more STEM resources and further support the project-based learning of our students. This included new modern and flexible furniture, a state-of-the-art Laser Cutter, 3D printers, a cabinet full of laptops as well as Spheros, robotics and drones. The room was also decorated with a large wall mural and printed blinds to keep with the STEM theme.
Community and Primary School Links
Since the 2017 STEM elective was launched, its popularity spread beyond the students in the school and filtered through our community. This high demand prompted the decision to organise a program for our local feeder schools. The Primary School STEM Workshops provided the primary students a taster of this innovative way of learning. The primary program has recently received acknowledgement from the secretary of the department and has grown from initially involving three schools to now catering for a demand of nine primary schools. This opportunity meant that we could offer two workshops simultaneously, a Stem Fundamentals workshop that involves the math and science behind sound and light and the making of a take home hologram, and a Coding Workshop that incorporates block coding, java coding and the use of our Spheros, Kais Klan robots, drones and Ozobots.
The Innovation Hub
The Innovation Hub is the latest addition to the school. The STEM facility supports our students in future-focused learning from Years 7 -10. The futuristic setting has a capacity to assist 50 students learn in an environment which is flexible, innovative, and challenging. The STEM resources include 3D printers, drones, Sphero's, virtual reality headsets, robotics as well as a hologram. Students are given the opportunity to explore, design and to take ownership of their learning.
The planning through to completion of The Innovation Hub took two years from conception and design in 2020 to the very first lesson that was delivered in February 2022. Ongoing conversations between the Principal, Adam McKeown (Deputy Principal) and the STEM Team revealed that firstly, the STEM program's popularity and demand was growing exponentially and secondly, the original STEM room had reached its capacity in terms of usage. We needed another space to cater for the increasing number of classes and community interaction.
To begin with, growing student numbers at KNHS meant that existing spaces were not an option. Further to this, when the idea was first floated, it became apparent that a much larger teaching and demonstration space was needed to take STEM to the next level. After carefully considering different spaces around the school a location was found but this required a lot of preparation and synchronised planning. It began with the removal of a pergola and outdoor seating. Approval was first sourced from our Assets people, and we were given the go ahead to design the new facility. Through research, we had heard of modular buildings that were designed and built off site, then put together in the designated space. Once we sourced some examples from a number of companies that had completed works for the Department of Education and underwent a lengthy tender process, Marathon Modular Constructions with a lot of collaboration provided architecturally designed plans where we could see our vision materialise.
As with any new construction, there was a lot of constructive discussion, back and forth emails, and onsite meetings to ensure that the needs of the school and the STEM program were being met. There were delays of course and the Covid-19 situation did not help but the building was finally erected in March 2021 and then the mission to have the internal fit out completed began. Unfortunately, more hurdles delayed the process and then there was more lockdown. However, the plans for the internal design were well underway and credit goes to Athena Varvaressos, Head Teacher Future Focus who meticulously designed the room with attention to detail and functionality.
The room was completed in November 2021 with all electrical, wifi, and security systems in place, as well as electronic shutters for security because of the large amount and expense STEM resources in the room including a hologram. Today we also offer one STEM class a cycle to our Years 7 and 8 students in the hope that we prepare them to become innovative, critical thinkers and problem solvers ready for all challenges that lie ahead in their learning journey.