BenQ Launches First EDLA-Certified Interactive Displays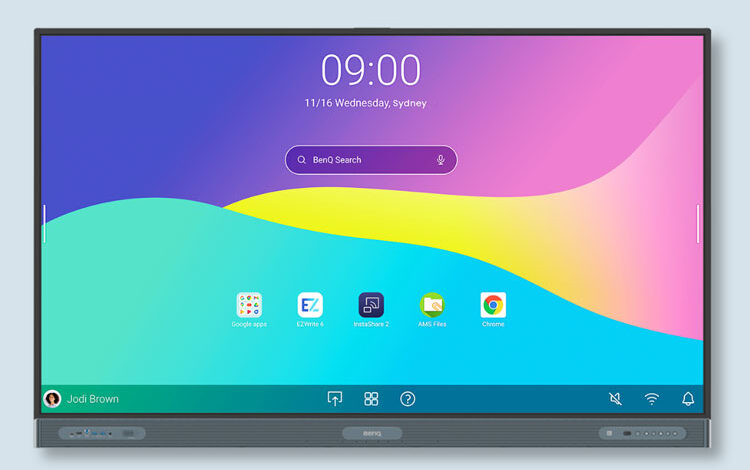 BenQ, a global leader in Display Solutions for Education, has announced its next generation of interactive displays, the BenQ Board Pro RP04 and the BenQ Board Master RM04. These boards will be one of the first to offer full support for Google Mobile Services (GMS) and are officially certified by Google Enterprise Devices Licensing Agreement (EDLA). GMS is Google's own collection of applications and APIs.
This new generation of BenQ Boards offers schools easy access to official Google services including Google Play and Google Classroom. It provides classrooms with a seamless experience when using Google Search and other Android applications natively on the BenQ Board's large touchscreen interface.
Google-Enhanced Teaching Experience
All RP04 and RM04 BenQ Boards now include Google's core applications, including Google Play, Drive, Classrooms, Gmail, Maps, Meet, and YouTube.
"Google Mobile Services available on large format interactive displays is a game changer. From the advent of Android based interactive panels, users have struggled to fully migrate their day to day workflow into classroom and office environments." Jonathan Lee, BenQ Business Manager ANZ, said.
"Now, with our new EDLA-certified interactive displays, teachers can access the full Google experience, as well as a plethora of educational apps, without having to use their own personal devices." Mr Lee added.
"Schools that want to use Google Workspace apps such as Classroom, Docs, Sheets, and Slides can now download and install them directly from the Official Google Play Store. This way, teachers can access their lesson files and work on them directly on the BenQ Board's touchscreen display."
The new integration also includes a revamped user interface (UI) that is designed for the classroom. Users can either type or speak to begin browsing lesson content directly from the Google Search Bar on the home page. Teachers can still use familiar BenQ widgets, set up app shortcuts, and customise their digital teaching space based on their needs.
Improved Learning with Whiteboarding and Screen Sharing
The RP04 and RM04 BenQ Boards both include the powerful teaching tools, EZWrite 6 and InstaShare 2.
EZWrite 6 is BenQ's innovative Whiteboarding Software that allows educators to teach lessons, take notes during class, import or display lesson content, and use a wide range of specialised classroom tools designed for different subjects.
BenQ's Wireless Screen-Sharing Solution, InstaShare 2, allows up to 9 students to simultaneously share and control their screens from their laptop, tablet, or smartphone on the BenQ Board. This tool can also split up the Board's screen based on the number of mirrored devices so students can take turns sharing ideas without interrupting the flow of the lesson.
Smart Tools for Classroom Accessibility
The new generation of BenQ Boards also boasts new features that make learning more accessible to a wider scope of students.
With Google AI powered Text-to-Speech, visually impaired students can hear text that is displayed or written on the Board. Multilingual Translation lets teachers and students understand lesson materials written in different languages.
Another helpful new feature, Optical Character Recognition (OCR), assists students and teachers with converting images and documents with blocks of characters into editable text. With OCR, they can easily create project drafts or develop lesson materials from print resources.
Smarter User and Device Management
Schools that already have existing Google accounts can easily transition to using BenQ Boards without any extra setup. The BenQ Account Management System (AMS) allows administrators to sync their Google Workspace Directory and instantly move user accounts into the BenQ ecosystem. Directory syncing is also offered for schools that use LDAP, Microsoft Entra ID (formerly known as Azure Active Directory), ClassLink, and other SAML-based identity providers.
Teachers can log in with their synced account and open their Google-hosted files directly from their BenQ Boards with their school accounts. Teachers can scan a QR code with their smartphone for quicker login or use one-tap login with their school-issued NFC cards.
The BenQ Device Management Solution (DMS) allows IT admins to control their BenQ Board settings remotely and effectively. With DMS, they can monitor device analytics, manage apps, push device updates, and configure the power settings of both individual and groups of BenQ Boards.
Upgraded Security Thanks to Google Mobile Services
With BenQ Boards, schools can depend on Google's built-in security features, like Play Protect, to protect them from malicious apps, phishing attacks, possible data leaks, and data loss. The RP04 and RM04 BenQ Boards run a proprietary version of the Android 13 operating system that is officially supported by Google Mobile Services, meaning that schools can provide additional protection against app vulnerabilities.
BenQ safeguards user data by offering encrypted network communications and proxy-level security options. BenQ also hosts its cloud services on a secure AWS cloud infrastructure.
ClassroomCare® Means Healthier Learning
BenQ Boards are the only Interactive Displays for Education with a full-fledged set of health-focused ClassroomCare® features aimed at creating healthy learning environments.
Both the Pro and Master Series are equipped with Eyesafe® Certified 2.0 screens that help to protect students' and teachers' eyes from high-energy blue light, which has been shown to cause eye strain and long-term vision-related issues. The Eyesafe® screens can do this while still maintaining optimal colour performance.
"Being the first in the Interactive Display industry to obtain Eyesafe Certified 2.0 is a clear testament to BenQ's Healthy Learning commitment. We ensure teachers and students have access to the highest quality education tools that are not only prioritising positive outcomes but also safeguarding health with our ClassroomCare® technologies," says Jonathan Lee, BenQ Business Manager ANZ.
The BenQ Board Pro also features Air Quality Sensors that monitor the levels of CO2, PM2.5, and other toxic pollutants in the classroom. This has the effect of keeping students more alert, improving their cognitive ability, and safeguarding their respiratory health. The RP04 takes this one step further with its built-in Air Ioniser that helps reduce particulate matter in classrooms.
In addition, both boards have certified Antimicrobial Screens and peripherals that reduce the risk of germ transmission.
Visit BenQ Education to learn more.
Find out more about BenQ Board Pro RP04
Find out more about BenQ Board Master RM04

Founded on the corporate vision of 'Bringing Enjoyment 'N' Quality to Life,' BenQ Corporation is a world-leading provider of Human Technology and Solutions, dedicated to elevating and enriching every aspect of consumers' lives. To realise this vision, the company focuses on the aspects that matter most to people today – Lifestyle, Business, Healthcare, and Education – with the goal of enabling people to live better, increase efficiency, feel healthier, and enhance learning. This includes a diverse portfolio of people-driven products and embedded technologies, spanning Digital Projectors, Monitors, Interactive Large-Format Displays, Audio Products, and Lifestyle Lighting. Because it matters.