News
Australia's first ever 'co-working' studio school campus opens
Australia's first ever studio school at a dedicated new campus in the heart of WA's creative mecca, - Fremantle – was officially opened this week.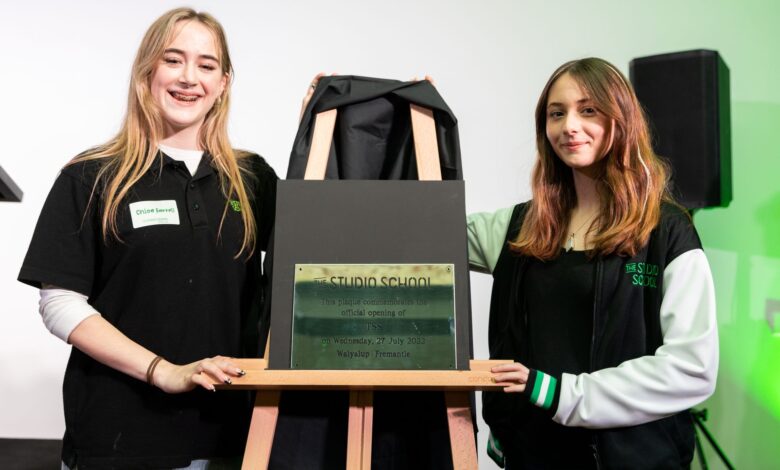 As the first purpose-built studio school of its kind in Australia, the campus does away with traditional classrooms and periods, in favour of a more collaborative workspace.
Created by All Saints' College, The Studio School takes inspiration from co-working spaces popular in the creative industries. Designed to encourage co-working and inspire creativity, The Studio School is centred on creating personalised pathways for each individual student.
Offering an alternative to mainstream school systems through a unique studio model, each student is provided with a bespoke program designed around their personal interests and abilities.
Unique mentoring delivered by highly trained staff and external mentors, from the world of business and industry, ensures all students receive support that adapts to their ability levels, including additional support for students who are gifted in particular areas.
Located at Walyalup Koort (previously Kings Square) in the heart of Fremantle, the new campus is in a reconfigured heritage listed building – a creative space designed to enhance learning.
The custom-designed building harnesses light and natural tones while incorporating thoughtful design elements to accommodate a range of learning styles. From dedicated co-working and meeting areas to bring students together with other learners, their mentors and teaching staff, to individual workstations for focused individual work and online learning, students can move between each area throughout the day to accommodate their unique learning path.
Belinda Provis, Principal, at The Studio School said the new campus will offer a completely new way of learning to Western Australian students. "We know that in the world of work, companies have been redesigning the way their teams come together in co-working spaces to better facilitate collaboration.
Ms Provis, said there was a huge opportunity for educators to re-think the way schools and learning is designed to apply co-working or collaborative best practice into the world of education.
"We want our students at The Studio School to forge their own path in a supportive environment that can adapt to their own unique learning needs – whether that is collaborating with other students and mentors, or working independently on their own project, The Studio School can cater for each individual's unique approach to learning.
"We are so excited to open the doors to our first cohort of creative, entrepreneurial students to our stunning new campus, and we can't wait to see what the future brings for them."
While construction of the new campus was underway, The Studio School was operating from a temporary space at Fremantle Oval. 47 students across Year 10, 11 and 12 are enrolled with a future capacity of 120.