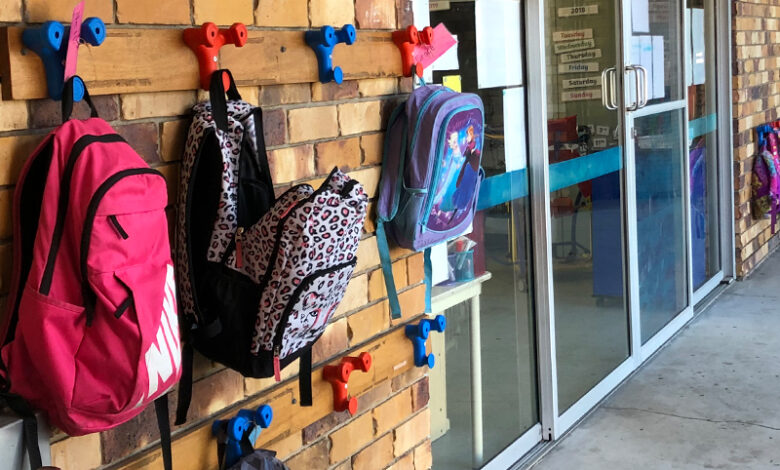 Aesthetic storage designs are very popular with teachers but might not be something boards or execs have spent much time thinking about.
However, there are significant benefits schools can receive by implementing simple but effective bag storage solutions.
The first benefit to focus on is wellbeing as clutter impacts mood for staff and students alike. Researchers have found that clutter distracts learners inside classrooms, particularly early primary-age students. Extreme clutter reduces student engagement and increases stress in the classroom. For teachers too, clutter becomes overwhelming and can impact lesson plans when students waste time unable to find their lunch, laptops, or book bags. Theft, vermin, and mould can also become an issue if piles of backpacks and blazers are a regular sight on school grounds. So what solutions are out there for schools?
Talking to the industry: tips for top tier school bag storage
"It's about space, practicality, safety, and cost," says Len Hyde, the Managing Director of Safehook who has installed bag hooks in schools around the country and seen first-hand the difference organised spaces can make.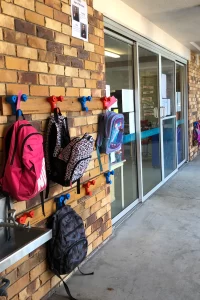 "Teachers learn to work with what they have, and they understand the problems better than most. Some, not all, school boards can be removed from the reality of dealing with the day to day and they tend to look at what they consider to be the bigger picture but risk overlooking important day-to-day issues.  
"As such, the benefits of having appropriate school bag storage can be substantial but are often overlooked. Port racks worked well when kids carried hard suitcases. Lockers made sense in principle but in practice are rarely used in the way they were designed. While many things have changed over the last 20 years, many things haven't! 
"Simple bag hooks create more space, improve traffic flow and mobility, save money with easy maintenance and cleaning, reduce pest problems, and meet all statutorily requirements, building and design regulations etc. This is without mentioning the aesthetic benefits of colourful hooks and clutter-free spaces."  
Avoiding bag storage pitfalls 
"One of the biggest mistakes schools tend to make is, not taking the time to understand that there are better options available to accommodate the storage requirements of today's schools. It's a mistake made by many, including those that remotely manage and or design new schools. Schools staff aren't always familiar with the requirements of the National Construction Code but they are responsible for providing safe, compliant work spaces. 
Building codes state that walkways and corridors need to provide a minimal accessible route of 1500mm in schools where corridors are less frequented by end users and or 1800mm where corridors are used frequently as is the case in most school corridors and bag storage areas. Conventional bag racks generally extend 5-600mm into a walkway; and they take up the same amount of space occupied or not. Meanwhile, bag hooks fixed to a wall extend no more than 100mm into the same space, facilitating traffic flow and minimising congestion." 
Case Study: Safehooks save space at QLD school
Len recently helped Carole Park State School swap out its old bag cubbies for wall mounted Euro V2 Hooks, released by Safehook this year. The Queensland school saved heaps of space thanks to its larger hook design, which Len says is ideal for accommodating and protecting felt hats and larger items: "The hook button spreads over a greater surface area to reduce pull points and wear marks sharper hooks might damage. With a dead weight rating of more than 150kg, made from UV stabilised polypropylene, these hooks can be installed indoors or outdoors and are manufactured to include SteriPlus Anti-Microbial additives inhibiting mould and mildew." 
Custom bag storage designs
"School bag racks should be built to survive in a school environment!", says Quantum Library Supplies Sales Manager Colin Matthews who has seen hundreds of custom-made bag racks installed to survive tough school environments around Australia.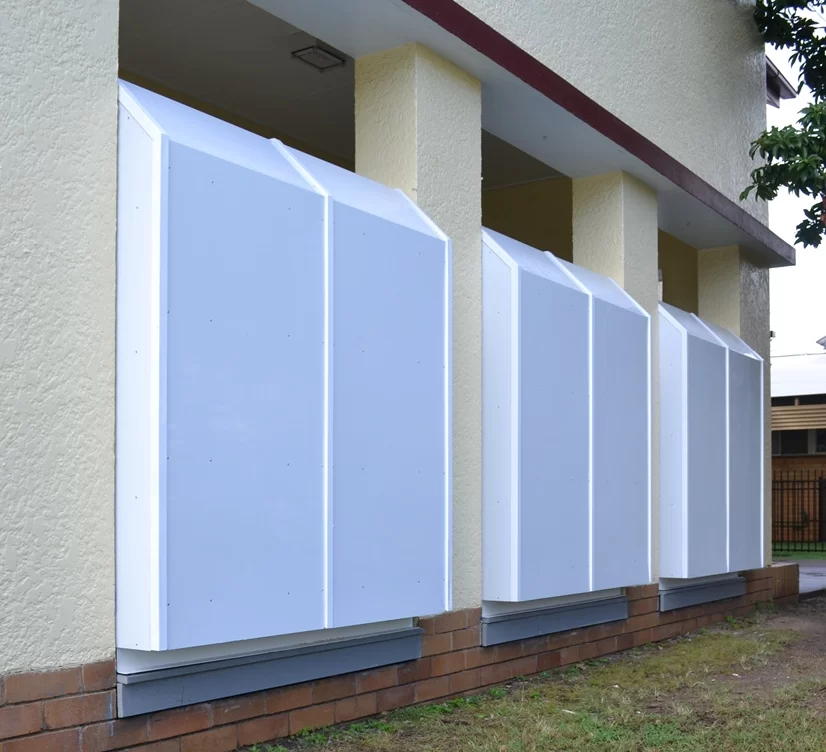 "We know that if any part can be dismantled, unbolted or unscrewed, it will be," Colin tells us: "Bag racks are for bags and not for climbing or sitting on! But it still happens despite discipline and rules. And… have you seen how big the kids are now? 
"When we see some of the pathetically weak bag racks being installed at some schools, we have a quiet chuckle. Don't the designers and suppliers remember being at school?" 
"We know from experience that school equipment has to be deliberately over-engineered in order to have a chance of surviving the rough and tumble of a school environment."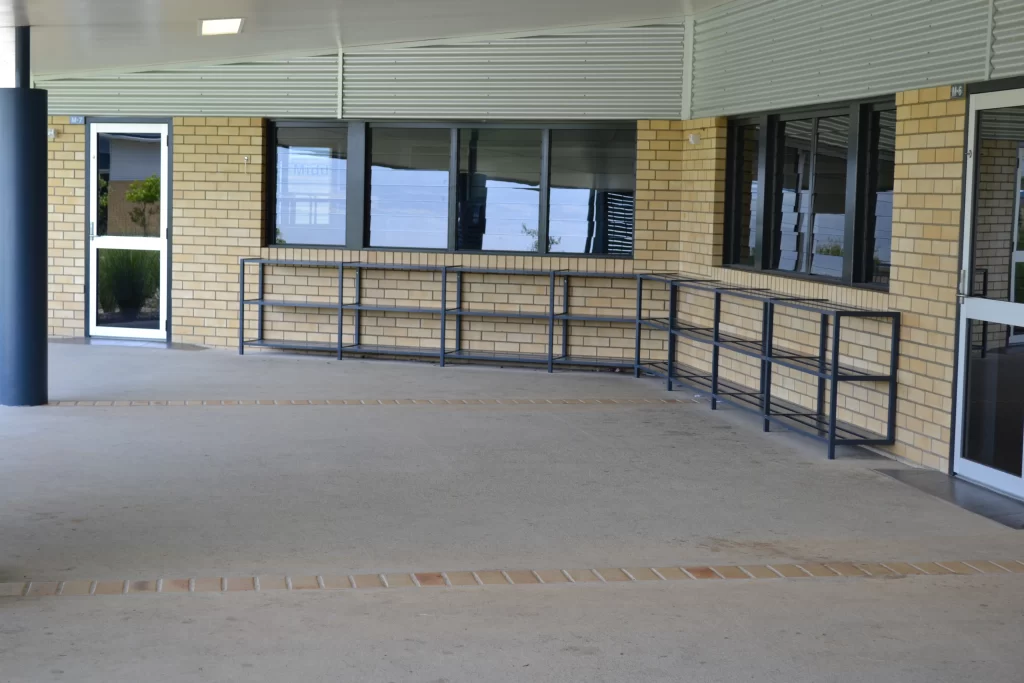 Passionate about matching up schools with storage solutions, Colin tells us: "Bag racks are open to many designs and options, as a whole market. Some are on sloping ground surfaces, some integrate with stairs, others are hanging off the side of buildings. I have worked with schools on internal and external installations: "Some were even designed to replace old asbestos bag racks in the state school system." 
He recommends that schools aim for custom bag storage designs that can more optimally meet their unique needs. 
Weatherproof installations 
Since many of bag racks are in areas exposed to extreme weather, Colin points out the importance of rain and weatherproof constructions, including "appropriate construction materials and rust resistant coatings for a long working life".  
For schools that need to store bags outside, exposure can be a big problem, so he recommends waterproof, tiered bays. Bag racks can also be installed in steep locations, he confirms. An installation can even be "suspended off the face of steps or decking, out into a void, it just needs custom-built suspension brackets under the units".  
Additionally, he says schools like to have long-term guarantees, and so the bag racks he installs are guaranteed for ten years: "They could quite easily be used by the next generation when these students have children of their own."