Events
The Sudsy Challenge: Teaching Empathy By Keeping Your Shirt On
The Sudsy Challenge raises awareness about homelessness and promotes conversations by encouraging students to keep the same clothes on for three days.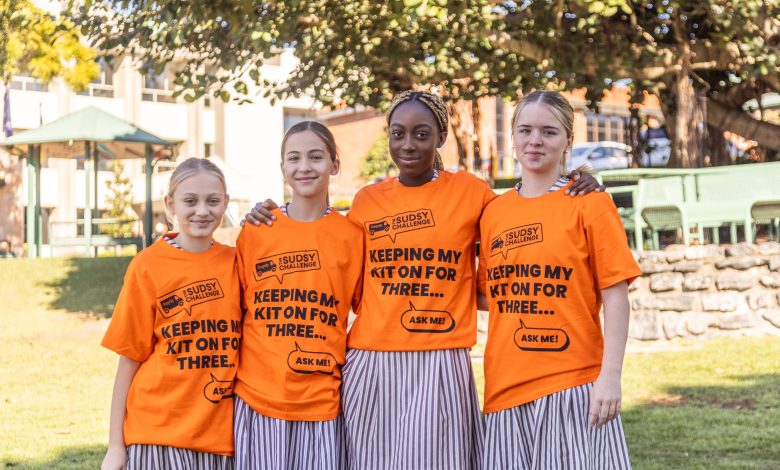 With more and more people doing it tough, it's encouraging to see research showing that the majority (87%) of Aussies recognise the importance of teaching children the value of helping others and being compassionate towards people in their community. Yet just over half that many people agree that it's important to proactively engage children in fundraising and volunteering.
Fortunately, there is a groundswell of charities and organisations like Orange Sky creating accessible yet meaningful ways to get students involved. Orange Sky co-founder Nic Marchesi says the Sudsy Challenge – simply keeping the same clothes on for three days – is an easy way to engage students and raise awareness of homelessness.
Orange Sky, well known for their orange vans, was launched in 2014 by then-twenty-year-old mates Nic Marchesi and Lucas Patchett with a single van in which they installed a washing machine and dryer and then drove to parks around Brisbane, offering people doing it tough an opportunity to clean their clothes. Soon this evolved to mobile shower vans and almost a decade later, Orange Sky provides free laundry, warm showers and non-judgemental conversations every week, all around Australia.
The Sudsy Challenge is a not only a fundraiser for Orange Sky to keep those orange vans on the road, but a way to engage school-aged children in a safe and meaningful way.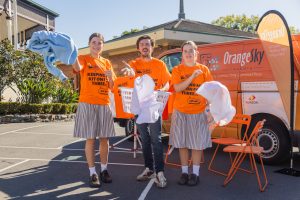 "We started The Sudsy Challenge as a way for everyone across Australia to start important conversations surrounding homelessness with their community," says Nic. "By keeping your kit on, raising funds and talking about it with those around you, you're helping Orange Sky to provide support, care and community for our friends in need. We are very hopeful that by schools participating in the Sudsy Challenge, it will further educate them on the state of homelessness across the country and encourage students to learn more about empathy and social responsibility."
Schools Sudsy Challenge
St Rita's College is an Independent Catholic day school in Brisbane for girls from Year 5- 12. Founded by the Presentation Sisters in 1926, and with a commitment to service, students are given many opportunities to be involved in outreach projects in the community.
"The Sudsy Challenge is a permanent event on our school calendar," says Michelle Siddiqui, Head of Rosa House at St Rita's. "Every year we reach out to a wider proportion of our community to not just donate, but to sign up and be part of our team. We currently have over 150 students and staff participating, and we are gaining momentum each year."
"Keeping the same clothes on for three days, although a simple task, is a great way to start conversations and help wash away stigmas and perceptions about homelessness. The message and conversations that this challenge generates are absolutely fantastic." Michelle Siddiqui
Where the Sudsy Challenge differs for schools, is that instead of being faced with keeping the same set of clothes on for three days straight, students can just keep their orange t-shirt (sent to participants who fundraise $48) for the three days of the challenge.
While schools can and do fundraise effectively by selling cakes and raffle tickets, the very intimate nature of involvement in an event like the Sudsy Challenge, provides a deeply personal experience that promotes empathy and understanding.
"The reason I take part is so I can help raise awareness for homelessness in Australia, and Orange Sky is a great organisation to spread this message throughout our school community and the wider community as well," explains Jemima, Year 12 and leader of Rosa House. "My school house group 'Rosa' has been taking on The Sudsy Challenge as a team for about five years now and it has just gotten bigger and bigger each year. It is so simple to get involved; it's just wearing a shirt for three days, but it creates so much awareness and conversations in our school community about an important topic."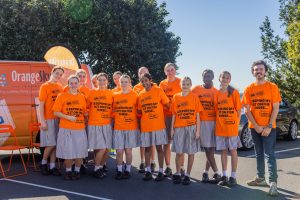 Lessons from volunteering
Orange Sky founders Nic and Lucas got their first taste of volunteering through a high-school initiative, and it proved a life-changing experience – not just for the two boys, but the countless thousands of people their ongoing service has touched.
"The charity we volunteered with provided free meals to people experiencing homelessness, or doing it tough financially. It was during this volunteering opportunity that Lucas and I, at a young age, became more aware of the challenges and hardships many people were facing in our community. We continued to volunteer with the charity until we graduated high school. With the values and lessons learned, and through the passion we had for helping people in need fostered during that time, Orange Sky was born," says Nic.
"Whilst at school I was very grateful for the opportunity to volunteer as it fostered a sense of purpose and a perspective of the world outside my classroom doors. From these opportunities, my passion for giving back to those doing it tough was instilled, and I can truly say Orange Sky would not exist without this experience. Volunteering provides students with an opportunity to develop social skills, explore possible career options, find their purpose and help others." Nic Marchesi
Imagine if, over the next decade, there was another set of Nic's and Lucas' from each school that signed up to do the Sudsy Challenge?
Michelle agrees: "For me, the most satisfying outcome of students being involved with The Sudsy Challenge is watching students hear the story of Nic and Lucas, who had an idea and used their privilege and education to act and support vulnerable people in our community. It empowers our students to think: 'maybe this could be me, so why don't I have a go at making a difference?'"
Orange Sky is not staffed by social workers or experts on homelessness, just hundreds and hundreds of empathetic volunteers who are good listeners and conversationalists.  
"We've learnt a lot by sitting down and having conversations on our six orange chairs, but the biggest lesson is that too many of us are disconnected from our community, and just a simple conversation can really make someone's day. The more genuine time we can make for each other, the more connected we'll all become," says Nic.
To find out more about the Sudsy Challenge visit: The Sudsy Challenge – Orange Sky : Home