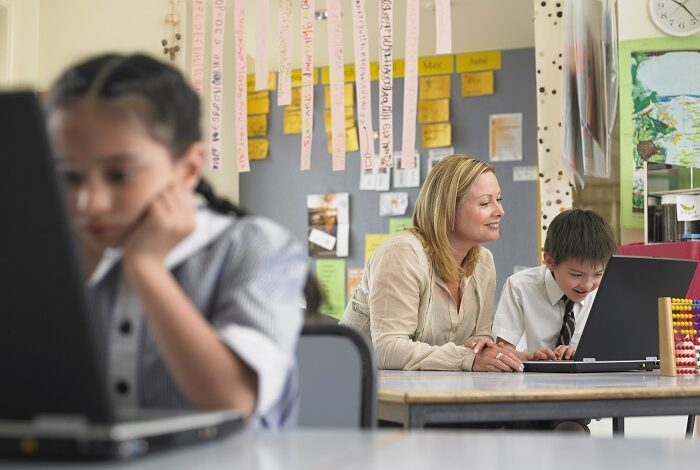 Principal of Dapto High School, Andrew FitzSimons and Albion Park Rail Public School deputy principal, Romina Maione have both won an Award for Powering Potential from the National Excellence in Teaching Awards (NEiTA) in partnership with The Smith Family.
This new accolade recognises the extraordinary contribution educators make to students experiencing disadvantage.
Andrew has fostered a range of innovative partnerships with local community groups and organisations like The Smith Family, to ensure children from low socioeconomic backgrounds are supported in their education.
A teacher since 1976, Andrew said his passion for the profession has not waned.
"Our work is real, authentic and valuable. If Dapto High School is a good school, then our community is safer, more creative, resilient, and productive," said Andrew.
"The role of principal gives me extraordinary opportunities and responsibilities, and while these can sometimes seem overwhelming, I love it.
"When I need a lift, I walk the school and my interactions with students inspires and energises me."
At Albion Park Rail Public School, deputy principal Romina Maione refers children who need extra support for their education to The Smith Family's Learning for Life program. In partnership with The Smith Family the school has launched an after-school Learning Club staffed by volunteers to give students who need additional educational support a hand up.  
An inspiring educator, Romina is committed to improving students' wellbeing and said her passion for education is just as strong today as it was when she started teaching two decades ago. 
"The greatest accomplishments are seeing students master a skill like learning to read or write, but most of all seeing them fall in love with learning," Romina said. 
"I have so many wonderful memories of the schools I have worked in, the students I have taught, the staff I have worked with and the families I have gotten to know."
Romina said receiving a NEiTA Award is a career highlight.
"I feel very honoured to be receiving such an award, especially considering the number of outstanding educators in Australia," Romina said.
Andrew also said he is quietly "chuffed" about winning a NEiTA Award.
"In my 18th year as principal of Dapto High School, this accolade is a new experience. I am in the second half of my professional career now and this award has energised and encouraged me," Andrew said.