Events
Swinburne swings epic expo to attract Year 12s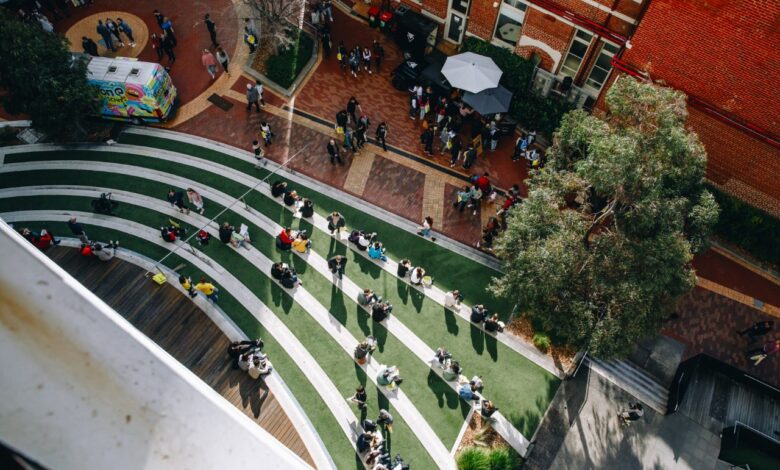 Some of Australia's hottest rising artists will take centre stage at Swinburne's Hawthorn campus on Friday 17 December to celebrate the 2021 Year 12 cohort's end of school year, receipt of ATAR results and the return to on-campus university life next year.
Swinburne will host an on-campus Change of Preference (COP) Expo, where students can have face-to-face discussions with Swinburne teaching staff about the courses they teach, learn about their career options and enjoy campus tours led by current students. This will coincide with the COP period – a five-day window where students can change their shortlist of course preferences.
Following the COP Expo, students can venture to another part of the campus to watch Mallrat, CXLOE and JXN perform at Swinburne's COP After Party – a must-attend live music event. JXN is one of Australia's most followed artists on TikTok and CXLOE and Mallrat are emerging alt-pop talent and two of the most exciting pop artists in a decade.
It is the first time an Australian university has partnered with Rolling Stone, Australia's premier music and culture publication, to curate a unique live show, bringing a mix of alt-pop, hip hop and R&B to students on campus.
"Let's be real, this year was tough for so many students due to the global pandemic – and no one understands that more than Australian artists," Rolling Stone Australia Managing Editor Poppy Reid said. "To bring both together for a huge celebration is something Rolling Stone Australia doesn't take for granted. With accomplished, genre-defying acts Mallrat, CXLOE and JXN all set to perform, the Swinburne COP Expo and After Party shares our commitment to connection and exclusive experiences."
Sarah Maddison, Deputy Vice-Chancellor of Education, Experience and Employability, said that the COP Expo and After Party is an important chance to celebrate the class of 2021 following two years of disruptive schooling.
"After missing out so many rite-of-passage events – like 18th birthday parties and school formals – this is the perfect way for students to reconnect with their peers and get excited about the return of campus life and culture in 2022," she said.
"It has been a really tough couple of years on these lockdown learners. The COP period is an opportunity for students to understand their options and learn about courses they may previously not have known about or considered. Connecting with academics, staff and current students to talk about their career options will be an important part of the day. We want students to know than they can change their course selection with ease, and have some fun while doing it.
"We hope the COP period will help expose students to a new world of options and showcase the innovative ideas created by our graduates that are driven by technology. Through guaranteed industry experiences across all undergraduate courses, our students are job-ready and primed for the modern workforce." Prof Maddison said.
Swinburne's new _now store will also be open, positioning Swinburne as the first university to have a retail presence dedicated to its creative and innovative graduates – including DG Designs, Memobottle and Little Green Panda Eco Friendly Straws – demonstrating that Swinburne not only helps connect its students with potential employers, but helps them build their own business from the moment they graduate.
The event will include show bags and free food and coffee, with a selection of wood-fired pizzas, gourmet burgers and ice-cream on offer, in addition to live DJs and a photo booth.
The Swinburne COP Expo will be held inside Swinburne's Advanced Technologies Centre from 10am to 3pm. The COP After Party will be held from 3pm to 6pm. Guests will be required to check-in via QR code and show proof of COVID-19 vaccination. 1,500 free tickets will be available for Year 12 students to claim. Both are private events, and students must register their attendance via the Swinburne website. Tickets will go live on Friday 3 December on www.swinburne.edu.au