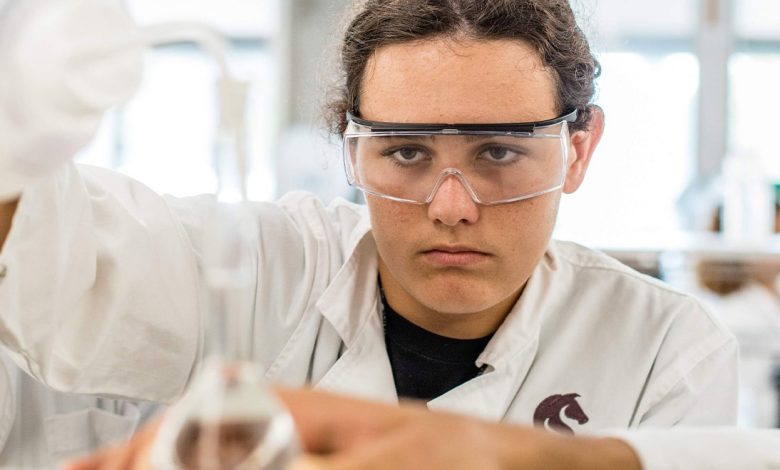 A musician who was 'unearthed' by radio station Triple J, a 2019 HSC student now studying medicine and a student who represented Australia at an international forum are among the winners in this year's Nanga Mai Awards.
The annual Nanga Mai awards, held virtually yesterday, recognise excellence and achievement by Aboriginal students, teachers and other department staff, as well as Aboriginal community members and schools.
Education Secretary Mark Scott said the awards recognised "outstanding students, outstanding teachers, outstanding support from communities and schools to ensure the spirit of Nanga Mai, which means we dream, becomes a truth in our schools and school system".
Aboriginal Education Consultative Group President Cindy Berwick said 2020 had been a challenging year so "it was great to be able to celebrate the many achievements" of Aboriginal education.
She said the recent renewal of the partnership agreement with the Education Department emphasised a commitment to "walk together and work together".
"These awards highlight the continuing journey of this agreement," she said.
Twenty-six people were honoured across 16 categories, including Maitland Grossman High School 2019 graduate Isabella Pearson who was recognised as the highest-achieving Aboriginal student in the 2019 HSC.
Isabella, who is now enrolled in the joint medical program at University of Newcastle, scored 96.6 on her HSC and said it was a "really great honour to win this award and also get an outstanding HSC score".
In an interview during the broadcast Isabella paid tribute to her grandmother who she had lived with during her HSC year.
"I always knew if I needed anything or was having a tough day I could go home and chat with her about it and she would have some really great advice, so she really helped me," Isabella said.
Aidan Whitehall, from Albion Park High School, received the Outstanding Achievement in the Creative and Performing and Visual Arts Award.
Aidan, who won the Triple J Unearthed High Competition Indigenous Initiative Award in 2019 performed one of his own songs for the event.
Dubbo College Senior Campus Year 12 vice-captain Khan Barnes was recognised for his outstanding achievements in public speaking.
The 18-year-old student is a proud Ngiyampaa man and well known for his commitment to his cultural heritage.
"It's a really big achievement for me, my culture is a massive part of my family," Khan told local media after winning the award.
Khan said holding the event virtually instead of in Sydney added an extra dimension to the award.
"I'm glad to receive it around my peers, the people I have spent the last two years completing my schooling with. It feels more connected to the people."
Warilla High School 2020 HSC student Thomas Nicholls was awarded the Outstanding Student Engagement Award.
Thomas has had immense success in his mathematics and science studies and Aboriginal Summer School for Excellence in Technology and Science last year.
In a video to mark his award and talk about the program, Thomas urged students to seize every opportunity.
"The biggest takeaway from this experience was just to try new things and take advantage of any opportunity that is given to you," Thomas said.
"It really pushes you out of your comfort zone and challenges yourself while meeting new people and creating new memories you'll savour it for years to come."
Warilla High School principal Michelle Brook said Thomas was a worthy recipient.
"Thomas is a very hard-working student who has excelled in a number of areas. His diligence is a wonderful example for other Aboriginal students to observe and imitate," she said.
"Thomas is a quietly confident young man who has contributed much as a leader to both our Aboriginal students and all of our students for his six years of high school."
Nominations for next year's Nanga Mai Awards are now open.