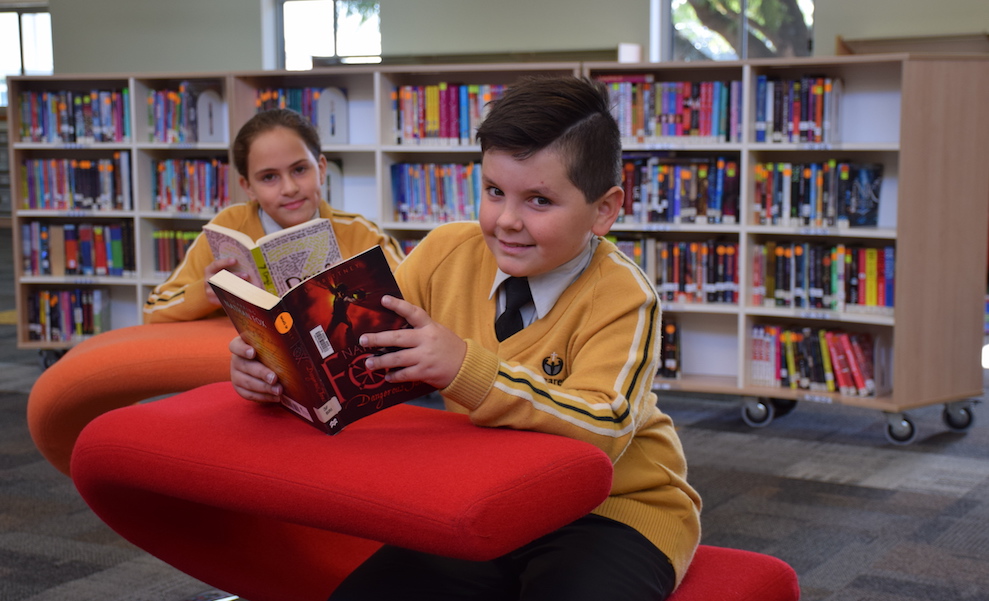 The joy of reading is something that stays with someone for life, and for many, this joy has its roots in the school library. Reading for pleasure is also inextricably linked with higher achievement and social mobility, making the school library a place of great importance in a child's life.
While the end goal is the same, the layout of today's library has changed considerably from even a few years ago to accommodate high demand for technology and the shift from a quiet space to a learning hub for both groups and individuals. It is imperative, therefore, that the design and resourcing of the school library is meticulously planned by those with expert knowledge. School News spoke to industry insiders for advice on refitting the school library.
Consider your space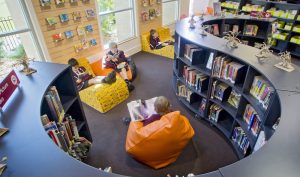 Start by looking at your space, advises Scott Reed from Resource Furniture, suppliers to hundreds of school libraries across Australia: "Consider any distinguishing features of the building or space that could be highlighted, and any window views that could be utilised to create pleasant, relaxed reading spaces."
The company provides a space planning consultancy service to evaluate the library space and create a space for people to connect, explore and learn. "We work out flow of traffic, create fun and interesting reading nooks and breakout spaces, provide a range of options for seating and standing, and ensure there is sufficient space for PC and own device plug in," said Mr Reed.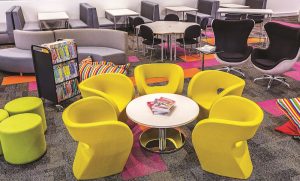 "The contemporary learning space requires innovative thinking to complement interaction and engagement with students," said Trevor McCann from library design and solutions company Raeco. "Setting up zones such as quiet reading, learning, discussion, breakout areas to plan and play are important examples to enhance student learning experience."
Shelving
Of chief consideration is the accommodation for books. How many shelves? What type? And what height? Most consultants will be able to provide guidance on the amount and types of shelving required once they are supplied with book collection numbers.
The number of choices for shelving is vast both for style – rollaway, wall mounted, floating, curved and shuttle, and for construction – steel, natural timber and acrylic.
All suppliers agree that there has been a shift to face-out display not only in emerging readers and picture books, but in graphics and fiction too. "For some time now we have been supplying a shelving system that displays the books facing out, not like before boring old spines," said Darrin Batty from Fry Library. "This reduces wear and tear on the books and the kids love seeing the bright illustrations. It's also a win for librarians as face-out displays are easier to re-shelve. We are also putting non-fiction books and series books into browser bins which serve as a space saver."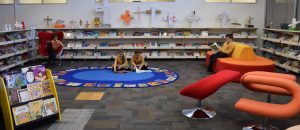 There is also a high demand for mobile shelving, especially curved units, which have a middle division to stop the books from falling back, said Mr Batty. "They require no installation, are easy to move even when fully loaded, and can be used to create quiet areas and different shapes in the library."
Acrylic spinners are a popular choice for novels and DVDs, as are acrylic-fronted bookcases for picture books.
Versatility of shelving units is essential, said Mr Reed. "We (Resource) have developed a steel shelf that transforms from a standard flat shelf, into a display shelf, a picture book tub and a CD/DVD shelf. This allows any shelf type to be completely interchangeable between any unit in the library and provides great flexibility."
Furniture
"Today's libraries are for communal work and independent study so are equipped with large tables and booth seating," said Doug Stewart from Quantum Libraries.
Furniture also needs to be easy to move so that spaces can be re-worked according to group size and use. , Mr Reed says flexible, modular furniture is essential, and today's school furniture is fun for users: "Breakout soft seating that is easy to move and re-configure is proving very popular."
Schools are also asking for nesting tables and mobile flip tables, both of which can be used for collaborative work yet easily pulled apart for small groups or independent study. As laptops and tablets find their way into the hands of even the smallest customers, demand for chairs and tables with integrated power continues to rise.
Mr Stewart encourages clients to ask where the product is manufactured, and how long it can be expected to last. "Check whether the supplier will be able to help if you have any problems with the product, and always ask if it is designed for your requirements as some companies will try to apply generic solutions."
At Raeco, Mr McCann says that schools need to ask their supplier whether the new learning environment will encourage engagement and interaction. "Is the furniture agile and flexible for a learning space? Can they provide a learning environment that encourages engagement and interaction?"
 Acoustics
With the shift away from libraries being quiet zones to multi-purpose digital learning environments, the consideration of acoustics for ceilings and walls is becoming a necessity.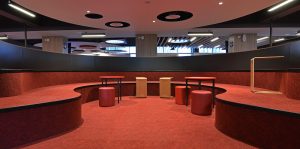 Acoustic specialists consult with schools to help them create learning spaces where groups can work collaboratively without noise negatively impacting on individual learners.
Acoustic treatments which have been engineered to absorb noise and reverberation can be fitted. All acoustic specialists agree that the first port of call is always the ceiling as that is the cause of most room excess sound reverberation and noise. And it is easier to treat a ceiling, because it isn't limited by windows, doors, shelving and fittings.
As a guideline, $1,000 of acoustic ceiling panels correctly positioned will make a significant improvement to the acoustics of any small to medium-sized library room.
Flooring
Choice of flooring will also impact on the library's acoustics, however, some can be very expensive. One cost-effective choice is acoustic-backed carpet tiles.
Wired for learning
All libraries require extensive provision for learners with laptops and tech devices, and new furniture includes choices of tables and seating with integrated power.
"Booth seating with built-in power is popular with more and more people bringing their own devices and requiring power and data facilities," said Mr Reed of Resource: "This also coincides with the increased need for laptop/tablet tables that hook around seating to provide a little working surface."
Questions to consider
Space
What are the distinguishing features of your library space?
Are they being utilised?
Are there views to consider?
Is there sufficient lighting?
Does the flooring need replacing?
Are the wall colours suitable?
Do the acoustics need improving?
Signage
Do you have prominent signage?
Are the service points clearly signed?
Would you like to incorporate wall graphics?
Collection
Can the collection be weeded?
What are the collection numbers?
What is the percentage on loan?
Circulation pods
How many circulation pods are required?
Would you like the option of sit and stand height pods?
Would you like to incorporate electric height adjustable pods?
Do you require storage? i.e. Door for hard drive, drawers etc.
Breakout furniture
What type of soft seating would you like to include? i.e. Individual chairs, ottomans, booths, incorporated power and data etc.
What type of tables do you prefer? i.e. Round tops with pedestal base, mobile flip tables etc.
How many chairs per table would you prefer?
Do you require tables and chairs for outdoor use?
Other considerations
What other services need to be considered throughout the library space? Will it be used for meetings, training or events?
Do you require tables and chairs for these spaces?
Do you require workstations or desks for offices and work rooms?
Do you require storage units for these spaces?