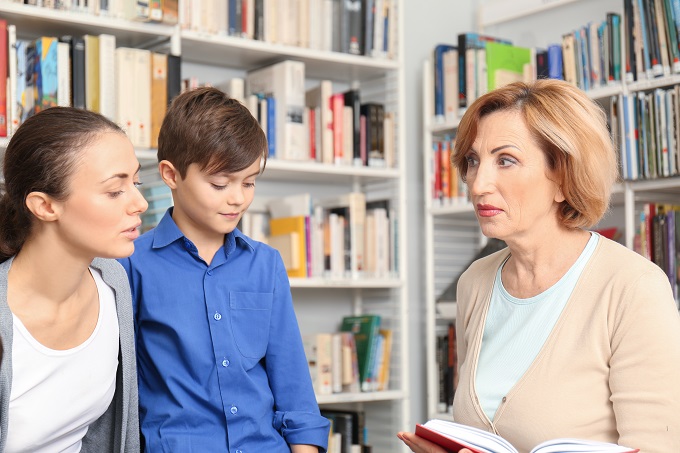 Hey teachers, it's that time of year again.
You know, the season when you feel like you have absolutely have no life and resist the urge to slap whomever says, "must be nice to work from 8 'til 3 and have the summer off!".
It's the time of year you find yourself telling your partner "good job" out of habit, and reaffirm that you couldn't possibly have your own children because there isn't a name on Earth that would lower your blood pressure.
Yes, it is end-of-year parent/teacher conference time. The most fun part of the year – said no teacher ever! Then again, parent/teacher interview season doesn't have to be a nightmare and if you are prepared it can be a productive joy… honestly!
We have gathered together some top tips for face-to-face interviews that just might help you survive that one meeting with that one student's parents…
Tool up! Promote effective home/school communication year-round by using interactive technologies so that students don't have to be paper messengers. Research has shown that family involvement in a child's education positively benefits everyone.
Have a school policy in place to inform parents how important it is to attend the conference by telling them what they should ask and how they can benefit.
Think of it as a business meeting! Avoid small talk and sandwich negative feedback between positive comments. Be direct with constructive criticism so there's no misunderstanding.
Have a record parents can look at so feedback doesn't feel subjective and you can avoid defensive flare-ups. Samples of student work provide great talking points. How do the parents think their child's progress could improve? When in doubt, ask questions!
Focus on wellbeing. Invite a dialogue with parents about their child's stress and workload. Does your school have resources they should know about? Voice any concerns you might have and feed any serious concerns up the school admin totem pole!
Finally, take care of yourselves: have plenty of water, some chocolate on hand, and breathe! Life as a teacher invariably involves worrying about other people's children. While there are tools that can help manage your time and smooth out interactions with parents, it's important to have a self-care routine so plan something to look forward to!
Industry viewpoint:
We heard from School Interviews' Andrea Chick about how teachers can reduce stress and time spent doing admin by using interactive technology.
Reducing paperwork and not relying on paper notes is a big thing teachers can do to save time… Every piece of paper that leaves your desk or arrives on your desk has to be dealt with: waiting for it all to return before you can organise something, keeps you in limbo until the last minute. Expecting children to be responsible for giving notes to parents or bringing them back in a timely manner (especially if they don't want their parents to come to interviews) usually results in more time spent trying to organise the appointment, than the actual appointment itself.
Interactive technology needs to be better than what it replaces or it risks being rejected entirely. For example, sending an email to parents letting them know that there is important news is great, but if it requires them to click on a link to a website that requires them to enter (and remember!) a username/password, then click two different menu buttons to find the important news – which could have just been included in the original email – is incredibly frustrating to parents. If it's too difficult, they will stop engaging at all. Any technology that is introduced needs to be easier for everyone.
If the people you need to reach don't engage and you don't get the response required, then you haven't saved any time at all. Parents often complain that they don't get enough notice for parent teacher interviews. Online booking requires no lead time. It can be set up in under 10 minutes, parents can book straight away and get instant confirmation of their appointment time.  Bookings can be left open until the very last minute because you don't have to coordinate sibling bookings with other teachers or send notes home. This gives parents longer to finalise appointment times and the easier it is for parents to book appointments, especially for parents where English is their second language, the more parents will actually book. Parents can reschedule appointments themselves if things change. You also don't need to spend hours coordinating available interpreters, when it happens automatically. If a teacher calls in sick on the day, or if the event needs to be postponed, letting parents know and rescheduling can also be done instantly, online.
Preparing parents for a parent/teacher interview
Nothing replaces face-to-face parent teacher interviews, especially when students are involved too. They say it takes a village to raise a child, but a partnership that involves parents, teachers and students – all working together as a team – is what it takes to educate a child. Helping parents to prepare for interviews is often overlooked. Choosing your own appointment time is great, but parents should also know how long they will be there for, if their child should attend too and where appointments will take place. All that information should be in one place and easy to find.
Providing parents with some suggested questions that they might like to consider before they arrive, or questions that would be great to ask their child before and/or during the meeting, gives parents more confidence, makes the best use of the short time available and can really set the tone for these conferences. Well thought-out questions and answers also show students that everyone involved in their education, thinks these meetings are important, because they really are.