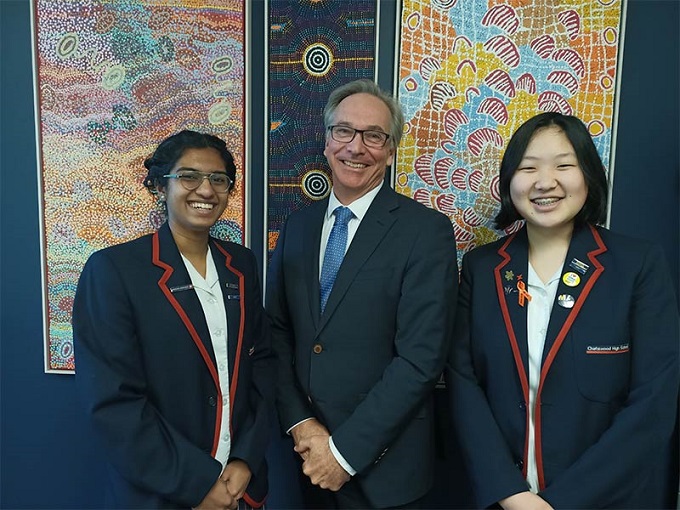 Two Year 12 students at Chatswood High School have launched an innovative online business to take the guesswork out of Year 10 work experience.
Hannah Ahn and Bagavathy Menon were left feeling disappointed with their work experience and created Yakka after forging plans for an original organisation with a mission to become Australia's number one work experience provider.
Yakka works by attracting businesses looking to secure work experience students to the platform. These organisations outline their ideal work experience candidate and how the company intends to structure the work experience week.
The most suitable student is then selected from a pool of applicants, making it easier for students to find the type of placement they are after and companies to find their perfect work experience match.
Bagavathy and Hannah started their entrepreneurial journey in July 2018 in the Generation Entrepreneur's iEntrepreneur incubator program where they received mentorship, funding and lessons in how to run a business. Since then, they have partnered with nine organisations to provide 14 work experience opportunities to high school students and have pitched their ideas to more than 300 people.
Bagavathy, co-founder of Yakka, said she was inspired to embark on the project by the school's curriculum.
"I'm a social science nerd and love to study economics, business studies and legal studies. Consequently, I am fully engaged in the business sphere and am able to draw from my understanding of legal frameworks to contribute to Yakka's ongoing success," she said.
For Hannah, developing skills through volunteering and freelance design work equipped her with the tools necessary to conceptualise this innovative business model.
"The valuable experience gained through my extracurricular commitments has allowed me to progress Yakka as a unique start-up through awareness of wire-framing, brand design and program development," she said.
David Osland, Principal of Chatswood High School, said Hannah and Bagavathy have engaged in a range of entrepreneurial activities over the past two years and have been amazing representatives for the school.
"Students at Chatswood High School begin their journey towards being young entrepreneurs through classes in the junior school where they learn design thinking, critical and creative thinking, team work and communication skills," Mr Osland said.
"The social science faculty is also involved in a project-based learning initiative in Year 8, Australian Business Week activities in Year 10 and the $20 Boss School Program.
"This grounding is supported by our partnership with Generation Entrepreneur and opportunities such as Bagavathy's UBS scholarship which allows students to gain industry experience while still at school."