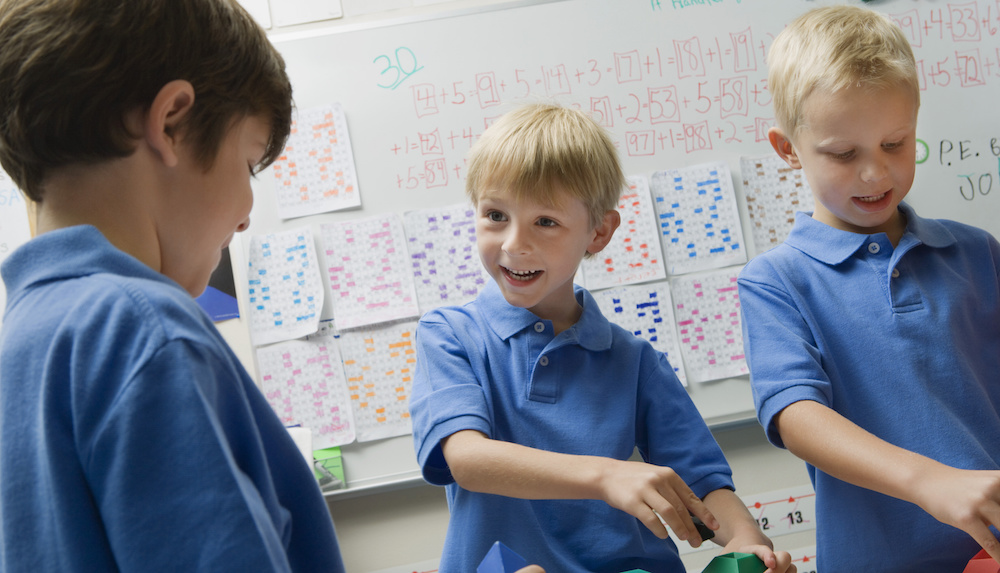 The Australian Education Union's (AEU) claim that over a quarter of a million students with a disability are not receiving any additional funding in school was widely picked up by the media.
But this claim misrepresents what the data shows, and falsely suggests that all students with disability need extra funding. In fact this is not the case.
So where does this figure come from?
The Nationally Consistent Collection of Data on Students with Disability (otherwise known as NCCD) recently released a report indicating that 469,000 students with disability received an educational adjustment in 2016.
The AEU compared this number with figures published in another report by the Productivity Commission in 2017. It stated that only 200,168 students with a disability receive support funding.
The AEU put two and two together to make five in a media release, arguing that this leaves around 269,000 students unfunded. But this is quite a leap.
In a nutshell, the NCCD and Productivity Commission differ in terms of what they count. The former counts adjustments made, and the latter counts funding – but only to some students with disability and not all. The two reports are not comparable.
This is because students with disability receive support in many different ways, and not all receive or need individually targeted funding.
It is likely that a proportion of the students unaccounted for in the gap between these two reports are being supported through a different mechanism (which has not been factored in when analysing this data), because they don't meet the criteria for individually targeted funding.
It is a misconception that disability must always result in educational support requirements or that adjustments necessarily require funding.
Let's take a look at how school disability support funding works, and the different funding approaches used.
What is the NCCD and why was it developed?
The aim of the NCCD was to achieve consistency between the many education systems in Australia, each of which does things differently.
A child can move from a government school to an Independent or Catholic school, or from one state or territory to another, and be subject to different disability funding criteria each time.
This inconsistency can mean a child may receive funding or support in one school system but not another.
The NCCD model was an attempt to get all of these planets to align. It was designed to assess the type and level of adjustments needed for students with disabilities to access the curriculum and participate in learning.
The NCCD was designed this way to minimise labelling, reduce the burden and cost of eligibility assessment, and provide information that is useful for resource allocation and workforce planning. It was a brave move by all involved.
Although the NCCD is not yet binding on any system – which is why children can still move from sector or system and be subject to a different set of rules – the original plan was for the NCCD to inform the "Gonski" disability loadings.
The model was first developed in 2010-11 by an expert advisory group that included representatives from every system and sector, and then trialled by PwC. The 2016 results were released earlier this month.
We are yet to see whether and how the NCCD will be used to allocate disability funding but it is critical that we all understand a few basics before this happens.
Why don't all students with disability need funding?
Disability support funding can be used to release classroom teachers from face-to-face teaching to enable them to collaborate and plan adjustments to curriculum and assessment.
It can also be used for professional development or to purchase equipment.
The vast majority of support funding is used to pay for teacher aide time, and there are legitimate concerns about their overuse, which can lead to social isolation, learned dependency, and stigmatisation.
There is a common misconception that all students with disability should receive their own little bucket of funding. However, not all students with disability need funding to access the curriculum or to participate in learning. It is important that limited funds are reserved for those who do.
Similarly, there are a multitude of adjustments that cost nothing extra or which can be provided from existing resources.
In recognition of this reality, the NCCD organises adjustments into four levels: quality differentiated practice – which is the minimum expectation of every Australian classroom teacher – followed by a hierarchy of supplementary, substantial and extensive adjustments.
It would be a mistake to interpret all adjustments in the last three categories as dependent on funding however.
For example, common supplementary adjustments include extra time for assessments and exams, simplified task sheets, and direct clarification from the classroom teacher. These types of adjustments should not require students to undergo assessment for individually targeted funding.
And if teachers plan for their students using the principles of Universal Design for Learning, simplified task sheets may not even be necessary.
How funding is allocated
The NCCD data does not discriminate between adjustments that cost additional funds to provide and those that don't.
The percentage of students reported as receiving adjustments in the NCCD therefore cannot be compared with figures quoted in the Productivity Commission's 2017 Report on Government Services.
This is because education systems allocate funding to support students with disability in multiple ways, and not all of these are included in the Productivity Commission's report.
The New South Wales government school sector, for example, provides flexible census-based funding to enable schools to support more than 62,000 students with "additional needs in learning and behaviour, regardless of the cause".
It is distributed to schools on the basis of enrolments and an index of learning need. Funding applications and eligibility assessments are not required for students considered to have "low support needs" and it is up to schools to determine which students with disability are supported with these funds, and how.
This funding is separate and in addition to individually targeted support funding, which is allocated to a further 8,000 students with disability enrolled in regular schools.
NSW also has a large network of support classes and special schools enrolling over 22,000 students with disability considered to have very high support needs.
In all, the NSW government school sector supports more than 90,000 students with disability; many more than the 50,447 noted in the Productivity Commission's report. The discrepancy is likely due to the exclusion of census and/or other needs-based funding that is not tied to individual students.
Although each system and sector has its own methods for allocating funding, most use a similar mix of census-based and individual approaches. As schools can choose how to use the funding they receive and which students to support, the NCCD is the best estimate of how many students with disability are supported and in what ways.
The funding of students with disability is clearly more complex than claimed. Careful reporting is essential to ensure that decisions about resource allocation are based on evidence and in the best interests of students with disability.
Whether students with a disability are supported well enough with the funding that exists, and how some funds could be better directed to benefit the many rather than the few, are the questions that really need to be asked.

This article was written byLinda J. Graham,Associate Professor in Education, Queensland University of Technology. First published on The Conversation.