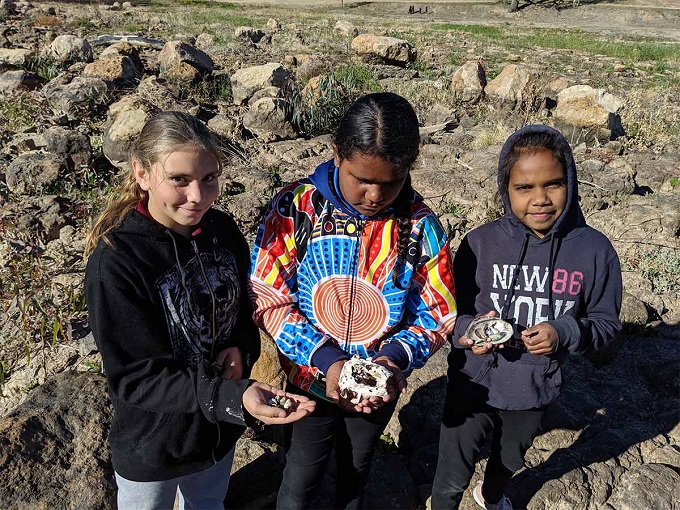 An innovative project is using technology to capture significant Aboriginal landmarks for the world to view online.
Branyi Bayann Niiringal (Yesterday, Today, Tomorrow), from the languages of the Dharug, Bundjalung and Wiradjuri people, is a new project designed to support schools and their local communities make Aboriginal sites accessible through Google Maps.
Students from Brewarrina Central School are piloting the project, working with Aboriginal Elders to identify landmarks significant to the local Aboriginal people that can be shared online.
The Year 5 and 6 students recently used cameras to capture 360-degree images of the heritage-listed Brewarrina Aboriginal Fish Traps. The students will research the site to add important information to the images before they are added as a virtual tour on Google Maps.
The project focuses on using a design thinking process to engage students to work collaboratively using information and communication technology to learn and share historical details about significant Aboriginal sites online.
Michele Hall, Executive Director Connected Communities, said the initiative aims to improve on a broader scale, student's understanding and appreciation of the magnitude and sophistication of Aboriginal cultures and practices.
"This project will help Aboriginal students to see themselves, their Country and the significance of their culture reflected in the curriculum," she said.
"It's been designed so all students can gain a deeper knowledge, understanding, and respect of the world's oldest continuous living cultures."
An online resource guides students and teachers through the project including information on engaging with Aboriginal communities and Elders to respectfully select a suitable site and technical details on creating a virtual tour.
A metropolitan high school will be selected to also pilot the project before it is made available to all schools across NSW.