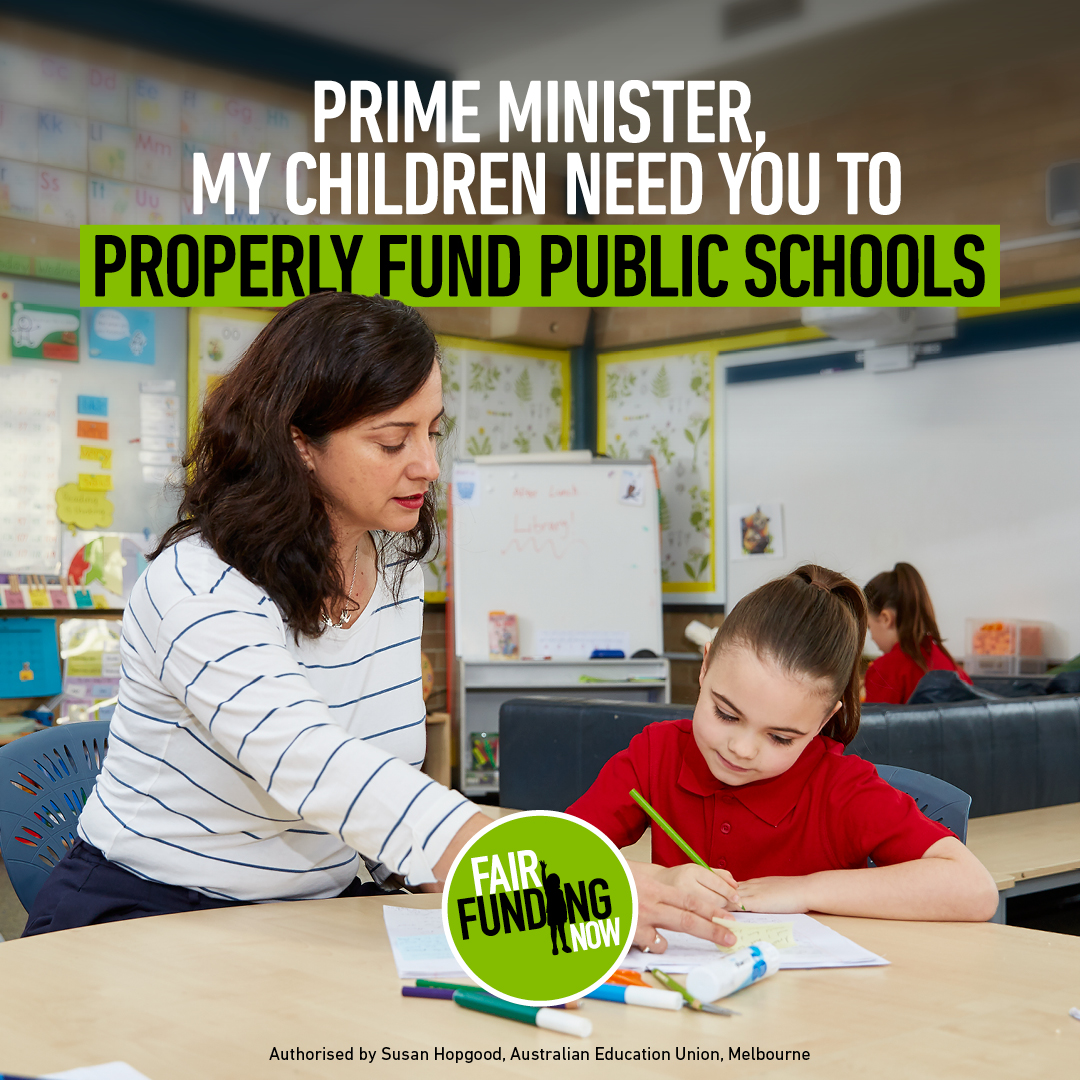 A week of action to highlight the impacts of the Morrison government's $1.9 billion in funding cuts to Australia's public schools has launched across the country.
The 'Fair Funding Now! Week of Action' kicked off  with a $200,000 advertising blitz on roadside billboards and shopping centres in marginal federal electorates in several states. The campaign blitz also rolled out on major national media outlets and social media platforms.
Thousands of campaign volunteers will spend the week educating parents and the broader community about the importance of fair funding for schools. The week of action will conclude with a community doorknock across marginal seats on Saturday 8th and Sunday 9th of September.
Australian Education Union federal president Correna Haythorpe said public schools are missing out on billions of dollars in urgently needed funding due to the Morrison government's cuts.
"Our Fair Funding Now! Week of Action will send a message to Prime Minister Scott Morrison that our community wants his government to fund schools based on need, not politics," Ms Haythorpe said.
"Our thousands of volunteers are sending the message to Mr Morrison that he must restore the $1.9 billion in funding his government took from the public school budget for 2018 and 2019.
"We want fair funding now for our public schools, so that our children have smaller class sizes, more one-on-one support, and additional teachers and support staff. 
"The 2.5 million students who attend public schools have been forgotten by the Morrison government. Our public school students deserve better," Ms Haythorpe said.
The AEU says that under the federal Coalition government: 
•    $1.9 billion has been cut from public school funding in 2018 and 2019
•    The federal government has arbitrarily capped public school funding at only 20% of the Schooling Resource Standard (SRS) while private schools receive 80%
•    Only 13% of public schools will receive enough funding to reach the minimum Schooling Resource Standard (SRS) by 2023.
"Our public school system welcomes each and every child that arrives at the front gate. Public schools are our universal education choice, a path to success for all," Ms Haythorpe said. 
"It is critically important that the Morrison government gives public schools a fair go with their funding."