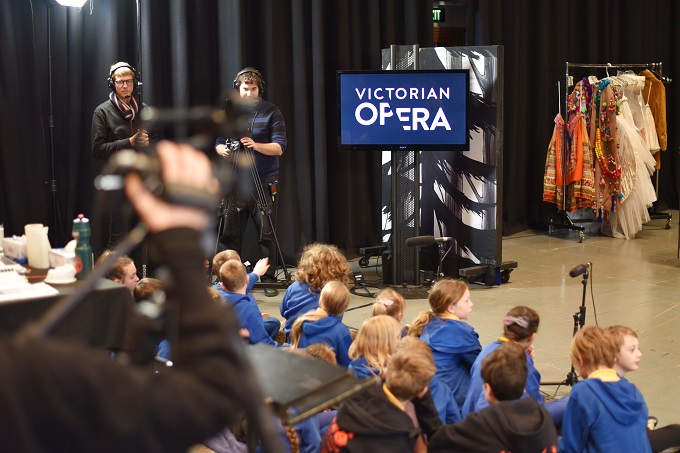 Students are taken behind the scenes for an exclusive and in-depth introduction to opera through Access All Areas: Livestream Program, which runs from 22 May – 17 June ahead of Victorian Opera's 2019 Education Production: Alice Through the Opera Glass.
The program, delivered across four 45-minute workshops, is designed to introduce primary school students to opera and develop their understanding of the art form. It teaches the fundamentals of opera production including different voice types, characters and story, costumes and sets, foreign languages in opera (French, Italian, and German), and typical instruments in an orchestra. 
Featuring a live audience of primary school students, classrooms can send questions throughout the workshop and are encouraged to interact as much as possible. Each workshop is also available on-demand and supplemented with additional classroom activities and Education Resources.
Launched in 2018, approximately 1400 students from 40 primary schools across Victoria experienced the program ahead of a live performance of Humperdinck's Hansel and Gretel. Students gained access to the rehearsal room, behind the curtain at the theatre, and into the orchestra pit.
Ioanna Salmanidis, Victorian Opera's Education Officer, notes that: "The Access All Areas: Livestream Program gives Victorian primary school students the rare opportunity of going behind the scenes to watch the creative process of an opera production unfold, providing them with an in-depth introduction to the work being staged."
"My favourite thing about this program is that it gives those students who are in more remote parts of the state the chance to experience a unique art form and hopefully engages them enough to inspire a lifelong love for it," she continued.
The program is available free to schools that purchase tickets to attend Alice Through the Opera Glass at the theatre. Schools outside a 150km radius of the performance venue, Arts Centre Melbourne, can livestream the workshops and performance into their classroom for $1 per student.
 
James Farley, Principal of Middle Indigo Primary School in Victoria's North-East, highlighted that: "As a small, rural, farm school, we were about as far removed from opera music as a school could be. However, Victorian Opera's livestream program had our students fully immersed in opera and the theatre production and they were soon seen warbling operatic tunes on top of stumps and out of cubbies in the playground! Parents also told of the singing and dress ups that happened at home too."
Victorian Opera's Access All Areas: Livestream Program is supported by the Department of Education and Training Victoria, through the Strategic Partnerships Program, and the Besen Family Foundation.