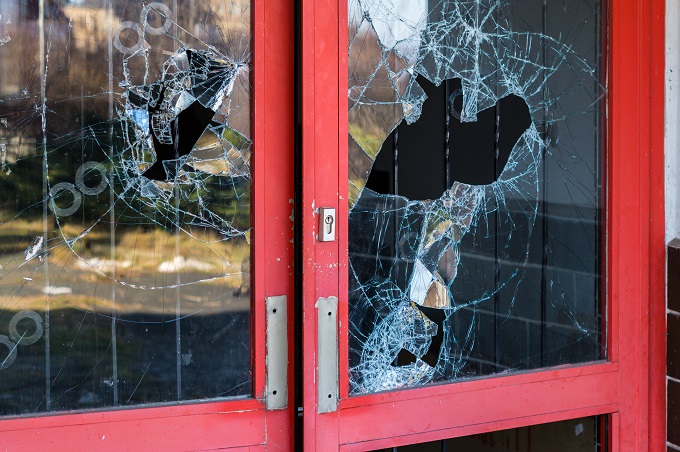 Just last term, four Adelaide boys were reported by police for theft of electronic items from multiple schools.
Two  Bundaberg schools suffered a blow when thieves broke in over a weekend in September. Elliot Heads State School principal Nichola Lister told News-Mail at the time, "it was just devastating". Students were particularly shaken up as the theft included 'icy cup' money that they had fundraised.
Not only did the vandalism mean the school would have to pay for repairs, as the robbers caused damage to the tuckshop door during the break-in, but it also frightened the students and staff.
The best thing schools can do is try to prepare and prevent as much damage as possible. Make sure your first step it to organise a risk assessment to identify problem areas and access points around campus. Once these risk areas have been identified, there are a multitude of ways to strengthen security: clearly signposting alarm systems, CCTV and security patrols is a great way to help deter vandals and thieves. A good tip is placing your signs behind a see-through fence, or somewhere clearly visible but difficult to deface or hide behind.
Security lighting is also important as it will prevent blind spots or dark shadows in CCTV footage and strong visibility will act as a deterrent if would-be vandals know they can easily be seen. Security lighting and infra-red lights have the added benefit of surprising trespassers, discouraging them from entering. The sudden bright lights may also trigger neighbours to keep an eye out or call police. Professionals should be brought in to install the lights in places that will be most impactful and most difficult to deface or disarm.
One of the most effective ways to secure a school after-hours is to establish a strong boundary. With a solid boundary fence, onlookers will note that the school is secure and students, parents and teachers can feel safe during term time. Fencing is popular, as trees or landscaping can be scaled and walls feel too imposing.
School News spoke with Eclipse Security's Greg Flood about his thoughts and views on creating a safe boundary for schools.
He suggested: "CCTV cameras can monitor the perimeter and key areas of a school campus and are an effective deterrent which has been proven to reduce criminal activity around and within education facilities. On top of that CCTV cameras are not only useful for deterring theft and vandalism but can also be particularly useful where bullying is a problem, or for monitoring student behaviour. I also recommend that a school should investigate the addition of an electronic access control system which can automate the locking and unlocking of doors and gates, manage keyholders and in some cases engage an emergency lockdown".
Interestingly, Greg revealed that while a school will have a security policy, they may not know that professional solutions can be completely tailored to their school, its policy and any security concerns and needs.
"Finding a reputable company that specialises in school security is an important part of a successful security policy, they will have the experience and knowledge which will ensure that this policy is planned and implemented effectively". 
"Quality products that provide the right solution and that are easy-to-use and maintain are important. Maintenance frequency will depend on the systems installed and the level of security needed, I generally recommend a full maintenance check be carried out at the end of each term."
Above all, schools need to remember to communicate with and address any security concerns that the various stakeholders may have i.e Parents, staff and students. Parents should rest-assured that the security systems installed are there to provide protection for their children and also to provide the school's staff and managers with the technology to respond to any issues."
"No two schools require the same security plan and many factors are taken into consideration.  The level of security needed may depend on the location of the school, the surrounding socioeconomics, even the size of the facility will also be a factor for consideration. If the facility is large, security upgrades will normally start in the main building and progress in stages throughout the facility to include a CCTV system, intrusion alarms, and access control systems. 
"Finally, and probably the defining factor for most state schools in the past, would be the budget.  In recent years budgets have been increased for schools to upgrade facilities, principals and facility managers are putting the safety of staff and students high on the priority list. Private schools are increasingly very security conscious, with many having the latest access control systems that provide automatic door locking, easy management of users and emergency lockdown."