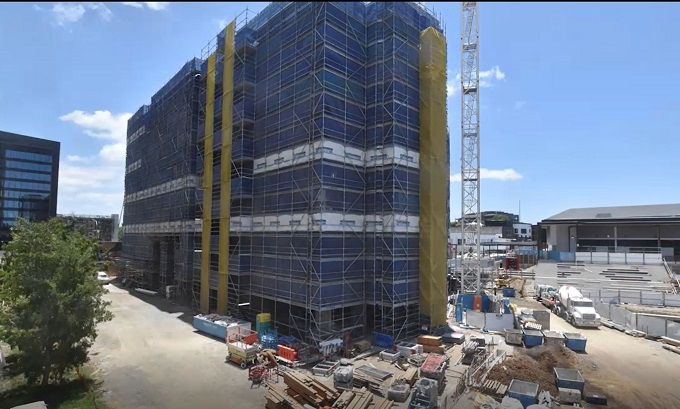 The highly anticipated Fortitude Valley State Secondary College has welcomed its first 150 students this term.
The year 7 students walked through the gates of the $100 million school, greeted by Premier Annastacia Palaszczuk, McConnel MP and Education Minister Grace Grace, principal Sharon Barker and 30 staff.
The Premier said it was a day that would be etched in Queensland's history books.
"It's so exciting to be here today to see the big smiles on the faces of the students, staff and parents at Fortitude Valley State Secondary College," the Premier said.

Image supplied: Fortitude Valley State Secondary College
"This school is the first to be built in the inner city in more than 50 years and the first vertical school in Queensland.
"Fortitude Valley is one of eight state schools opening across Queensland today, the most schools opened in one day in more than 30 years.
"Not only are we opening new schools but we're creating local jobs, with the construction of Fortitude Valley supporting 300 jobs and 53 apprentices."
Ms Grace said it was a special day for her local community.
"I'm honoured to be the local member for this flagship school in the heart of Fortitude Valley," she said.
"The students, parents, staff and my local community have been looking forward to this day for a long time and I'm so proud that our Government has delivered.
"It's incredible to think that this school would not exist if we didn't save the land from being sold off by the former LNP government in 2013.
"I'm proud to be part of a government that is giving all Queensland students the best education and I can't wait to officially open this school soon."
Ms Grace said a lot of work had gone into developing the school from scratch.
"I'd like to commend Principal Sharon Barker on creating a school that students will be excited about learning in every day," she said.
"The school has a team of 30 staff including six teachers and five teacher aides who are keen to get started in the classroom.
"Fortitude Valley is also supported by excellence in teaching through a collaboration with QUT.
"Hutchinson Builders has also done an amazing job of incorporating the charm of the old Fortitude Valley State School into the new learning centre and performing arts centre on Brookes Street.
"Students will be taught in this modern learning centre in 2020, with the seven storey, vertical junior learning centre on St Pauls Terrace to be ready to use by mid-2020.
"By 2025, this school will be able to accommodate year 7 – 12 students."
Principal Sharon Barker said after months of collaboration and decision making it was a great feeling to finally open the doors.
"Everything we've done so far has been leading up to the moment our foundation students walk through the doors today and start their journeys as Fortitude Valley State Secondary College students," Ms Barker said.
"The staff and I are incredibly excited about what our first year will bring, as well as how we can continue to build and grow our school community for the future."
The Premier said today was a momentous day for education in Queensland.
"My government is proud to have delivered eight new state schools which all open today, an investment of more than $450 million," the Premier said.
"More than 1,500 students will be welcomed by around 290 staff at these new schools today.
"We are so proud to have invested in these schools, delivering world-class facilities."
The new schools are:
Fortitude Valley State Secondary College
Foxwell State Secondary College
Calliope State High School
Mango Hill State Secondary College
Yarrabilba State Secondary College
Ripley Valley State Secondary College
Ripley Valley State School
Lee Street State Special School in Caboolture