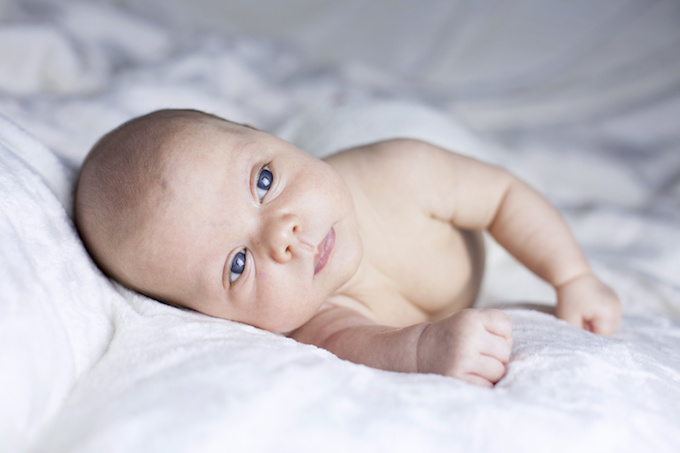 By a lucky coincidence, my baby was born at the beginning of the school year. This meant that I finished up at the end of the year and started maternity leave without going back to school.
It was good for the school because it meant they didn't have to worry about filling a maternity position as such (I am on contract, so no permanent position to fill, they simply just hired another teacher on the contract they likely would have given me). I am also lucky enough to be able to take 12 months off work to be with our little one, which means if I return to work full time after that 12 month period it would be at the beginning of the next school year.
You can read about my birth experience,
if you are interested in such things,
over at Actual Mums 
Going on Christmas holidays at the end of last year was a bit surreal. I knew I wasn't going back to school, and that soon I would have a new baby, but I didn't really know what that all meant. I have worked pretty consistently for the past 15 years, so knowing that this break I would be taking is for a long stretch of time definitely played on my mind a bit. It didn't really matter that I'm getting maternity pay for virtually the full 12 months I'm taking off (knowing money wasn't going to be an issue is a good feeling), but more that I wouldn't be 'working', something that is a big part of my identity.
Fast forward to the first few days of the term, when students are still at home and the teachers are preparing for the year. I felt a bit like I was missing out (FOMO anyone?). Though I must say I wasn't too sad about missing out on the (usually pointless) PD and hours of doing all the box-ticking exercises while not actually preparing for the year. Besides, my baby was born during that week, so I wasn't thinking too much about it really!
Over the next few weeks, while I was adjusting to this new and exciting life as an actual mum, I was also missing my job.
I love my job. I love my school kids, I love teaching them, I love interacting with the other staff, I even love working. To know that all of that is there, plodding along without me, was a hard thing for me to wrap my head around. My kids were meeting new teachers, but I wasn't meeting new kids (except my own biological son of course!). My teaching friends were preparing for classes, dealing with the thousandth timetable change, doing all the beginning of the year stuff. I was missing out on the endless beginning-of-the-year rants and complaints; re-explaining the school rules to the students who seemed to have 'forgotten' them over the holidays; planning new and exciting ways to present the content; helping out new staff and reconnecting with old staff; having the routine of school/work life back.
It would be at weird times that I would miss it. Like the 2am breastfeeding session, or the midday nap. Seeing other teachers post about it on Facebook made it better but also worse.
Now don't get me wrong, I wouldn't give up my new mum status for the world! I think it just surprised me how much I miss it all.
Once my husband went back to work (he was able to take a full month off work to help us all adjust to this new life and family dynamic), it hit me even harder. He was going back to work, and that also meant back to adult socialisation, mental challenges, routine, the outside world. All of that which I was missing out on.
I had a new routine to wrap my head around, a new 'work' balance to find. This one was much more involved and all-consuming. I think part of the lure of teaching is the 'ending' times you get – end of the school day, end of the term, end of the year. You know that there is an ending, a break, and then a new and exciting beginning, always just around the corner. Being a brand new mum doesn't come with any sort of 'ending', the routine cycles endlessly from the moment your baby is born. First that cycle is feed-sleep-play-poop, and as your child grows the cycle stretches out, but it never ends. As a mum, you never get that break. Even when you have time away while someone else looks after bub, you still have to be prepared to drop everything and return to that endless cyclic routine. That is something I am still struggling with now, two-and-a-half months after bub's birth.
It took a good few more weeks before the FOMO feelings started to wear off a little.
All through that time I kept thinking and talking about when I'll be going back to work. Would I return to the same school? Would I go back full time? What sorts of jobs are advertised now? Could I do any of them now, while still being on paid maternity leave?
I kept imagining my work life, and how different it is to be a new mum to a new baby.
I would think long and hard about the things I miss. It's funny how absence makes you remember all the good things so vividly. There are certainly a lot of things I don't miss, but I'm not going to list them here. I'd rather focus on the positive things about teaching!
I miss interacting with up to 150 different people each day. I miss chatting with students and staff. I miss all those little teaching moments that happen in the classroom and out in the play ground. I miss the banter with the students. I miss the power plays of students who think I'll be a push over. I miss the staff room discussions about every topic under the sun. I miss the light bulb moments when my students finally understand something.
At times it's quite tempting to just go back to work. Bub can go into daycare, I can express milk, and I can somewhat return to the life I had before. One of my friends felt these feelings to the extreme that she genuinely explored the option of returning to work and having hubby stay at home with the baby. Knowing someone else felt similar feelings did make it all a bit easier to handle.
Something my own mum said to me has really resonated – The change of lifestyle and drain of being tired all the time and fear of the unknown takes its toll on you and going back to what you know well and do well is a big lure.
It's hard, but I do love being a mum. For the time being at least, I'm determined to stick it out and be a full time mum. It's what I always thought I wanted growing up, but the shift in identity is interesting to go through – I'm now Emily; daughter, sister, wife, teacher, and mum. Actual mum. Not just school mum.
I wonder how it will all change as the year progresses.