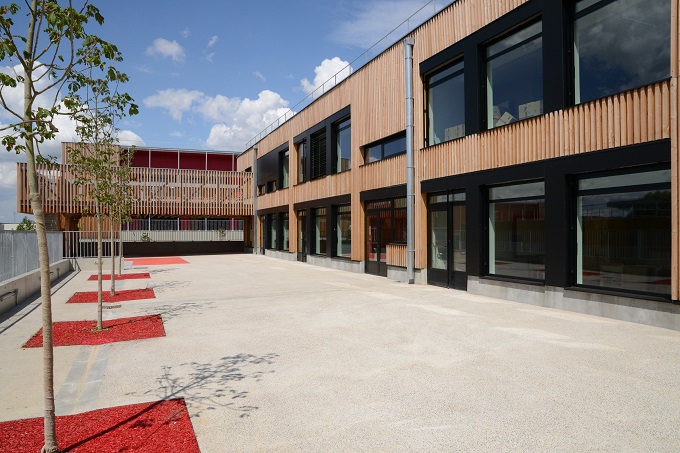 Education Minister Grace Grace has  turned the ceremonial first sod on a new $64 million high school at Coomera, which forms part of a $240 million infrastructure blitz at 16 schools across the Gold Coast.
While on the Coast, Ms Grace also opened a new performing arts centre at Pimpama State Secondary College and inspected the library and refurbished special education block at Pacific Pines State School.
"The Palaszczuk Government is injecting $240 million into new facilities such as learning centres and halls right across the Gold Coast, from Palm Beach to Broadbeach and up to Helensvale," Ms Grace said.
"These projects support 600 full-time jobs, which is also a fantastic boost to the local economy.
"The Palaszczuk Government is committed to delivering new classrooms and new schools where they are needed most in Queensland, including the booming Gold Coast region.
"We need to provide the infrastructure in schools to keep pace with the rapidly growing population on the Gold Coast and that is exactly what this Government is doing.
"More than 192,000 jobs have been created in Queensland since the Palaszczuk Government was elected. Almost all of the 4900 new jobs created during March were fulltime. Imagine what we could do with a fair share from Canberra."
Construction of the high school at Coomera will support up to 168 full-time jobs, with FK Gardner & Sons awarded the contract.
"The first year 7 students will walk through the gates of this brand-new school on day one of the 2020 school year, with stage one to include junior classrooms, a covered lunch area, sports centre and an oval," Ms Grace said.
"It was wonderful to be joined at the sod turn today by foundation principal Kym Amor who will lead the school from scratch, starting work this term.
"Ms Amor has been in the teaching profession for 22 years and has an impressive resume, leading Mansfield State School for the last three years.
"I'd like to congratulate Ms Amor on her appointment and I have no doubt she will do a great job."
Ms Grace officially opened a performing arts centre at Pimpama State Secondary College today, one of three new buildings delivered as part of the Palaszczuk Government's 2020 Ready Program.
"The performing arts centre and two learning centres equal a $25 million investment at Pimpama, supporting 66 full-time jobs during construction," Ms Grace said. 
"Pimpama State Secondary College's enrolment numbers have skyrocketed since the school opened in 2013, growing from 295 to 1750 students in 2019, so these buildings are a welcome addition to the school."
As part of her Gold Coast school tour, Ms Grace also joined Gaven MP Meaghan Scanlon at Pacific Pines State School to inspect two refurbishment projects, including a $740,000 upgrade to a special education block and a $990,000 upgrade to the library.
"Pacific Pines is a great school that is helping to shape its students into the global leaders of tomorrow," Ms Scanlon said.
"The $1.7 million investment in the school by the Palaszczuk Government has breathed new life into these facilities, with the refurbishment including a re-paint, installation of new fans and flooring and new multi-purpose rooms," Ms Scanlon said.
For more information on school infrastructure projects across Queensland visit: https://qed.qld.gov.au/programs-initiatives/det/building-education.
Gold Coast school infrastructure projects
Ongoing
New high school at Coomera – $64 million  
Southport State High School – learning centre: $12 million
Palm Beach – Currumbin State High School – learning centre: $12.1 million  
Pacific Pines State High School – learning centre: $8.05 million  
Pacific Pines State School– library upgrade: $990,000
Southport Special School – additional classroom space in undercroft area: $2.8 million        
Ormeau State School – learning centre: $6.05 million
Pimpama State School – learning centre: $7.6 million
Broadbeach State School – learning centre: $8.8 million
Complete
Picnic Creek State School (primary) – $38 million 
Ormeau Woods State High School – learning centre: $8.2 million  
Pimpama State Secondary College – performing arts centre, two new learning centres: $25 million
Varsity College – refurbishment to senior and digital learning centres: $3.1 million  
Southport Special School – learning centre: $8.8 million
Caningeraba State School – learning centre: $6.7 million
Palm Beach Currumbin State High School – refurbishment work to E Block: $1.1 million
Pimpama State Primary College – learning centre: $6.4 million
Pimpama State School – multi-purpose hall: $7.04 million 
Helensvale State High School – learning centre: $13.9 million  
Pacific Pines State School– special education block refurbishment: $740,000