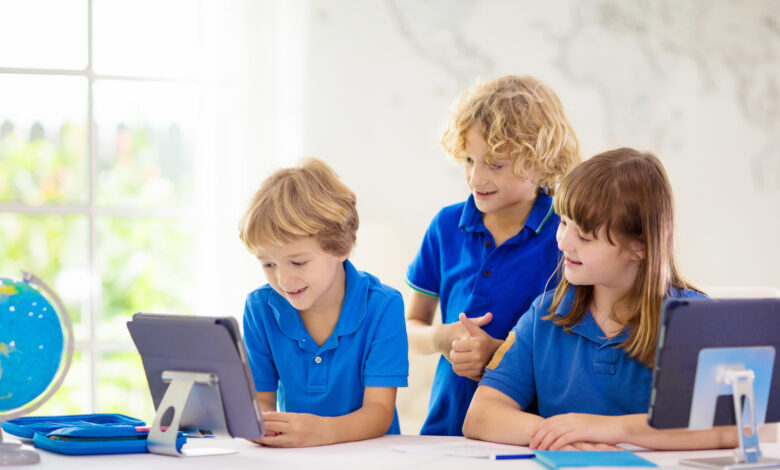 Andrew Chapman is a former policeman, having served in the NSW Police, Australian Federal Police, Western Australian Police, and Queensland Police. He served on the elite NSW Police Special Crime Unit, and protected the British Royal Family, Australian Prime Ministers and International Heads of State. But he's also the father of two, so for him, the issue of online safety is intensely personal.
Read the Term 3 edition of School News HERE
"I witnessed my daughter being subjected to online bullying from her cohort at school and identified other issues that had been so prolific and damaging, we transferred schools. I witnessed my daughter's deterioration from a happy, confident 13-year-old to a reclusive, depressed, alienated young lady. The damaging effect this cyberbullying behaviour caused my beautiful daughter was heart wrenching and a strong motivational factor to engage with John on this website," Mr Chapman said.
With fellow policeman John Galea, Chapman founded Cyber Street Safe, which provides a range of educational packages that target cyberbullying, managing aggressive behaviour, predatory behaviour, online scams, and general safety awareness. A number of the courses specifically target schools and young people, providing a straight-forward, no nonsense approach targeted at what has become a technologically sophisticated generation.
"Most young people are very switched on," says Chapman. "However, the capability of predators and criminals… to operate covertly and very convincingly with a very strong drive to fulfil their need, makes everyone vulnerable. There has also been a large spike in varied platforms that allow predators to anonymously approach, groom or procure children."
From policemen to parents
"I left policing to focus further on being involved with my then teenage children as I had been working overseas, worked in several large organisations and had always had a passion in keeping kids safe," explains co-founder John Galea whose experience includes time spent with the Victoria Police, the Australian Federal Police, and the United Nations Police. "While deployed in the Solomon Islands and East Timor, I was involved in… investigating child exploitation offences by organised crime using the internet to facilitate supply. It really hit home and I was keen to contribute to managing vulnerability in that area."    
And so it was with their combined professional and personal experiences that Chapman and Galea created Cyber Street Safe. As devoted parents, they understand the importance of keeping the community safe and happy, and the best way to reach teenagers, explains Galea, is to be relevant. "Be relatable with examples, don't judge their behaviour or mistakes and keep things simple."
Cyber Street Safe believes in treating teens with respect by being transparent about what they are up against. The courses explain the methods of predators and other criminals, and provide actual examples of the consequences. It can be confronting but it's necessary.
"We provide them the tools to manage the situations. At the seminars I present, in particular the Cyberbully and Sexting talks at schools, I make it clear that we all make mistakes, we are all human and it is not the end of the world, just learn from them and be careful," explains Chapman.
"By providing case studies of how people similar to them have been exploited we can educate them effectively,' adds Galea. "Driving home the message that unless you have actually met a person, never assume they are who they say they are on line, no matter how convincing they may be."
While the national curriculum provides opportunities to talk to students about protective behaviours and online safety, it's a field that is constantly changing thanks to the ever-changing technological landscape, the anonymity of the internet and the unfortunately minimal likelihood of apprehension and punishment. The best thing schools can do is to ensure that students are educated effectively.
Tips for keeping students safe online
Galea and Chapman offer their three top tips for staying safe.
Use the Privacy Functions on your Device, and know who you are communicating with. Unless you are 100 percent certain you know who you are communicating with, don't bring them into your friendship circle. Scammers, cybercriminals will use any trick in the book to win over your confidence. If they are presenting you with their alleged image online, simply request they send another image and specify what you would like in that image, such as asking them to place three fingers on their nose! If they are scammers, cybercriminals or predators, they will give you every excuse as to why they cannot do this, but at the end of the day, if they can send you an initial image and can't back it up with another requested image, they are not what they pretend to be. Delete and Block.

2. Remember, whatever you send stays online potentially forever and can have consequences down the track. Never send a message in anger or haste.  

3. If anyone online requests anything from you that makes you feel uncomfortable, makes you second guess yourself or your instinct kicks that they are not right, delete and block. 
Cyber Street Safe offer a number of educational packages such as awareness about sexting and online predators which includes personalised Zoom seminars for teachers, parents and students.
"Always remember, we all make mistakes. If you make a mistake online, time passes and people forget. Talk to someone you trust and never keep it to yourself." John Galea