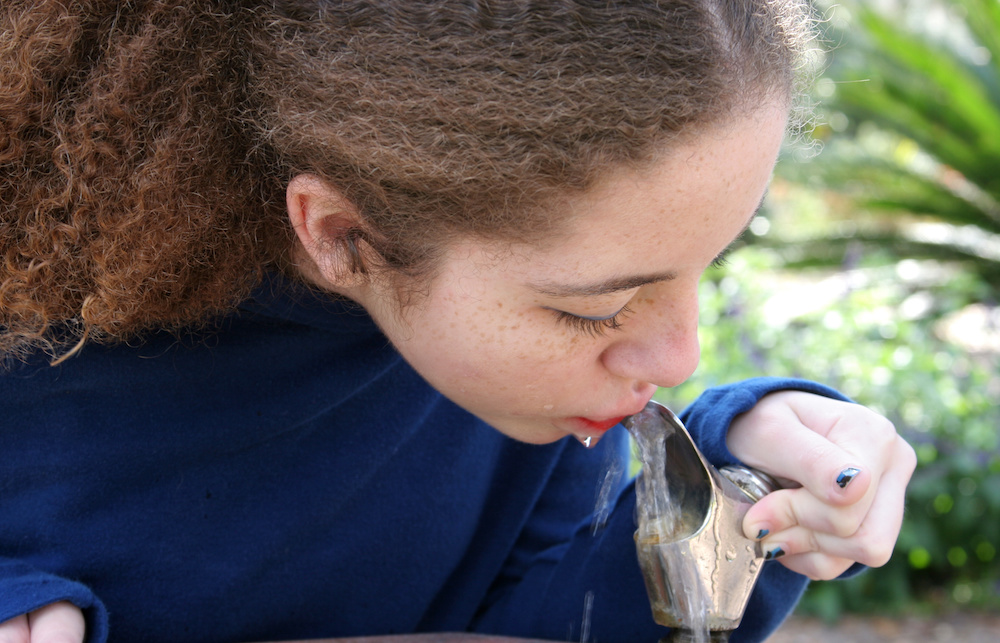 School environments play a significant role in shaping our life habits from a young age. They not only facilitate academic and cognitive development, they also train us to develop self-expression, social behaviour, physical fitness, dietary and lifestyle habits.
Many schools are choosing to install drinking water fountains and bottle refill stations as an intelligent way to encourage healthier lifestyle choices. Some Australian manufacturers produce drinking water systems that also include customisable signs within their design. This allows schools to create fun and educational backdrops to enhance their appeal and communicate the benefits of water consumption to younger users.
Educating students on healthy living is an area of concern for many schools. Recent studies by the Bureau of Statistics have found that the number of overweight or obese Australians has risen to one quarter of children aged between five and 17, and over 60 percent for adults. Children who are overweight or obese have higher risks of developing a number of health conditions later in life, from type 2 diabetes, to liver and heart problems, sleep apnoea and depression. Setting good lifestyle habits from a young age is important so that children can avoid preventable health conditions developing later in life. With such a high proportion of society presently overweight or obese, there has never been a more pressing time for schools to take the lead in addressing this problem.
Of course, the causes for children becoming overweight are multi-faceted. Poor diet, sedentary lifestyles and the convenience of modern transport and computer technology have all affected children's activity levels and therefore physical health. Today, processed foods and sweetened drinks, in particular, make up a major part of many children's diets. Many online sites recommend a maximum added sugar intake of between five and seven teaspoons per day for both children and adults. A single 600ml bottle of soft drink, on the other hand, typically contains 16 teaspoons of added sugar. Encouraging children to eat more fresh food and drink water is simply logical.
Aside from physical health and weight management, there is also significant research to indicate that students who drink more water perform better in the classroom too.
As well as avoiding dehydration, reports indicate that children who drink water instead of sugary drinks show improvement in overall cognitive function, ability to focus on their work, and enhanced performance on the sporting field.
But how do we get children to drink more water during the school day?
One approach is to integrate regular water drinking as a part of school children's daily routine. Students can bring their water bottles to class and refill them in their breaks. They can also be brought along to sports lessons and after hours activities. Schools can install drinking water fountains, chillers and bottle refill stations to encourage this. Placing these near classrooms and throughout the outdoor grounds makes them easily accessible throughout the day. Some manufacturers also make them in different sizes to accommodate different age groups.
Some Australian-designed, outdoor water drinking fountains and bottle refill stations also feature customisable graphic panels. Having educational messages on these units, combined with fun colours and graphics, can make the experience of drinking water for younger school children especially fun. Many councils and government bodies who install these units in public spaces are making use of this feature too, by promoting their local initiatives and brands.
As well as outdoor units, a range of indoor water stations are also available in Australia. Some are freestanding and easy to install, while others can be built into wall units for extra durability and a more discrete, aesthetic finish. Indoor units are particularly useful near school gyms and canteens, and are a good alternative to outdoor water stations when the weather turns sour.
After Kempsey High School installed a filtered water drinking fountain and bottle refill station on their campus, staff noticed an immediate improvement in classroom performance. They also received positive feedback from the students who enjoyed the cleaner taste.
"Students have flocked to the new filtered water bubbler and spoken to me frequently on how much better the water tastes, and how they want another one on the other side of the school", said teacher Mark Baxter.
"Because the students are drinking more water we have fewer temper tantrums and headaches… [so now] we are saving up to get another one!"
There are a number of reasons why schools should install a range of drinking water stations. By discouraging consumption of sugary drinks and encouraging students to drink water, schools are teaching healthy lifestyle habits from a young age. With a range of drinking fountains, water bottle refill stations, filters and chillers available in Australia – including some with educational signage – it has never been easier for schools to lead this change.