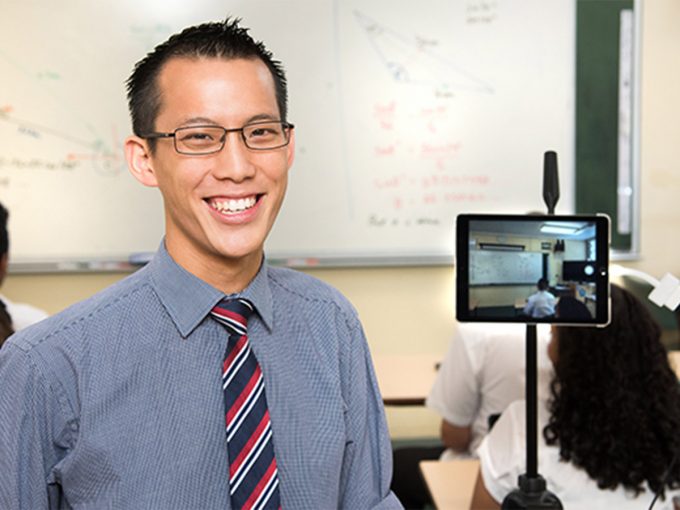 In his role as NSW Leader of Mathematics Growth Eddie Woo has been inspired by the depth of quality teaching he has seen across the state.
And if he could give one piece of advice to students it would probably be "make mistakes".
For a teacher whose focus is on making sure his students can find their way to the right answer it might seem an odd response.
However, Mr Woo told Department of Education Secretary Mark Scott – in the Every Student Podcast series – that it was in the struggle and mistakes that learning occurred.
"From a teacher's point of view making mistakes is a sign the work you are doing is hard enough to make you learn … your mistakes are an indicator that the work is challenging and will assist you in learning," Mr Woo said.
He said many parents and students often asked his advice about the level of maths they should study.
"I have lots of students who say, 'I should take this easier level of maths because I don't want to struggle'," he said. "But that is the complete opposite of what I think, because in the struggle is where you learn."
In the past few years Mr Woo has leapt from relative anonymity to celebrity status as Australia's most famous teacher, in part due to the 'Wootube' channel he started at Cherrybrook Technology High School in 2012 to help a student who was diagnosed with cancer and missing school.
Although he has never promoted his YouTube site, it has been viewed 10 million times and led to him being honoured as the Australian Local Hero at the 2018 Australia Day Awards and as a top 10 finalist in the 2018 Global Teacher Prize.
He dismissed suggestions he was a teacher apart in the NSW public education system and said as part of his role visiting schools around the state he had been inspired by the depth of quality teaching.
"One thing I've learned from visiting schools around the state is there are amazing teachers everywhere and they are doing their work quietly for the sake of the children in their care," he said.
Mr Woo said the success of his Wootube videos suggested that "deep down people really want to engage with maths".
He likened maths skills to one of the human senses. "There are people that really do have amazing abilities with their eyes, ears and tastebuds that are different to the rest of us. But we are all seeing, hearing and tasting. And while some people are quicker at numbers … I really think maths is for everyone."
Listen to the full podcast: