Food & Beverage
How Well has Crunch & Sip Actually Worked?
It's been seventeen years since the Crunch&Sip program was introduced in Western Australia, and since then it has been launched in two more states, NSW and Queensland. But how well has it met its goal of providing a space for primary school-aged children to build healthy habits?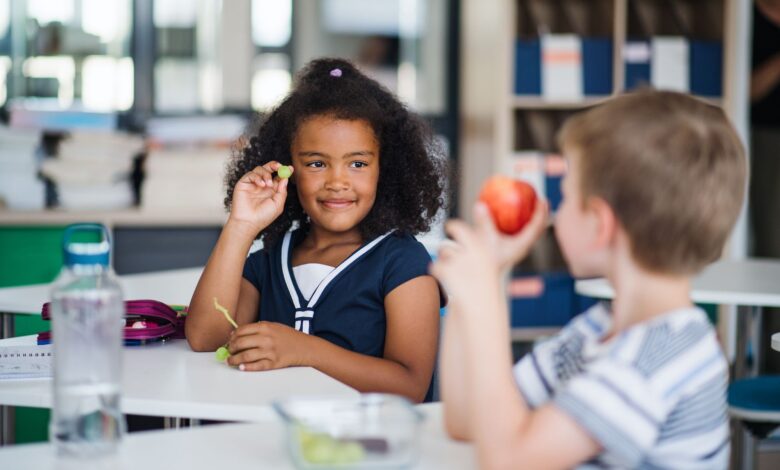 Currently funded by the government health promotion agency, Healthway, Crunch&Sip® is a state-wide program that aims to increase the vegetable, fruit and water consumption of primary-school-aged children in Western Australia.
Launched in 2005, the program was based on the alarming statistic that showed far fewer than 10% of Australian children were eating the recommended daily servings of vegetables. That figure was as low as 1% according to the 2011-2012 Australian Bureau of Statistics National Nutrition and Physical Activity Survey.
It was launched only a few years later in 2008 in NSW and is currently implemented by the Healthy Kids Association. It has since been launched in Queensland, supporting Smart Choices, the Health Food and Drink Supply Strategy for Queensland Schools.
Program goals are broadly similar across states and are necessarily simple: Crunch&Sip requires participating schools to allow children to consume healthy fruit, vegetables and water during class time to refuel and rehydrate. The in-class snack is in addition to food consumed during recess and lunch. Additional goals are increasing children's awareness and knowledge around healthy eating and improving the knowledge, attitudes and behaviours of parents and the wider community around nutrition.
Classroom benefits  
One of the program goals has been to allow teachers the opportunity to eat fruit and vegetables in class alongside their students, which has obvious value to staff, but the main benefits are reported to be an improvement in student learning and sustained concentration.
Emily Hamilton, Year 3 teacher at East Kimberley College reports that, since the program was implemented, she has seen "increased student engagement in learning", noting that "it's a quick, nutritious and easy brain break between lessons".
This was echoed by Balingup Primary School Principal Nicole Corcoran, who said "the initiative keeps up our kid's energy and concentration levels throughout the day with good hydration and healthy food items consistently embedded in the operations of the school."    
Emily also said: "Students love talking about what they have in their lunch box each day and will promptly remind teachers if they forget to write "Crunch&Sip Break" on the daily timetable!"
Other less tangible benefits include children becoming more time aware and independent, as reported by Ann Floyd, Senior Room teacher at Koorda Primary School. "[It has] developed their sense of responsibility. We have also had so many students bring in their home-grown vegetables, which has opened up many great discussions about the variety of healthy food they grow at home."
"Becoming a crunch and sip school has led to us making connections out in the community, with a local fruit packer 'Blue Moon' regularly donating boxes of apples to supplement students that may not have any crunch and sip items," says Principal Nicole, adding:
"Other local produce stores such as Newy's have also donated fresh fruit to the school. [It] also eases the mind of parents that were concerned their children weren't eating enough during break times."
Number Crunch
But how well has the program been able to achieve its goals?
In NSW where data is collected on the number of schools that provide children with the opportunity to consume vegetables and/or fruit during class, as a class, and to drink water, in March this year, 92%, or just under 2,000 schools were implementing Crunch&Sip or equivalent.
In Western Australia, more than 166,000 WA students attend officially certified Crunch&Sip schools while a 2017 survey showed that over 80% of schools were participating in the Crunch&Sip program in some way, whether officially certified or not.
In real terms, says Mikala Atkinson, the "breaks allow WA kids to eat 30 million additional serves of vegetables and fruit per year based on every child at a participating school eating a serve of vegetables or fruit for Crunch&Sip® every school day."
Changing focus
Mikala Atkinson, the Schools Nutrition Senior Coordinator who oversees the program in Western Australia, says the main objectives have remained the same over the past seventeen years, but with a sharpening of focus on vegetables rather than fruit in the classroom.
"By focussing on vegetables rather than fruit kids have repeat exposure to the importance of reaching for vegetables on a daily basis, which builds healthy habits. Focussing on vegetables also encourages kids to try new or seasonal vegies they may not have tried before."
Two annual events have been introduced to reinforce the focus on vegetables: March Munch where students are encouraged to pack only vegetables for the month, and The Great Vegie Crunch in September, an entertaining one-off event where students come together to eat vegetables and measure how loud the crunch is.
One impressive result was reported by a Year 2 teacher in WA after the March Munch event, who said that "children are inspired to talk about their favourite vegetable recipes". They added:
"We had many families eating wok-cooked Brussels sprouts with olive oil and salt and pepper by the end of March."
Crunch&Sip works alongside canteen associations, offers a website with articles and recipes and also offers parents free nutrition education sessions, helping to extend the positive impact of the program beyond the classroom.
Further information:
Crunch&Sip Home | Crunch&Sip® (crunchandsip.com.au)
Crunch&Sip (NSW) Crunch&Sip® – Healthy lifestyle programs for primary schools (nsw.gov.au)
Crunch&Sip (Qld) Crunch&Sip (education.qld.gov.au)