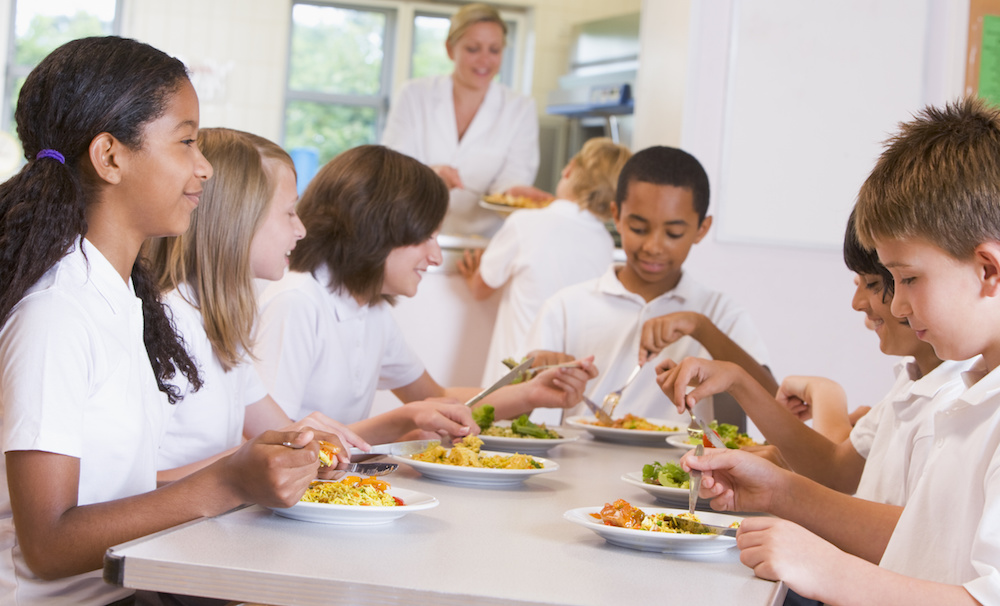 School lunches may have become the most frequently discussed meal in our society, and with good reason. Research has shown that both healthy and unhealthy eating habits formed early in life can follow on throughout childhood, adolescence and into adulthood.
The ABS released results indicating that in 2011-12, 25.1 percent of children aged between two and 17 years were overweight or obese, comprised of 18.2 percent overweight and 6.9 percent obese. In 1997, this figure was 20.9 percent; in 1970, an unhealthy weight in children was far less common. 
Governments have responded with programs, underpinned by the National Health School Canteen (NHSC). These programs provide frameworks within which canteen coordinators can develop menus that support good nutrition. Even when the school does agree to implement the NHSC system, limitations are apparent, with critics wondering why a sugar laden strawberry milk is an appropriate inclusion in the 'green light' everyday food category. Perhaps this is why NSW has recently scrapped the traffic light system, and replaced the program with a new system aimed at increasing the consumption of fresh food.
Programs vary, but every state and territory has one, and they are all aimed at improving nutrition at school. Common sense tells us that food affects more than a person's girth, but experts says diet can affect our ability to concentrate and process information.  Essentially what children eat at school affects behaviour and learning – and anything that affects learning is the business of the school leadership team. 
Jamie Oliver continues to revolutionise lunchtime in cafeteria-culture countries where 'school dinners' are served on a tray, but Australia has a lunchbox and canteen culture. Our lunch revolution is about healthy lunchbox regulations and canteen overhauls, and not everyone is happy.
De La Salle College, at Revesby recently made the news with a student-driven 'bring-back-hot-chips' online petition, and despite some convincing arguments for the connection between learning and fried potatoes, principal Timothy Logue will be standing firm.
Our culture is changing, mass-produced chicken drummies don't cut the mustard in the contemporary Australian canteen.  Combine this with the time-poverty of parents, and you have a recipe for disaster, or is it actually a recipe for change?
Every issue of School News touches on several ways that technology is enhancing the smooth operation of our schools, both inside and outside the classroom. From interactive technology in the classroom to school management systems (SMS) that allow instant updates and enhance parent communication, and transform administration, leaving more time for the important business of helping students learn.
Unsurprisingly, the school canteen is no different, and technology can streamline this notoriously cumbersome mechanism, signalling and end to scrawled orders on brown paper bags and sorting mountains of spare change.
Industry view
We checked in with Teisha Hough, managing director of QuickCliq for some insight into how online ordering can integrate your school lunch needs into a single ordering portal for parents and staff.
 Ms Hough said, "many of our families really struggle to find the time to prepare healthy meals every day". She says another issue with school lunches is selecting items that will last well in an unrefrigerated lunchbox.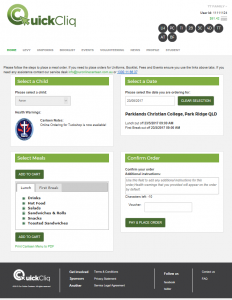 "Ordering online allows families to order affordable healthy meals, and they can quickly prepare for the week in advance." She says online ordering systems allow parents to organise healthy meals within 30 seconds for under $5: "It removes the stress of daily food prep."
She says families can save their regular orders, and when children have special diets, this information can be entered in against the child's name, and will trigger alerts when unsuitable foods are selected: "We have a 'health warning session', which follows the child through every order, with alerts also appearing with the order for the attention of the food supplier. We also have an integrated healthy eating reporting and reward system."
 Teachers can access a separate menu, allowing busy teachers to eat well without rushing out of school on short breaks or going without when they are rostered on for playground duty.
 School requirements vary, and suppliers will depend on the school's location, and characteristics. "Our system services over 550 food providers, every supplier is unique; they may offer a delivery service directly to schools, or they may be located onsite, such as a school canteen."
With any online ordering system, Ms Hough says flexibility is key: "If the online system is completely school and community initiated, it means families can also arrange activities outside of school, using the same platform."
Ms Hough says their objective was to develop one portal for families to order everything from meals to school supplies and uniforms: "This allows families to use the portal for independent or one-off events, such as fees for community sporting events."
"It was about developing a processing system that serviced the families as a whole integrated system, that could be operated by multiple users. For example, the uniform shop is a separate entity from the canteen, sports departments or a user created for specific events. This facilitates the break-down of revenue for reporting and analysis."
To get the most from your ordering system, Ms Hough recommends selecting a provider that will "be on your school's team, supporting you through the whole process of reporting, collecting orders and managing families".
In a country with no school dinners, concerning childhood obesity statistics, against a backdrop of behavioural problems increasingly linked to lifestyle factors, nutrition at school needs everybody's attention. Healthy eating guidelines are a good start, but if families are time-poor, lunch ordering with a few quick clicks of the mouse might just make those guidelines a reality.