Food & Beverage
It's Food Allergy Week! What are 'healthy' vending machines?
Schools around the world are venturing into the versatile and lucrative potential of on-campus vending machines.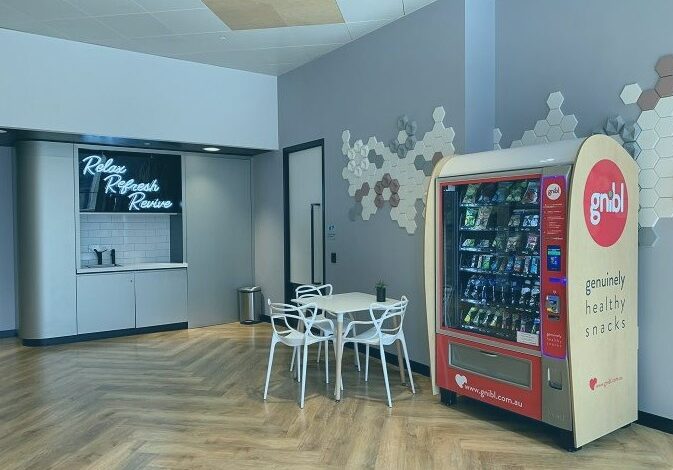 Don't jump to junk food conclusions, however, as these machines run the gamut. While one primary school in New York, stocked theirs with graphic novels and children's books to entice reluctant readers, others around the US have installed COVID-test vending machines to fend off Omicron.
Fresh and healthy food options are immensely popular in vending machines, and these are slowly becoming more visible on school sites around Australia. Victoria's Healthy Eating Advisory Service, for instance, recommends healthy vending as a "great way to encourage healthy food and drink choices" in conjunction with wider school initiatives such as education around nutrition.
Schools can enter collaborative business partnerships with vending machine companies, earning a commission on products sold. Vending companies widely in terms of product choice, and business model. Some can provide custom stock lists for each school and even factor in the location of a particular machine, i.e., stocking high protein foods and more hydrating drink options for machines near a school gym. Schools prioritising student health should ask whether their chosen supplier consults with an accredited dietician; meanwhile, schools that centre sustainability as a core value should ask whether they offer sustainably sourced/packaged products. Foregrounding your school values will help forge a business partnership that benefits your community.
And don't forget to consult your kids! Senior students, in particular, will relish the chance to have more agency over their food and drinks, and they are often just as health-conscious as the adults.
Industry insights:
This issue, Nick Volpe, Director at Gnibl Healthy Vending, gave us the downlow on what vending options are out there for schools and whether he has noticed any purchasing trends.    ****
"Unfortunately," says Nick, "healthy vending machines are still few and far between in schools".
"Much focus is placed on the quality of the canteen offering, but in many cases, schools have been slow to update their vending offerings. I think, often people still consider vending in terms of chocolates and chips while there is a huge range of exciting, genuinely healthy snacks that can really elevate the food offering on campus. This is especially concerning as we know that children are enthusiastic snackers and it is most often in the snacks they enjoy between meals that they make the worst choices.
"Another difficulty is the hefty commission payments that traditional junk food vendors offer to schools. This financial incentive can be difficult to ignore, and impossible for healthy vending operators to match because of the higher cost of wholefood-based snacks. The margins on sugary soft drinks, chips and chocolates are enormous because of how cheaply these junk foods are produced. It certainly is a barrier to healthy vending in schools.
"Public schools, at least in NSW, are bound by excellent (and constantly improving) guidelines in the form of the NSW Healthy School Canteen Strategy. This outlines which foods are appropriate for students. It differs for high school kids and primary school kids and has a focus on whole-food content. Foods score points for the inclusion of fruit, veggies, nuts, legumes, fibre, and protein content; and are penalised for added sugars, sodium, and saturated fat. There's also a strong focus on serving size which can often be the difference between a snack being suitable or not. There's a lot of detail in getting food choices right for kids, but it couldn't be more important.
"The challenge comes in for private schools where the Healthy School Canteen Strategy is not mandated and therefore there is no standard. Most schools have their own nutritional guidelines, but some are better than others at limiting the junk food."
Nick says, "Getting a healthy vending machine range right is a careful and detailed exercise. You need to understand who will be using the machine and in what context–carefully consider snacks and drinks based on their serving size and ingredients, as well as allergens."
He emphasises that vending options should be seen as a complement to existing canteens or cafes on site: "They operate very differently and fill an important role when the canteen is closed.
"After-school activities and sports events are when vending machines shine. Modern vending machines can be automatically disabled during certain hours of the day (for example, during recess) so they don't compete with the tuck shop or canteen.
"Today's machines are high-tech too, they communicate in real time with cloud-based software to track sales, stock, and refills. The data is used to optimise the range by popularity. Another important note is that every machine has a slightly different range! So, for example, a machine in a library would have a different range to one in an Aquatic Centre. The offering needs to support the student needs in each setting– they are also fully refrigerated these days so you can vend products like cheese and crackers, and preservative-free juices."