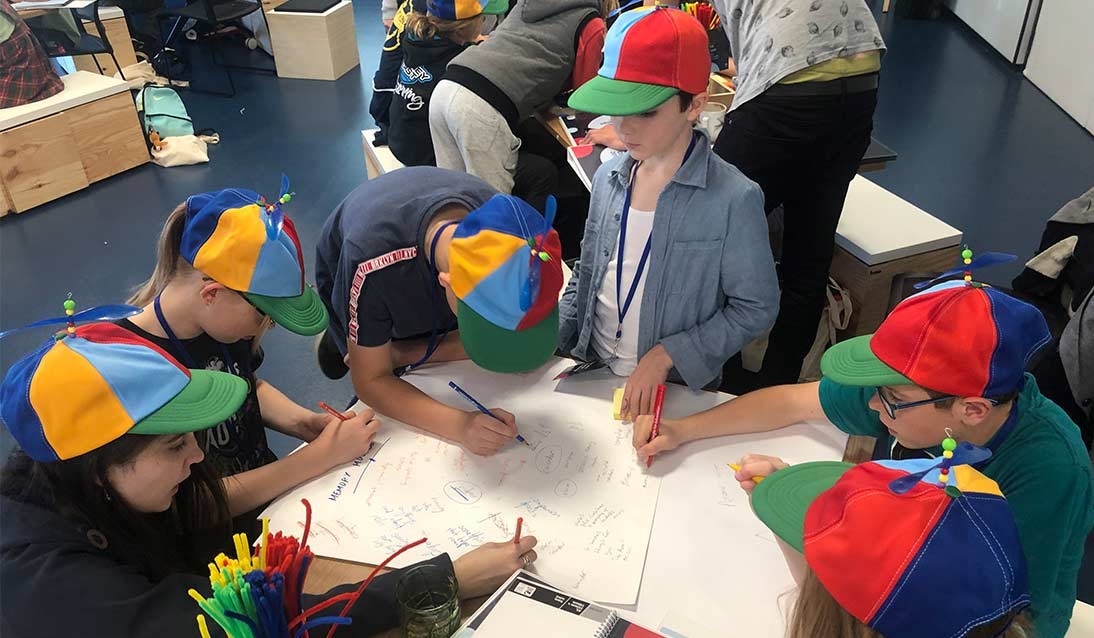 A finalist in last year's Game Changer Challenge, Mount Terry Public School, is now integrating design thinking into its curriculum planning after seeing the benefits of students using empathy as key strategy. 
Students at Mount Terry Public School in Albion Park are using 'empathy' and 'collaboration' to solve problems following the school's experience at last year's Game Changer Challenge.
A team comprising two Year 5 and four Year 6 students was a finalist in the 2019 Game Changer Challenge (GCC) where they were exposed to the design thinking approach to solving complex problems.
Design thinking has been described as bringing our heads, hearts and hands together to find innovative solutions to complex problems with empathy and collaboration being the core principles.
The process starts by giving everyone experiencing the problem a chance to be heard (empathy). The other stages are define, ideate, prototype and test. These stages generally follow each other, working in back-and-forth feedback loops.
The 2020 Game Changer Challenge is off and running and this year's question is 'how might we use technology to bring everyone in our community closer together?'
Mount Terry teacher and Gifted and Talented (GAT) Coordinator Evan Livingstone said the 2019 Game Changer Challenge and the design thinking process at the heart of the competition was a 'fantastic experience'.
'We were particularly impressed with the empathising nature of the process that effectively humanised both the students' understanding of the problem as well as their approach to arrive at a more effective solution,' he said.
The problem all GCC entrants were tasked to solve last year was 'how can we humanise technology?' to which the Mount Terry team responded by designing a robotic arm smart device that can solve human problems.
'The robotic arm would be able to perform a range of problem-solving tasks like calling emergency services if an elderly lady falls, or conflict resolution where it intervenes when a brother and sister are fighting,' Mr Livingstone said.
To enter the challenge, the team had limited time to put together a video outlining their vision for their robotic arm smart device.
'It was challenging but the team had a ball doing it and were very excited to be selected for the finals,' Mr Livingstone said.
'They were also able to learn new skills; producing the video and composing the music for it.'
Teachers involved in the Game Changer Challenge, Mr Livingstone and Jean Boyd, were so impressed with design thinking that they have integrated the process into their respective streams of teaching, Mr Livingstone in his work with GAT students and Mrs Boyd in a science unit relating to natural disasters.
'We felt this process showed great potential to unlock a deeper engagement and understanding of complex problems and how they can be solved more effectively,' Mr Livingstone said.
'We're also planning to expose this method to other staff members at Mount Terry to help them provide learning experiences that challenge and therefore engage their students more effectively.'