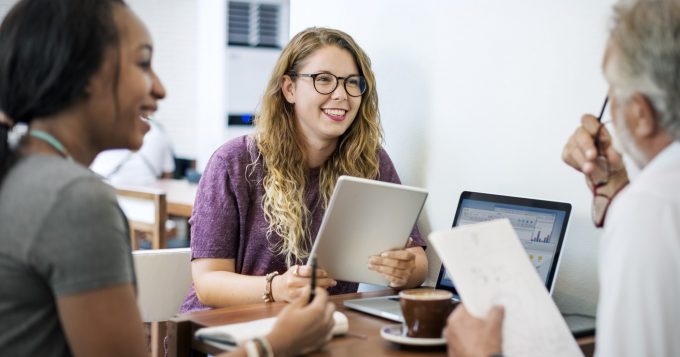 Nick Kelly, Senior research fellow, Queensland University of Technology
Jeremy Kerr, Lecturer, Queensland University of Technology
Les Dawes, Professor Engineering Education, Queensland University of Technology
Natalie Wright, Lecturer in interior design, Queensland University of Technology
For The Conversation
The recent release of the Gonski 2.0 report has done an excellent job of re-opening the conversation around how our schools could better fulfil their purpose.
Much of the commentary has centred on the report's recommendations for teaching and learning in schools. But the whole chapter focused on "creating, supporting and valuing a profession of expert educators" has not received enough attention.
The suggestion that teaching and learning can be significantly improved by better supporting our teachers is vital and should not be overlooked. In particular, there is growing evidence that teacher collaboration can lead to more satisfied teachers while producing better outcomes for students.
What does Gonski say?
The positive impact of active collaboration is summarised in the report on page 58:
Teacher collaboration occurs in many forms, however not all types are equally effective. Active collaboration — such as peer observation and feedback, coaching, mentoring, team teaching and joint research projects — allows teachers to learn from each other and typically has a positive impact on students. In contrast, collaboration that concentrates on simply sharing resources, planning activities or administrative issues has little or no positive effect on student achievement.
While the report flags the need for action on embedding professional collaboration in everyday teaching practice, it doesn't provide much in the way of suggestions for how to achieve this. This criticism has been repeated by many in education.
While active collaboration between teachers has long been recognised and encouraged (for example, as a part of the AITSL teacher professional standards), the reality for many teachers is there is precious little time in which to collaborate. Even where there is time, there is a need for more structure to the way teachers collaborate so it happens in an authentic, productive way.
What is design thinking?
The ability to empathise, think creatively, collaborate productively, experiment with solutions and communicate ideas are all key parts of design. They are skills anybody can learn.
The term design thinking has become a popular buzzword to refer to this set of skills. It's particularly popular in education because design thinking is a great way to learn 21st century skills, such as creativity and critical thinking. If teachers develop these skills themselves, then they are in a better position to teach them.
Design thinking is not just about knowing the design process and having the tools to use it, but also about adopting a design thinking mindset. This involves seeing the world in a solution-focused way and having the creative self-confidence to try tackling problems in new ways.
Design thinking in schools
Our team has been working for the last year on a project that involves partnering with groups of teachers in different schools around Queensland to work on design problems. This kind of partnership between designers and non-designers to solve problems is known as co-design.
The first problem that we have worked on is the planning of a term of work for the new ACARA Digital Technologies curriculum. Instead of teachers working individually, we work with school leadership to create time and space for them to work as a group. We support them in framing the problem, developing student-centered ideas, and preparing classes. Teachers learn to adopt a design thinking mindset simply by taking part in this process.
For example, some teachers implicitly conceive of curriculum planning as "making sure that the curriculum gets covered". We challenge them to work as a team to reframe the problem through a journey-mapping exercise. We find they come up with a new frame such as "keeping students as engaged as possible for an entire term".
We also use exercises such as developing personas and brainstorming to come up with ideas that are more "out there" than they might first think possible. We then provide the technological and content knowledge to help them achieve their goals.
This form of facilitated collaboration with teachers around design tasks has had success. Preliminary results show that teachers feel supported (because they can draw on the help of a team), happy (because collaboration is one of the fundamental drivers of professional satisfaction), and empowered (because they see the results with the students).
The challenge presented by the Gonski 2.0 report is these benefits need to be scalable — teachers across the country all need to have these opportunities to collaborate meaningfully.
Sharing the knowledge
Our research (based on earlier international work) provides evidence we can achieve this goal by:
1.       Instilling a design thinking mindset in teachers. This has been proven to be a great way to create the space for meaningful collaboration, while developing the capacity of teachers for teaching creativity, critical thinking and interpersonal skills.
2.      Using co-design as professional development to meet these needs in a way that could reach every teacher across a state, through a combination of face-to-face and online workshops.
3.      Sustaining these partnerships over time by creating online spaces for teachers that enable them to share and re-use knowledge but that remain connected to real-world institutions and events. For example, we developed a community of design teachers in Queensland that was underpinned by professional development workshops and support of teacher associations.
These three pillars provide a direct way of responding to the recommendation in Gonski 2.0 for better teacher collaboration.
Our proposal is to shift funding away from the approaches that have defined the past decade — like online databases of resources that give little context, "standalone" online communities that are divorced from real-world organisations, or "driveby" professional development workshops. Funding should instead be put towards the provision of co-design teams that provide the link between professional development, online resources and online communities.
Further, co-design is a meaningful way of sharing learning between schools. Each time we work with a school we are able to share with them resources and advice from our work with previous schools.
For example, one rural school we worked with took a term-long project that had been successful in a city, and adapted the assignment to make it fit the rural context. Most of the lessons needed only minor changes, and the result was the rural students felt the project spoke directly to their own experiences.
Gonski 2.0 presents an excellent opportunity for us to re-evaluate how we nurture, support and provision our teachers. The report states:
For teachers to fulfil their role as expert educators, schools need to be seen as professional learning organisations. They need to develop a culture that values continuous learning where teachers, as well as students, can feel safe to admit gaps in knowledge and understanding.
We believe that this culture of collaboration, growth and experimentation is best achieved when teachers adopt a design thinking mindset. Teachers come to adopt a design thinking mindset through a combination of design experience, professional development and ongoing support. Co-design presents an excellent way to achieve all three.