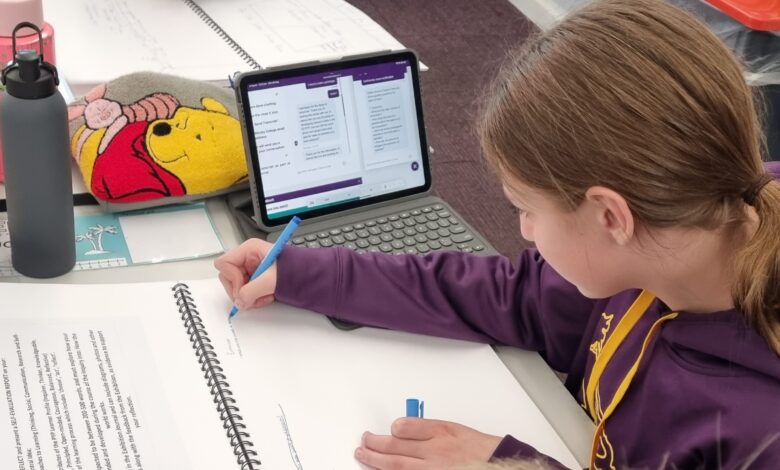 Wesley College in Melbourne has introduced its first AI-powered learning coach, Wesmigo – Wesley's friendly (amigo) AI chatbot.
Along with Harvard University and Khan Academy, Wesley College is one of the few educational institutions in the world to develop a custom AI coach.
Read the Term 3 edition of School News HERE
Powered by ChatGPT, Wesmigo is a pre-engineered chatbot tool which has been specifically designed for use in schools, with age-appropriate prompts aimed at developing students' skills and confidence using AI tools to achieve specific learning tasks.
Trialed and launched in 2023, students in Year 6 are using Wesmigo to help identify and refine a research question for their International Baccalaureate Primary Years Program Exhibition (PYPX), a self-directed and issues-focused project that encourages students to engage deeply in research.
Wesmigo doesn't write the inquiry question for students but through a series of prompts, helps elicit deeper thought and more meaningful lines of inquiry into student's area of interest. Wesmigo's inbuilt guardrails ensure the conversation keeps to its intended purpose.
Year 6 student, Clara, said, "It gave you a straightforward answer, but not too straightforward – it made you think." 
Cameron Paterson, Director of Learning, said, "AI won't replace teachers, but it will augment their abilities as it becomes an integral part of the educational landscape. Wesley recognises that AI is the next wave of technology and digital evolution. Students need to develop the literacy to be effective users, and also create with AI in the future."
By housing ChatGPT within Wesley's learning management system, the Digital Learning team have developed a companion user guide to support student analysis of Wesmigo's output and to build their understanding of the limitations of generative AI.
Teachers are trained to model the use of Wesmigo to students, building their AI skills and capabilities in the process.
Following positive feedback from Year 6 IB PYP teachers and students, the Digital Learning team are scaling Wesmigo for student and staff learning opportunities at other year levels across the College.
"We have only just begun to explore what we can do with AI at Wesley to shape the future of education,' said Cameron.