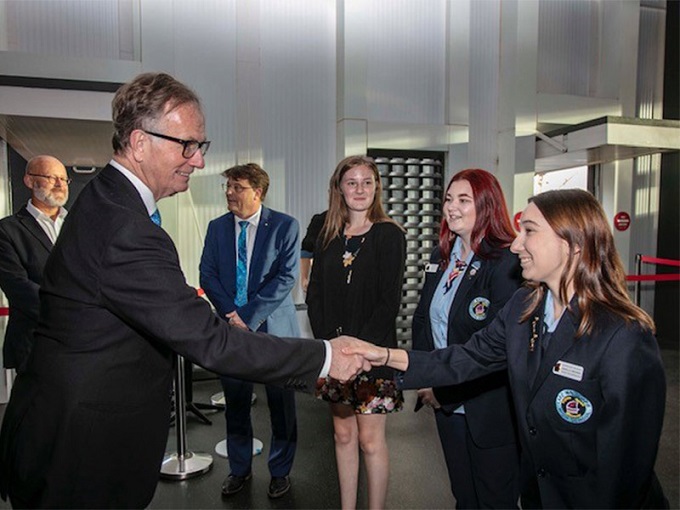 Research by NSW public school students for a documentary on the impact of WWII on the Asia-Pacific has been acknowledged by the US ambassador.
Three students from Lake Macquarie High School met the US ambassador to Australia, Arthur B Culverhouse Jr, in Sydney last week, as a result of their work on an international student documentary about the effects of the Pacific War.
Mille Sarginson, Chloe Snowden and Danielle Orchard met Mr Culverhouse at the Australian National Maritime Museum (ANMM) as participants in the museum's 'War and Peace in the Pacific 75' International Learning Program.
In 2017 the three students and four others from the school contributed research and information, and filmed interviews about the shelling of Newcastle, the Brisbane Line policy and the Japanese submarine incursion into Sydney Harbour. Searching the ANMM's archives was essential to their work.
"The school was honoured to have representatives invited to meet the ambassador," said Principal Brendan Maher.
"It is a reflection of the outstanding effort the team put in.
"Meeting ambassador Culvahouse at the museum reinforced to the students the significance of the work they've done."
Schools in Australia, the USA and Japan are invited to join the annual program which began in 2017 and ends in 2021, covering the 75th anniversary of the beginning and end of WWII in the Pacific, and the impact of peace the following year.