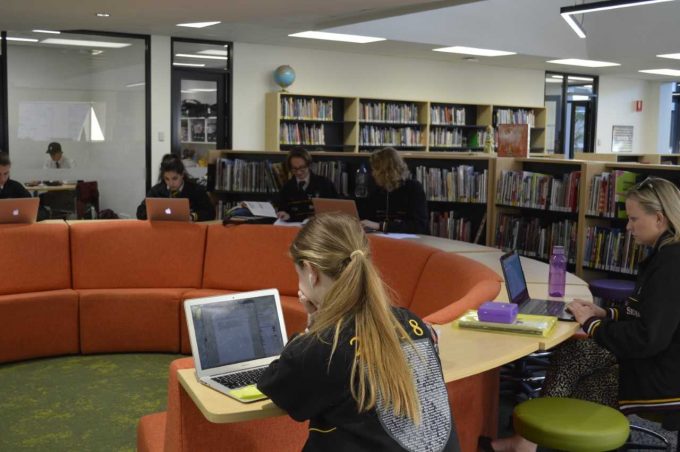 Schools that have invested in redesigning and refurnishing their library spaces are reporting a growth in reading and the sudden popularity of the library as a social hub.
Daggy school libraries which were once almost empty, cramped and with outdated fittings are undergoing makeovers and welcoming scores – if not hundreds – of students during the lunch break.
School News will explore four school libraries over the next four weeks that have undergone a major makeover.
Cabra Dominican College library, Adelaide
The new library at Adelaide's Cabra Dominican College (enrolment 1250) is more than just a space to house books and enable quiet study.
Since enclosing the outdoor walkway between two opposite classrooms to create a high-ceiling glass atrium, the spacious and bright new library has become the school's meeting place.
"Students use it as a social hub. Some are doing homework, some are playing games – Monopoly, Scrabble ,Twister, lots of card games," says teacher librarian Sandra Ciccarello.
"We have some doing quiet reading in the window seat, some on computers. It can also be a bit of a thoroughfare because it links to the school and students stop and talk and walk on."
By rearranging the furniture, the modern atrium can host concerts, events, assemblies and cater to numerous classes simultaneously.
Sandra praises the furniture design and functionality of fit-outs such as shelving for enabling a flexible and interesting library space.
Resource Furniture, a furniture and shelving supplier of more than 30 years, fitted out Cabra Dominican College's modern architecturally designed library.
The company's purpose-built shelving lines the walls to house some of the school's collection of 40,000 books.  Low bookcases on wheels enable a line of sight across the entire space in keeping with the open design and can be shifted to suit need – a vast improvement on the old heavy immoveable shelving of the past.
"The fact that they're flexible means we can change the spaces as we need to. Just last week we had parent and teacher interviews and we pushed all the shelving back and put tables and chairs in the middle so we could use the space as a hall."
Sandra had the pleasure of the selecting the furniture and bought such items as a "campfire" modular suite which arranges in a semi-circle facing a TV screen.
She describes the library as 'loungey' and recently counted 250 students hanging out there during a recent lunch break.
"We can't get the kids out of here some days," she says.
With such flexibility of fittings and furnishings, Sandra says the library can be changed up whenever the desire arises.
 "It's beautiful and also it's not boring because we can move things around,' she says.
"We've already moved the furniture twice from the first arrangement we came up with. Every two months we will make a change and the kids like it."