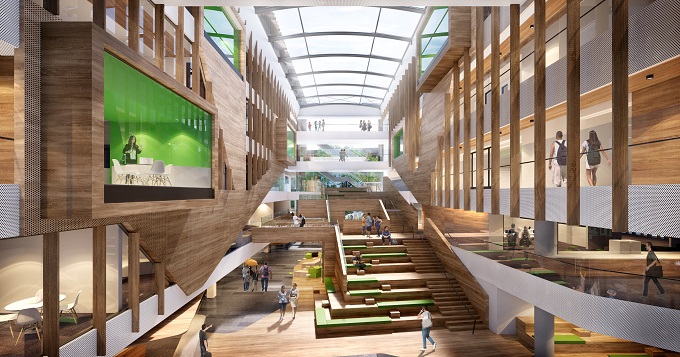 School News spoke to Adelaide Botanic High School principal, Alistair Brown as he prepared to welcome excited students to the first truly vertical school in South Australia.
This new school, by Cox Architecture, is "not only green, sustainable and reflective of the new era of collaborative learning spaces, it's also an example of adaptive reuse".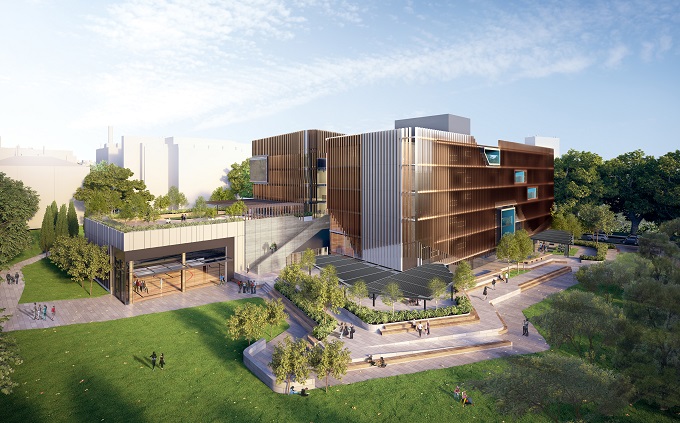 It has been an ambitious and unique $100 million building project, to repurpose the bones of the old medical school and completely refurbish the Reid building, which has six learning levels plus a basement and open-planned plaza space at ground level. This building is linked by a glass atrium to a brand new seven-storey building also with a basement and rooftop terrace.
Thrilled, Alistair said: "This is a very exciting time for us, we have been able to start a school from scratch, using the most up-to-date worldwide research available to create the building, design, curriculum and most importantly the culture. There is no history to drag, we can start as we mean to go on, challenge ourselves and evolve into the future."
Parents seeking the best school for their child's academic success will look at the decor, design and ergonomics of this school and point to a 2015 British study showing a link between well-designed schools and improved academic performance. A well-designed school were said to improve pupil performance by 25 percent, with lighting, circulation, acoustics, individuality and colour affecting pupils' progress in the year-long study by Salford University. Results like these undeniably inspired this learning environment's design.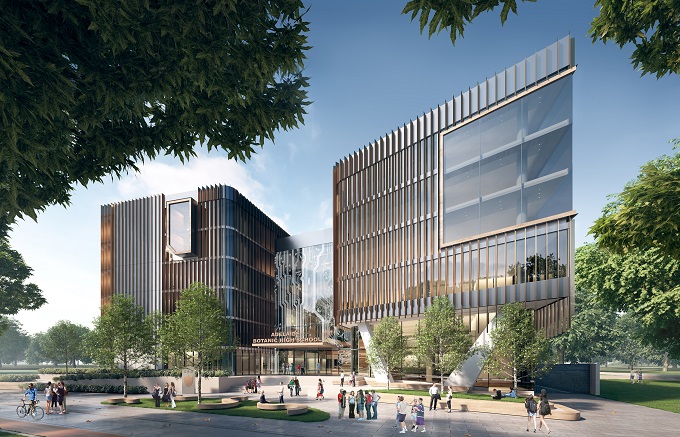 Situated in the central business district – surrounded by leafy green spaces, botanic gardens and the vibrant Adelaide Zoo – this is the ideal location for Adelaide Botanic School's new 2019, term one starters. Year 8 and Year 9 students will immediately integrate within the exhilarating neighbouring hub of universities, businesses, museums, the state library and the performing arts facilities.
Alistair told us that the location is truly a vantage point to inspire students in viewing tomorrow's possibilities as limitless, electrifying and immediate. As an educator and leader for 35 years, and a father for almost as long, Alistair understands the importance of choosing the right school for a child.
This is no "flat packed" school, the whole vertical environment has an abundance of light, is visually stimulating, creates a feel of connection and is full of amazing resources. It ignites learning passions and inspires interaction with the creativity and culture of the inner-city precinct.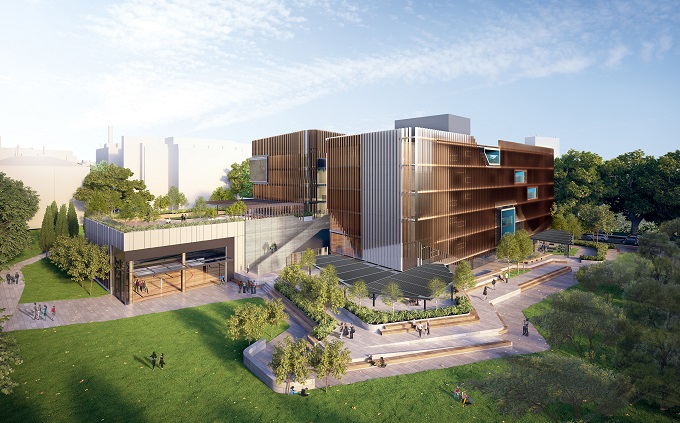 Alistair explained: "The building is incredibly agile; the furniture is all mobile and the spaces can be completely changed in an instant, meaning no day will be the same. We also have the most amazing technology with audio visual tech that can go live throughout the school."
Alistair's personal philosophy is to "never do something the second time without improvement" this will be ingrained into how the school operates; ever questioning and improving methods, so students are immersed in a futures-focused learning environment.
Furthermore, the carefully selected, highly skilled, small team of teachers share the same passion for innovative research-based learning as Alistair. He said: "Our team will work collaboratively to inspire creative innovative young people and bridge the gap between the real world and school."
This is a very different era, one where infinite and unexpected opportunities lie ahead, the future will certainly require creative and nimble young minds.
Alistair agreed: "As educators, we owe it to our young people to equip them today with the knowledge, skills and attributes they will need to thrive tomorrow. Our priority is to equip our students with complex problem-solving skills and expert discipline knowledge to ensure they are fully prepared for the future."
Adelaide Botanic High School will showcase the best of public education and 21st Century learning, catering for the learning needs of all students through its extensive curriculum and grounded in science, technology, engineering and maths, local partnerships and research, our future leaders will also be agile, cooperative, flexible and imaginative. Learning spaces have been designed to cater for a contemporary, interdisciplinary approach to learning, which mirrors what students can expect when they enter tertiary study or the modern workplace.
Alistair explained: "If I had to put a label on the pedagogy, it would be a purposefully connected curriculum. There will be fluidity and connection rather than traditional lessons, but discipline with be retained within a collaborative environment. What will set us most apart from other schools will be that no teacher teaches alone, we will have (what I call) collaborative professionalism meaning we will work together as a true collective and everything about the building design encourages this."
The new Adelaide Botanic High School is officially open from this term onwards, providing 1250 students from inner-city suburbs with greater access to high quality secondary learning. The school will start with Year 8 and 9 students initially, growing to 1250 students by 2022.
"Fully embracing its green philosophy the school has no parking spaces but provides secure basement bicycle parking for 170 bicycles."