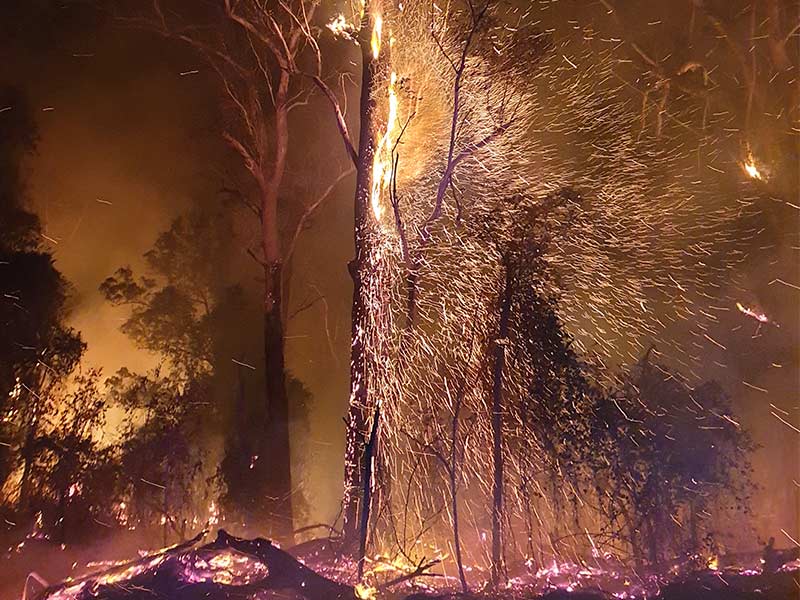 As the bushfire crisis escalated on the mid north coast, public school students and staff put themselves in the path of danger to defend their communities.
As a firestorm bore down on Rappville in October principal Danny Henman was convinced he wouldn't see out the day.
A volunteer with the Rural Fire Service for the past 15 years, Danny says he has never witnessed anything like the fires that devastated the area, just south of Casino, leaving two people dead and 52 homes destroyed.
"I stood in front of a firestorm to defend the pub and the house next door," he says. "We went without oxygen for three minutes as the fire created its own atmosphere and consumed all the air."
Worried about his two other crew, the principal of Southern Cross School of Distance Education searched and found one volunteer under the building trying to get some air while fighting a fire that had taken hold on the floor.
With the smoke so thick he couldn't see, Danny followed a fire hose to locate the third crew member who had retreated to the fire truck so he could breathe.
Around them houses lay in ruins, but the pub they were defending had survived.
"I thought I was dead that day," Danny, who has been fighting fires for the past 13 weeks, concedes. "I've seen things this fire season I've never seen before."
Danny is just one of the many Department of Education staff and students who have shown remarkable bravery and compassion as fires swept through northern NSW, yet he is nonchalant about the risk of being a volunteer firefighter.
"You don't think about it at the time, you just do this for the community," he says.
That is a view shared by public high school students Kaleb Cooper and Liam Birrer, who have been fighting fires on the mid north coast of NSW.
Liam gained notoriety after media reported he had missed a HSC exam to fight fires.
A volunteer with the Sancrox-Thrumster brigade for the past two years, the 18-year-old was out fighting fires threatening homes near Lake Cathie near Port Macquarie when he should have been sitting his Metal and Engineering exam.
The Hastings Secondary College's Westport Campus student said he couldn't sit the exam knowing his Rural Fire Service crew were out on call.
"I called the school and let them know," he told the local newspaper. "I was sitting there listening to the scanners and I just didn't want to sit around and do nothing while those guys were out there."
Each and every role is important
Newee Creek Rural Fire Brigade volunteer Kaleb has spent the past five weeks out of the classroom fighting fires in the Nambucca Valley.
"My mum was happy for me to skip school once I finished my [Year 10] exams," he said.
"I've had a few weeks straight where I've been out at the fires and at the weekend I did a 17-hour shift around three fires."
Kaleb, who hopes to work in emergency services when he graduates from school, said he had joined the rural fire service because he "wanted to do something for the community".
He admitted at times he did get scared while on the frontline, but "you just have to push through".
Kaleb paid tribute to the breadth of volunteers who were helping in the current crisis.
"Each and everyone's role is important – going from the people on the ground to the office and the people supporting us from above – without them we wouldn't be able to fight these fires," he said.
Communication centre set up in a car
Moorland Public School technology officer Sue Odgers is one of those office-based volunteers Kaleb said were vital in supporting firefighters. Her own property at Tinonee, on the mid north coast of NSW was badly damaged.
"We set up a control centre in our station for getting information out to our locals about impending fire danger in their area," Sue said.
"We set up a mobile communications centre in a private car and I and other members took shifts to accompany our senior engagement officer to make sure residents evacuated.
"We weren't able to fight the fires but we made sure people who were not fully prepared to stay left before they were trapped."
Department of Education statistics show that 148 people have accessed special leave in relation to emergency volunteering – 118 teachers, 24 school support staff and seven corporate staff.
The figures are the tip of the iceberg in terms of the department's contribution as many staff are volunteering in their spare time.
Others, like Bellbrook Public School principal Allison Mitchell, have been thrust into the emergency by virtue of where they work and live.
Emergency evacuation to school
Mrs Mitchell turned her small school, about 40 kilometres inland of Kempsey, into an impromptu evacuation centre when fires raced through Carrai East on November 11.
The school which normally caters for 24 students was at one point helping house and feed 120-odd people, cats, dogs, chickens and even horses.
By 11.30 that night the school was without power or phones and Mrs Mitchell could see the fires coming in behind the school.
"It was very scary," Mrs Mitchell admits. "We had people turning up who had lost everything [in the fires] and we had no firefighters in town because they were out fighting fires and the roads to us were cut."
Mrs Mitchell, who went without sleep for 48 hours during the emergency, says she spent the first night walking up and down the road outside the school offering water to people camped out in their cars.
The next day when a mass evacuation was ordered, Mrs Mitchell found herself driving to local homes to alert residents and help bring them to the school where buses waited to drive them out.
Aboriginal liaison officer Michael Gibbs, based in the department's Coffs Harbour regional office, has been part of the Rural Fire Service for the past eight years and has been working alongside students fighting fires since the start of November.
Mr Gibbs, also a member of the Newee Creek brigade, said the fires were among the biggest and deadliest he had witnessed.
"I've seen a lot of lost homes and animals burned. It's quite a close-knit community so we all know each other and when we lose a home it hits us hard," he said.
Mr Gibbs said the adult volunteers were impressed by the efforts of the high school students.
"We thought the [students] would get sick of it," he said. "We can see they are getting tired but they are very resilient and they keep pushing us along."
With the summer holidays just weeks away, Mr Gibbs and other department volunteers will be working until the fires are doused.
Kaleb already has warned his mum he probably won't be home for Christmas Day and isn't fazed by the idea: "I don't mind that as I'd rather be out there doing something than sitting at home celebrating."