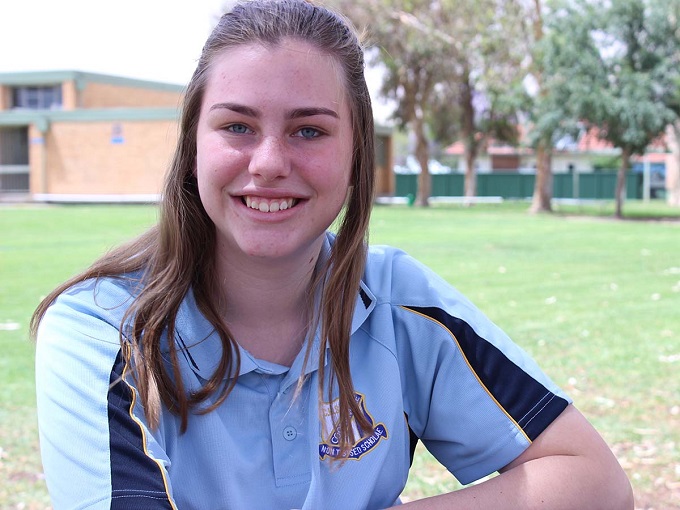 There are many pathways to the HSC in regional schools – and many ways to mix and match academic and vocational study.
Maddy Jerrett is proof that Coonamble High School is a small school with big opportunities.
Even though she is just turning 16 this week, Maddy has already embarked on her Higher School Certificate studies and has one year of a TAFE course in Animal Studies under her belt.
She has not hesitated to take advantage of the flexible pathways to study at her small secondary school with less than 200 students in the state's west.
Next year she will qualify with a Certificate II in Animal Studies through Dubbo TAFE in the course she studies through distance education and time on campus learning practical skills.
With her ambitions focused on university studies as a marine biologist or conservation and sustainability studies, Maddy believes her qualification will be an asset for part-time work with a vet or animal groomer, plus good grounding for her studies.
"It will help working, but it is also kind of good for my career path at university as I thought it would be good to have the prior knowledge," Maddy said.
Although Coonamble is about 500 kilometres to the ocean, Maddy has long held a fascination with sea creatures and is motivated by the challenge to clean-up the ocean and create a more sustainable sea life.
Her ambitions were inspired by time spent at the University of New South Wales through the Aspire Connect program; and while the teeming campus is many times larger than her home town population her two stays with the program have boosted her confidence to pursue studies there.
Maddy's next steps are to get the foundation of a HSC and at Coonamble High she secures three subjects – English, Maths and Science – in Year 11, with her sights set on Hospitality, Chemistry and Society and Culture the following year through the school's accelerated HSC program.
But Maddy's opportunities have not been limited to academic possibilities.
She has represented the school in netball and league tag, and been an active member of the SRC. Through the local youth forum she contributed to a Coonamble Together Partnership through the Stronger Communities Investment and is as a member of the Regional Youth Taskforce brought together to provide advice to the State Government.
An emerging Gamilaroi leader discovering her Aboriginal heritage, Maddy is proud to have been a mentor in the One Step Closer program guiding Year 6 students through a smooth transition to her high school.
With so many experiences before completing her fourth year of secondary school, Maddy is adamant that being in a small school has not limited her opportunities at Coonamble High.
"We are a small school, but it doesn't limit what you can do now or after school – go on to university and get a good job," she said.