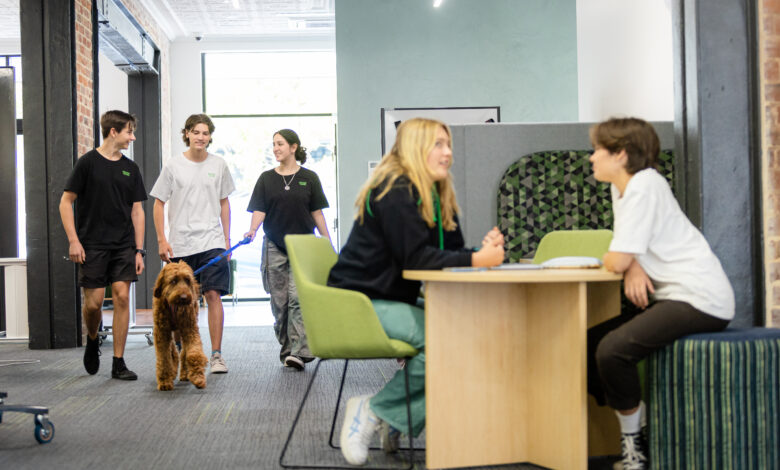 The Studio School – part of the larger All Saints College in Perth, offers an alternative education model to mainstream schooling for a small group of senior students. It delivers a unique model of learning which sees students combining their studies with bespoke real-world projects. With all students on an individual educational plan, all aspects of their learning are curated for their ability level, with additional support or challenges supplied, depending on the child.
"Most people's experience of – and assumptions about – school sees students of the same age working in discrete classrooms, focusing on one discipline at a time, in 50-minute blocks of time, led by a teacher in that particular field. The Studio School requires a shift in mindset that turns most of these assumptions – what students learn, where students learn, how students learn and from whom students learn – on their head." Belinda Provis
Belinda Provis has been the Principal of All Saints' College since 2013 and Principal of The Studio School since its inception in 2022.
"Our experience [at All Saints College] had been indicating to us for some time that some of our brightest students' ambitions could not be realised within the structure of the traditional schooling model."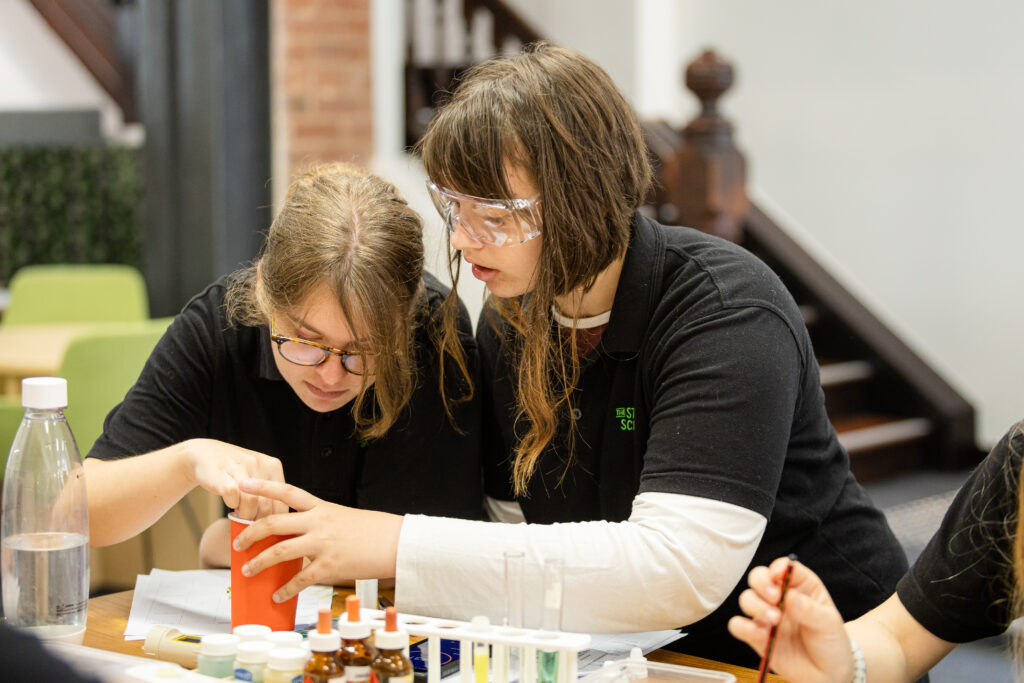 What led to the creation of the Studio School?
"Personally and way back, I can remember being inspired in a master class in Singapore run by Professor Yong Zhao," explains Principal Provis when asked how the idea of the Studio School first came about. "I can recall feeling so passionate, so motivated that Yong's work on the personalisation of education was the future and at the heart of a quality education."
Much work had already been done at All Saints College around personalising education with project-based learning, innovation and entrepreneurship, and fostering student agency and efficacy. Developing the Studio School Model was the next natural step.
"Yong's "jagged profile" resonated with us all as educators, as did his notion of centring an education around students' strengths, rather than labouring over their deficits," adds Provis.
"Inspired, and with Yong's support, we set about further research which included travels to explore different models of schooling in the UK, China and the US, and thus grew our commitment to the studio model. This sees students working 'in flow', guided by a coach or facilitator in a hands-on and iterative process of 'real world' problem-posing and problem-solving. It really inspired our growing focus on a generative education – one that values creation over mere consumption as a model of education."
"Different as it is, though, we have found that our model speaks strongly to our young people and to their families who are overjoyed with their young person's renewed interest in, and passion for, education." Belinda Provis
Boab Brooking, Year 11, came to The Studio School wanting to continue the experience of learning in an open environment after a Montessori education. His project involves creating a TV show based on teenagers while also undertaking an ATAR in Business Management Enterprise. TSS has provided a diverse curriculum with plenty of options, he says. "It gives you the freedom to be more independent, which makes you realise what your strengths and weaknesses are in terms of how you manage yourself."
Challenges faced by the Studio School
The school community got onboard with the new alternative education model quickly and enthusiastically, and Provis reports that the major challenge in establishing the school was finding a suitable building. The Studio School is located in the creative port city of Fremantle, twenty minutes away from the main All Saints campus in Bull Creek.
"The building had to be '9B-compliant' to operate as a school, and we also needed it to be an open-plan, young adult co-working space. And without discrete classrooms and walls, it needed great acoustics," explains Provis. "In keeping with our commitment to wanting this school to be a highly visible and accessible part of the Fremantle community, we needed the building to be a ground floor shopfront. After many twists and turns, and the occasional dead-end, the outcome of our long search was perfect – a two-storey, 800-square-metre heritage building overlooking Walyalup Koort [the heart of Fremantle]."
The challenges, Provis explains, were really just limited to the practicalities of a start-up and less than two years in, TSS is already sustaining itself from a business perspective. However, perhaps an unanticipated challenge lies ahead, in the extremely high level of demand from families across Perth and Western Australia.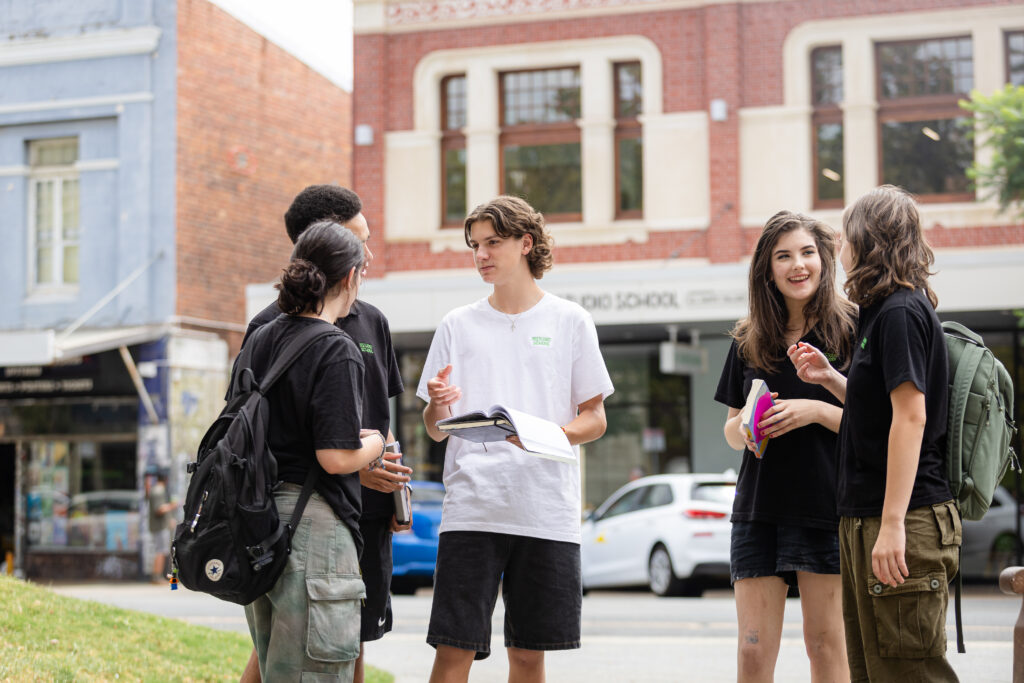 A unique student body
Designed as a micro-school in order to facilitate close staff/student relationships and high-level support of each student, the Studio School has a cap of only 120 students, 40 in each year level (10, 11 and 12).
"The TSS student body is highly diverse and every student has their own aims and ambitions, but they do have a number of important things in common," explains Provis. "Firstly, it is true to say that each student has come to TSS because they didn't feel they were thriving, for one reason or another, in their previous education setting. Further, they are passionate and engaged, share a strong desire for personal agency and growth, and are talented and highly capable young people."
"[TSS students] fiercely defend their – and everyone else's – right to be wholly and uniquely themselves, and to avoid the homogenising and conformity they may have experienced in other settings." Belinda Provis
Year 11 student Sophie McWilliams elaborates on the unique essence of the TSS approach:
"What attracted me to the Studio School was the human-centred core of the school, that they acknowledged that everyone learns differently, and they want to support them, not only with their academics but to grow as a human.  I felt this on the Orientation Day back in 2021."
Alternative Education Model – A new way of teaching
As the studio model offers a unique style of learning, conversely, it also requires a new approach to teaching – or perhaps a return to an old way.
"We believe the TSS model speaks to the heart of every teacher," says Provis. "Our facilitators are passionate about the provision of a human-centred education that recognises the whole person, and sees each student as a totally unique individual. Our facilitators know for each young person to be successful in this model, our students need to be actively growing their self-awareness and self-management skills, and their emotional intelligences from Day 1, and this can be quite different from a student's previous school experience. So, supporting students in this is an absolutely essential part of the TSS staff's focus with each student, in each interaction, from the outset."
"While quality pastoral care ought to be the primary focus in any school if students are to flourish, this is absolutely the foundation stone, the rock-solid priority 1 at TSS where the whole person is recognised in this truly human-centred approach." Belinda Provis
However, while the TSS teachers are expert in their own fields, Provis admits that they are not experts in all fields of student interest. No educator can be. As a result, another unique aspect of the Studio Model is the team of external mentors who work closely with students and teachers.
For example, Sophie McWilliams is RACs first ever high school-aged intern and is working with a number of different tech teams within RAC to create and design an app that aims to support youth in regional communities in managing their mental health.
"Many of our students are working in fields that require expert mentoring and support – perhaps developing an app, coding a website or learning a new technique in their art practice," says Provis. "So we have developed a growing network of experts in community, business and industry to support our students in their projects, developing and applying their knowledge in real contexts."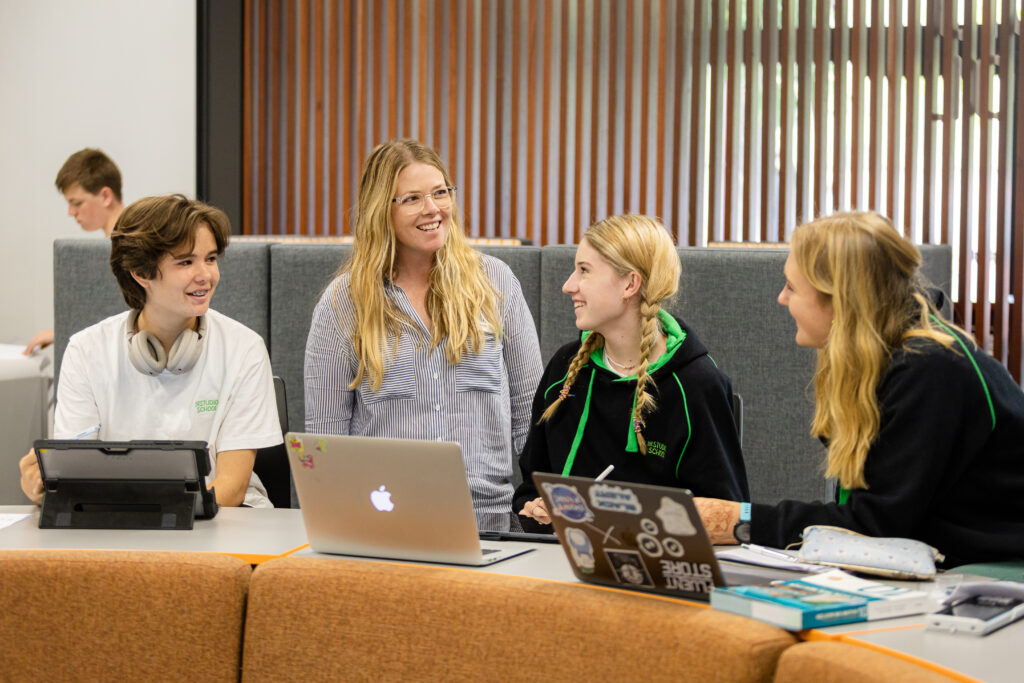 Advice to other schools
"It is important to note that TSS didn't emerge overnight," cautions Provis. "It is vital that there is a team of staff who not only "get it" in terms of pedagogy and approach, but who can actually deliver in a new paradigm. While I believe the central concepts behind TSS resonate with most teachers, I do not think it is an environment in which all teachers would feel comfortable."
"As part of that, the team needs be agile in thinking and practice, ready to change perspectives, ideas and systems as needed. A 'rinse and repeat' approach won't work – TSS is an iterative, organic and regenerative process of constantly innovating."
"I wouldn't suggest such a model be integrated into an existing campus. To truly be its own entity, it needs its own place and space, its own rules and norms, its own culture and identity. And finally, as with any project, ensure your 'why' is always front and centre in all you do – be explicit about it in all your decisions and in all your communications, and ensure it is clear in the students' and community's minds, too. It is powerful: clarifying and uniting."
The students also have a message they would like to share: "it's important there are places and especially schools… where students feel seen and important," says McWilliams. "We spend the majority of our lives until we graduate being in school, and to a certain point, it becomes our lives. So, I can't stress how important it is to have caring, understanding and human-centred options like The Studio School for young people."