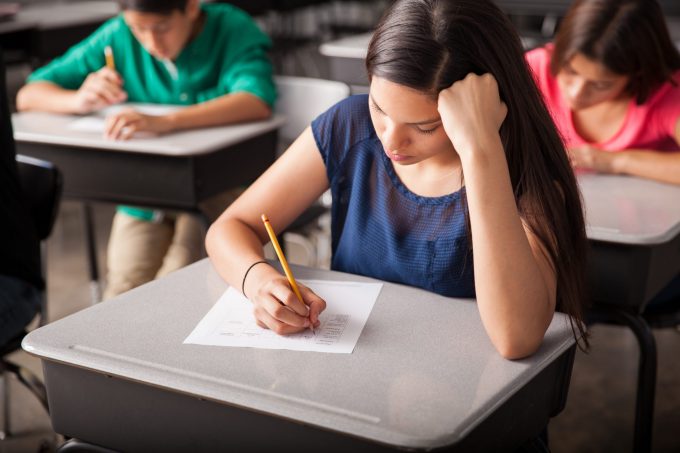 Rachael Jacobs, lecturer in Arts Education, Western Sydney University
The Conversation 
While standardised testing might be relevant for some fields of study, NAPLAN promotes a narrow view of literacy and writing and hinders the creative process.
If teachers want to prepare their students for the writing portion of NAPLAN, they must teach rigid writing structures that don't allow for creative flow. This may then turn children into bad writers.
The limitations of NAPLAN are frequently discussed among researchers, policymakers, teachers and in the community. So, if standardised tests hinder creativity, what can we use instead?
The benefits of creativity
One of the problems is NAPLAN places children as young as eight in an exam situation. These kinds of tests stigmatise mistakes, but mistakes are essential if schools are to encourage the original thoughts required to conquer the challenges young people will face in their futures.
Sometimes, traditional testing is functional and appropriate. We want our doctors and nurses to be able to do drug calculations and our engineers to be able to calculate the load of a bridge. Exam-style testing should be used when it's appropriate for students to demonstrate rote knowledge or something that requires a basic competency.
But solutions to big issues such as climate change and the recycling crisis are only going to be solved with creativity.
reative thinking, learning and play have a valid place in the curriculum, but are difficult to test. Traditional assessment methods that ask learners to replicate predetermined knowledge aren't a good fit for creative thinking. Creative tasks ask students to apply original thinking to create new ideas, new inventions or their own interpretation of a style.
For example, international research found text is more easily understood when enacted using the body, as might happen during a drama lesson. Students' reading comprehension also improves.
Creative tasks accommodate a degree of risk-taking, and often students have to consider the audience for whom they want their creative product to have meaning. There are many correct solutions to a problem. Divergent responses, where students create something the teacher didn't anticipate, are permitted and even encouraged.
Despite all of this complexity, creative work still strikes some as academically "soft" or less rigorous than traditional learning. Sadly, creative processes carry common perceptions of being too abstract, or only associated with high culture.
Many also assume creativity is impossible to assess, because of its association with taste and personal preference. For example, two people could have distinctly different opinions on the one piece of art, theatre performance or a piece of creative writing.
But creative work is assessed rigorously and often as part of our curriculum, at all school year levels. On a regular basis, students are asked to demonstrate creativity that can be quantified as part of dance, drama, English, media arts, visual arts or design and technology.
Creative learning is always grounded in knowledge and practice. Tasks often involve the demonstration of skills and craftsmanship developed as part of classroom learning.
What we could do instead
Creative tasks actually assess a wider range of skills that traditional testing can ignore, including effort, collaboration, context, originality and imagination. There are several alternatives to NAPLAN that assess students' skills in a way that doesn't constrain their responses.
For example, a national bank of creative tasks can be created that contains everything from devising performances to creating electrical circuits. Teachers could log in and modify a task for their own class. Annotated work samples could be made available to help teachers cross reference their judgements. The literacy and numeracy skills accessed by the task can easily be mapped and judged in an applied context.
It's also possible to make greater use of technology, in a way that avoids the reductive robo-marking that has caused community concern. Multi-media tasks, scenario-based exercises and hands on experiences are regularly used in the US now, as part of the National Assessment of Educational Progress (NAEP), providing an experience that is more authentic for the child, as it looks and feels like part of their everyday life.
Finally, we can return to encouraging and assessing artistry through creative writing that is not formulaic. Proponents of NAPLAN might think we're giving children a harmless check-up with these tests. But look at what we're taking away in the process: creativity, originality and the joy of engaging in beautiful writing. We want our children to be more than functional. Creative children will thrive and build a new and better world.