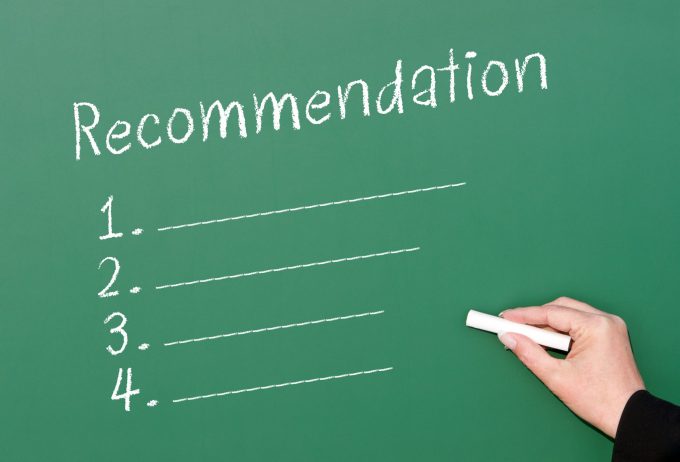 The federal government says it is pouring money into schools but failing to see results. The new Gonski report makes 23 recommendations which it says 

focus on "creating an education system that gives each student the opportunity to excel and to be their individual best".

Recommendation 1

Embed a focus on individual student achievement through continuous learning progress in the policies and practices of all schools and systems, with the expectation that each student should achieve at least one year's growth throughout each year of schooling.

Recommendation 2

Develop and disseminate evidence-based tools and resources to assist early childhood education providers, primary, and secondary schools to implement best practice approaches to supporting parents and carers to engage in their children's learning throughout their education.

Recommendation 3

Ensure all students have the opportunity within schools to be partners in their own learning.

Recommendation 4

Introduce new reporting arrangements with a focus on both learning attainment and learning gain, to provide meaningful information to students and their parents and carers about individual achievement and learning growth.

Recommendation 5

Revise the structure of the Australian Curriculum progressively over the next five years to present the learning areas and general capabilities as learning progressions.

Recommendation 6

Prioritise the implementation of learning progressions for literacy and numeracy in curriculum delivery during the early years of schooling to ensure the core foundations for learning are developed by all children by the age of eight.

Recommendation 7

Strengthen the development of the general capabilities, and raise their status within curriculum delivery, by using learning progressions to support clear and structured approaches to their teaching, assessment, reporting and integration with learning areas.

Recommendation 8

Strengthen school-community engagement to enrich student learning through the establishment of mechanisms to facilitate quality partnerships, including engagement in mentoring, volunteering and extra-curricular activities, between schools, employers, members of the community, community organisations and tertiary institutions.

Recommendation 9

Establish a comprehensive, national and independent inquiry to investigate and review the objectives, curriculum, assessment provisions and delivery structures for senior secondary schooling, to report within 12 months.

Recommendation 10

Accelerate the development of contemporary pedagogy through the use of collaboration, mentoring, observation and feedback, including from colleagues and students, by incorporating these practices into the core role of teachers and creating the conditions to enable teachers to engage in them.

Recommendation 11

Develop a new online and on demand student learning assessment tool based on the Australian Curriculum learning progressions.

 

Recommendation 12

Create the conditions necessary to enable teachers to effectively engage and benefit from professional learning in the use of the Australian Curriculum learning progressions, the new online formative assessment tool and tailored teaching practices to maximise student learning growth.

Recommendation 13

Create a continuously improving profession through the provision of high-quality professional learning for teachers; appropriate to their career stage, development needs and the changes rapidly occurring in society.

Recommendation 14

Develop a comprehensive national teacher workforce strategy to better match supply with workforce demands, including skill and capability requirements.

Recommendation 15

Create the conditions to enable teachers to engage in effective induction practices aligned with the nationally endorsed Graduate to Proficient: Australian guidelines for teacher induction and monitor and evaluate the effectiveness of the practices implemented by schools.

Recommendation 16

Create and provide opportunities for implementation of structured career pathways for teachers with clearly defined roles and development streams that allow for accelerated progression and provide the opportunity for remuneration, recognition and allocation of responsibilities based on expertise.

Recommendation 17

Review and revise the Australian Professional Standard for Principals to prioritise leadership of learning and make maximising the learning growth of every student every year the key focus.

Recommendation 18

Ensure principals have the professional autonomy and accountability required to lead their school on the improvement journey most relevant to their starting point.

Recommendation 19

Create and provide opportunities to implement a structured career pathway for school leaders which articulates clearly defined roles and development streams for middle leaders through to experienced principals and provides the opportunity for remuneration, recognition and allocation of responsibilities appropriate to the role.

Recommendation 20

Provide school leaders with access to a variety of professional learning opportunities appropriate to their career stage and development needs and recognise and harness the skills and experience of high-performing principals by enabling them to share their expertise across schools and throughout the system.

Recommendation 21

Enhance school and system internal self-review and external quality assurance processes, for the purposes of monitoring and reviewing student learning gain and achievement.

Recommendation 22

Accelerate the introduction of a national Unique Student Identifier for all students to be used throughout schooling.

Recommendation 23

Establish an independent institution to coordinate the strategic development of a national research and evidence base through the sourcing and generating of research, and the synthesising and promotion of educational evidence that can be easily accessed and implemented to improve student outcomes.