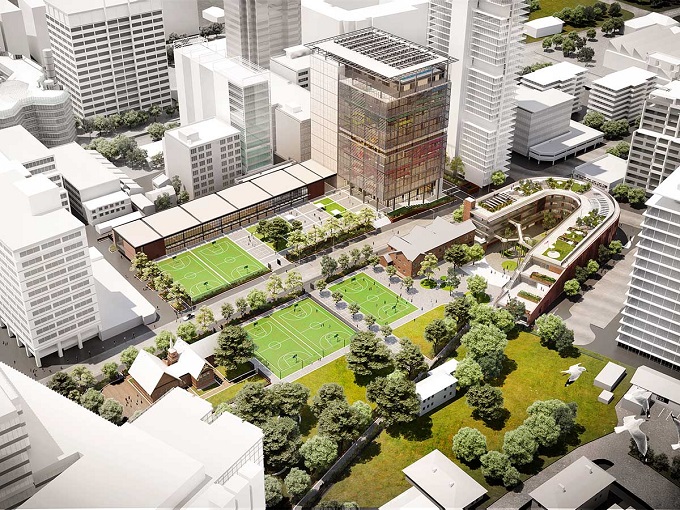 Students in Parramatta are one step closer to accessing state-of-the-art school facilities.
Minister for Education Sarah Mitchell and Member for Parramatta Geoff Lee have officially opened the first level at the new Arthur Phillip High School .
Ms Mitchell said the 'level reveal' was a fantastic opportunity for the school community to get a taste of the unique 17-storey school for the first time.
"We have been able to get a first-hand opportunity to experience how the innovative learning environment will operate here at Arthur Phillip, the first high-rise public school in NSW," she said.
"This is just another way the NSW Government is prioritising education across the State, and ensuring our kids have access to state-of-the-art learning facilities for years to come."
Mr Lee said the new high school will help meet growth in Parramatta.
"Once this project is complete, it will accommodate 2,000 secondary students, which is significant. Arthur Phillip is cleverly designed to provide flexible teaching spaces and adaptable rooms, as well as indoor and outdoor landscaped spaces," Mr Lee said.
"The school harnesses the very latest in education to offer students the very best learning environment, and connects with nearby educational facilities such as Parramatta Public School and the University of Western Sydney."
The NSW Government is investing $6.7 billion over the next four years to deliver more than 190 new and upgraded schools to support communities across NSW. In addition, a record $1.3 billion is being spent on school maintenance over five years, along with a record $500 million for the sustainable Cooler Classrooms program to provide air conditioning to schools.
This is the largest investment in public education infrastructure in the history of NSW.