Profiles
What does it mean to be an Ambassador School?
A key initiative in the NSW School Success Model, Ambassador Schools represent a cross-section of public schools at the peak of performance. School News speaks with principals from three of the schools to find out what led to their inclusion on the program, and what they hope to share with other schools and learn from each other.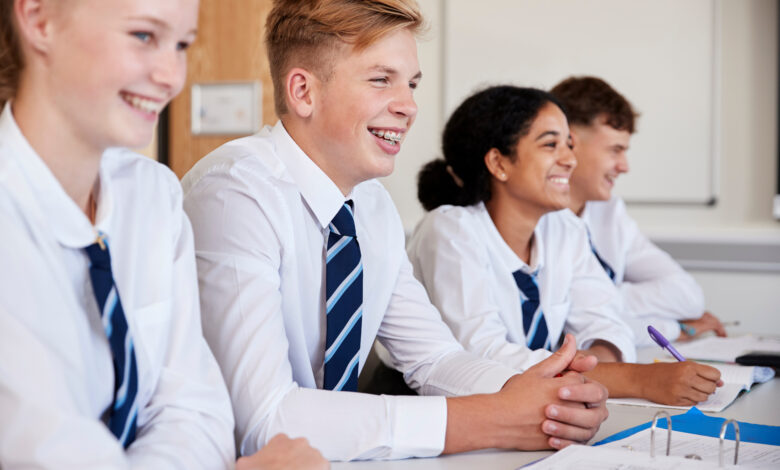 There are over 2,200 government schools in NSW.
Just ten were chosen as Ambassador Schools for the ambitious pilot phase of the School Success Model which represents the state's plan to bolster student success across the entire public education system. To determine how best to drive success across the state, the pilot program of ten high-performing schools – from a range of geographical locations and SES contexts, of varying sizes and with different cultural backgrounds – will provide an evidence base of what practices provide the greatest impact on student outcomes; or in the words of Colin Johnson, Principal of Charlestown South Public School, "[they] will work with researchers to identify common elements that have contributed to the 'success' of these 10 schools."
Learning you are one of the chosen schools is a humbling experience, and this was a word used by more than one of the Principals interviewed.
Fairvale High School Principal, Kathleen Seto, when asked her reaction when Fairvale was named one of the Ambassador Schools said: "I was surprised and humbled to be recognised in this way. To have the Secretary of the department call me and congratulate me for the great things we are doing at Fairvale wasn't something I was expecting, but I was very excited to be involved in this great program."
Mr Johnson said: "We were shocked at first but that was quickly replaced by a great sense of excitement and pride. Our staff felt incredibly humbled to be selected for such a role when there are so many wonderful public primary schools even just in our local Lake Macquarie and Newcastle area."
"All members of the Auburn North family felt very proud when we were informed that our school's excellence had been acknowledged and our school had been selected as one of the NSW Department of Education's Ambassador Schools," added Auburn North Public School principa,l Mark Harris.
Yet while the announcement may have come as a surprise, it could not have been a complete shock, since all Ambassador Schools have many years of strong performance, which led to them being singled out as suitable case studies for the pilot program.
But to be announced as one of the ten required much more than simply demonstrating strong student academic performance.
"There were a number of criteria we had to meet to be selected as an Ambassador School but I know our school also does exceptionally well in our 'value added' measures," explained Ms Seto. "These look at where students are academically in Year 7 and where they finish off in Year 12 to determine the contribution of the school on students' learning. So, we know our approach to learning works and our students are achieving good results."
"I think the key to a lot of our success is consistency. We keep our focus on the main game of teaching and learning and helping our students to be successful, which in turn leads to good student attendance and engagement."  Kathleen Seto
At Auburn North, one of Australia's most multicultural schools with families coming from more than 70 countries and speaking more than 50 languages, a key factor of their success comes from building a strong community. "Our school has also developed a reputation as an excellent community of students, leaders, teachers, and parents," said Mr Harris. "Over the past five years we have been recipients of five awards for outstanding 'School Achievements' and 'School Initiatives' in the NSW Minister's and Secretary's Awards for Excellence. We also know our students love their school and are highly motivated and engaged in their learning. We hope our school's story and success will help many schools appreciate that students from this type of background can achieve literacy and numeracy outcomes that are above state average."
Mr Johnson explained that success at Charlestown South comes from collaboration and team thinking. "The level of collaboration, passion, collective efficacy, and team mentality at Charlestown South Public School is something I think sets it apart – from our office staff, teaching staff, and support staff to our cleaner and general assistant."
It is these extra practices that will fall under the scrutiny of the researchers, who will be working to identify what the ten schools are doing that have the greatest impact on student outcomes within their own unique context. Then the Ambassador Schools Research Centre (ASRC) will determine how best to scale those effective practices across other NSW public schools.
Importantly, the best outcomes for students usually come where there is not only focus on student learning, but on the entire school community, including teacher and staff support and family engagement.
"At Fairvale High School, we also have strong student/teacher relationships and professional learning programs for our staff and leadership, including a Head Teacher, Mentor for early career teachers," Ms Seto said.
At Auburn North Public School, there is a focus on involving families. "We achieve high rates of student attendance and have strong parent engagement at the school, with our parents very involved in their children's learning," said Mr Harris. "We implement programs for parents to assist them in developing the confidence, knowledge, and skills to be active participants in their children's learning."
Taking a holistic approach to education is another key factor, looking at the whole child and not just their academic results. "Having an experienced teaching staff at Charlestown South Public School means we can quickly identify practices and procedures that are 'quality', meaningful and contribute to the academic, emotional, social, physical, and spiritual growth of our students. This also assists in quickly identifying those procedures and practices that may look good on the surface but don't necessarily have a long-term and lasting impact upon a child's learning, wellbeing, and growth," explains Mr Johnson.
"Our executive team, in consultation with all our staff, run every new and existing initiative, program and pedagogy through our school's 'filter' that says, "will this make, or is this making, a positive difference to our kids?" Colin Johnson
The Ambassador program commenced in Term 3, 2022 and will continue collecting data until 2024. During that time, the ten schools not only hope to share their own effective practices, but to learn from one another.
"We are very excited to look at the findings from the research team to see if there are things discovered from the other nine Ambassador Schools that we can adopt as we look to continue our journey toward success," explained Mr Johnson. "Our philosophy is that if we ever think we have 'arrived' as a school, then we will stop looking to improve, grow and learn. Being an Ambassador School and part of this research has added an extra layer of motivation and inspiration for our staff who amaze me daily with their energy and passion to be better than they were yesterday."