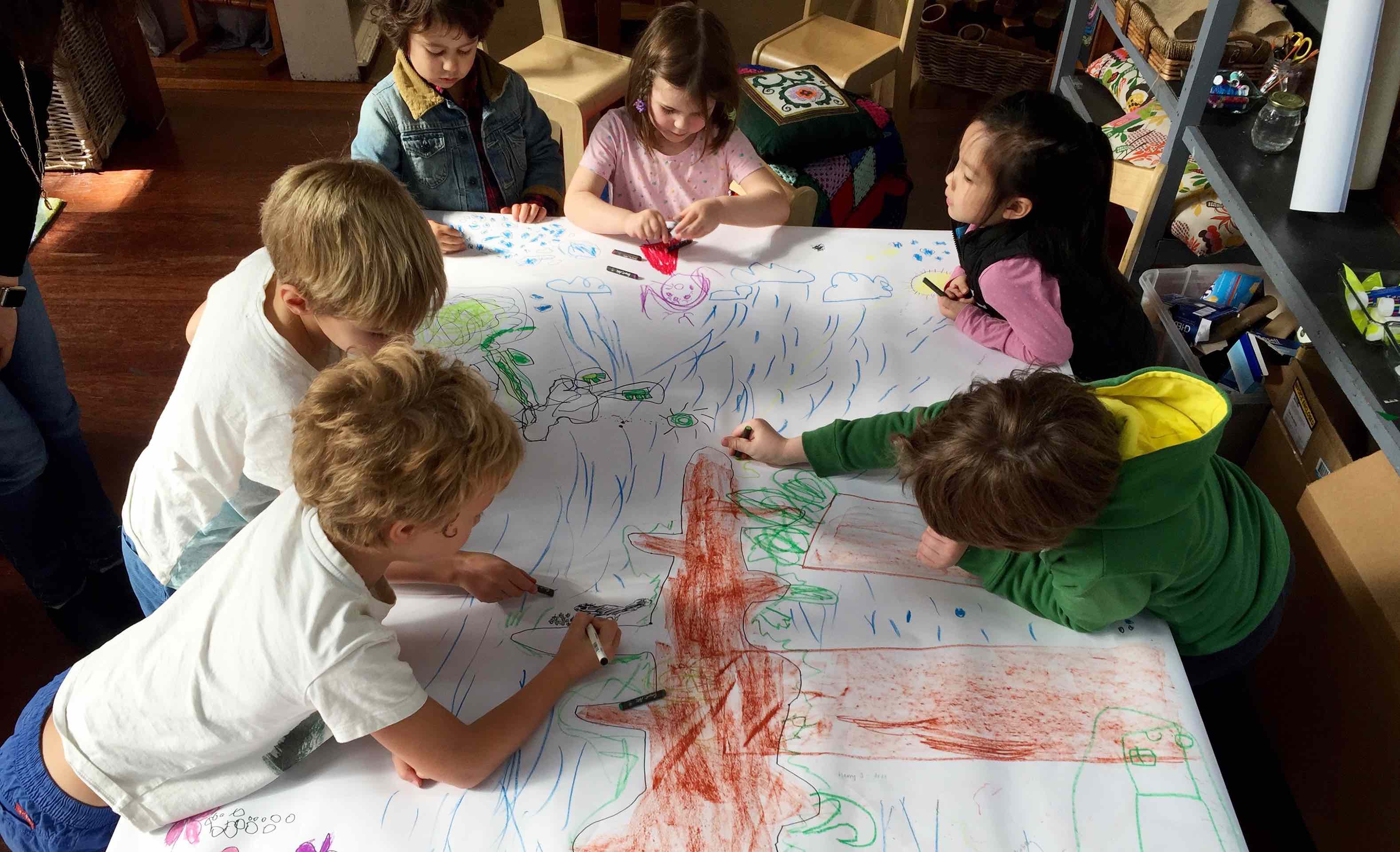 In January 2014, Margaret E Lyttle, the brilliant educational visionary who, as headmistress, was the inspiration of Preshil for over 50 years, died at the age of 101 years.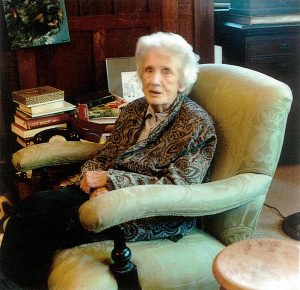 She had lived on, after her retirement, in the old homestead at "Arlington" until 2009, continuing to exert a major influence over the school and its extensive community of families and alumni.
At the time of her death Geoff Maslen, the well-known educational commentator, reflected on her life and the extraordinary school he remembered from his many visits during the 1980s and 1990s. He finished his article with the pessimistic, and unfounded, speculation that "without her authority'' the school would lose its way and might even be forced to close.
At the time that he wrote what sounded like an obituary for the school as well as for Margaret Lyttle there were many people who were dismayed by his cavalier dismissal, contenting himself with a predictable story of the rise and fall of a personal empire.
This slick narrative ignored the collective spirit of all those individuals Margaret had gathered around her, who grasped the need to articulate the accumulated wisdom underpinning Preshil's progressive approach. An approach responsible for providing such a vibrant alternative to mainstream schools that were increasingly forced to conform to the standardised, politicised and compliant approach to schooling.
Margaret Lyttle's school had developed a robust and indomitable heart, which would continue to beat despite Margaret's passing, due to the enduring strength and educational validity of her ideas, rather than because of her personal dominance.
Of course the school had needed to navigate the difficult transition, from a family organisation inspired by a charismatic leader to an independent institution with transferable governance and leadership structures.
In 2009, a determined group of parents, teachers and alumni worked together over several months collaborating to produce an extraordinary document called Courage. This group "read the original source documents of the school to distil them into a succinct statement of the principles of Preshil."
Preshil arose out of the Progressive Movement of Europe, England and America at the turn of the twentieth century, emphasising individuality, creative and critical thinking, social inclusion and democratic ideals.
The school's culture was never based on a factory model of standardised, industrial training, nor was it based on a military or religious establishment of authoritarian discipline, nor on the traditions of the socially elite English private schools. We are very fortunate in not having to dismantle these powerful conventions, as many schools struggle to do, in order to provide a truly contemporary approach to schooling.
In 2012, the Preshil Council completed a new strategic plan with the mission:
At our core remains an unshakeable commitment to encouraging all children to progress towards their own goals, and to be respected as individuals in their own right. A commitment to our children to be nurtured and challenged in an atmosphere that inspires creativity and independent thinking in all areas of life and does not, overtly or subtly, use competition or punishment to motivate through the fear of failure.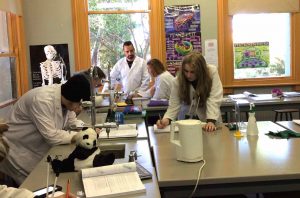 In recent years Preshil has found a framework which suits our progressive approach to teaching and learning in the International Baccalaureate.  We are seeking to establish a Primary Years Program as a natural fit with Preshil's own ideals. On the surface this makes little change, and allows all of our teachers to participate in the rigorous planning, professional development and the collegial networks of outstanding international educators that the IB provides.
As with John Marsden's Candlebark School, Preshil does not want children to be uniform, either in their appearance or in their thinking. We don't want to prevent children from active play and outdoor explorations by insisting they wear formal woollen skirts and blazers. We don't mandate that boys get to wear trousers and girls have to wear skirts. Learning is experiential, sometimes messy and genuinely collaborative – for all children – whether schools recognise this or not.
For these reasons – and for many others – Preshil attracts families who don't want their children to be moulded into a cookie-cutter shape, but want them to flourish, academically, creatively and emotionally, in a culture that respects them as critical thinkers and thoughtful global citizens.
Our parents are independent thinkers themselves; confident people who understand that the standardisation of rigid, old-fashioned educational models are increasingly failing to prepare young people for the contemporary and future world. The families who look to a school to motivate their child through conformity, fear of failure or fear of punishment do not choose Preshil.
This is also why we attract such outstanding teachers. Great teachers want to engage with students in rich and genuinely engaging education. Our families have high expectations of our teachers; they understand that enquiry-based, differentiated learning requires extensive planning and highly developed pedagogical knowledge. Our parents understand the role of genuine feedback for their sons and daughters rather than superficial assessments. Men and women who are able to teach successfully without the props of authoritarian and controlling school systems, without resorting to punitive measures to motivate children, find their place and flourish at Preshil.
Principal, Marilyn Smith and students at Blackhall Kalimna

At Preshil we do not appoint student leaders. Students who step forward to take up opportunities for leadership are often not the typical, confident performers we have all admired at traditional school events. They are more likely to be motivated by a passion for a particular interest or cause, often unpopular ones that do not immediately win them accolades. We encourage all students to speak out, to take ownership of their beliefs and to question the views and assumptions of others.
Encouraging students to question opinions and conventions also lies at the heart of our commitment to teach philosophy at all levels of the school, from the kindergarten to year 12, and a highlight of our year is the Preshil Philosophy Conference. Hundreds of students, and an increasing number of adults, from across the state attend this conference and we are able to attract philosophers of international standing as speakers. A Preshil alumnus, Professor Peter Singer, was our first keynote. He remembered the impact of Margaret Lyttle on his own thinking as a little boy and the freedom she allowed for children to think and to learn in their own way.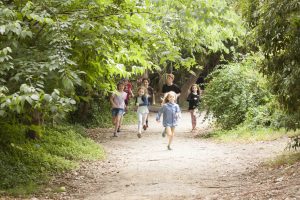 Preshil comprises a kindergarten and primary school, "Arlington", and a secondary school, "Blackhall Kalimna". Both of these campuses are beautiful. "Arlington" is almost rustic; its unique buildings nestled in grounds with mature trees and rambling gardens. From inside the campus, it is hard to reconcile this natural, slightly untamed setting with the surrounding manicured suburb. "Blackhall Kalimna" is anchored by two large Victorian houses, and has an atmosphere of comfortably faded grandeur, housing some truly vibrant learning spaces.
"Arlington" is where the school's philosophy is most visible, with its invitation to the children to build cubbies, hammer and saw, climb trees and play in spaces without asphalt or plastic. The contemporary Makerspace movement has been well established at Preshil for decades where imagination is recognised as the key to all later learning.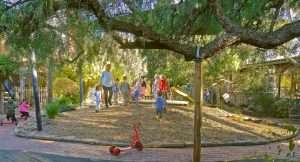 The kindergarten has always been seen as key to the later development of curious, creative and confident learners. Our teachers are specialists in their field of play pedagogy. The children are respected as being capable of big conceptual ideas, big questions and solving sophisticated problems in a world that is also delightful and full of fun. They are included in philosophical enquiry and are eager to share their discoveries with the older children.
At Preshil's secondary school we are well on the way to becoming an exclusively International Baccalaureate school. The IB Learner Profile supports them to be open-minded as well as caring; risk-takers as well as principled.
We have a rich offering of electives in multi-age classes. As with all approaches to learning, Preshil places great emphasis on experimentation and creativity. The current near obsession with STEAM is just a new way of communicating what the school has always done.
Preshil plans to offer the newly developed careers programme alongside the diploma course, which is particularly suited to those students who already know their career path and who need to focus all their energies on building portfolios and specific skills, rather than to pursue a broad-based range of subjects. These two offerings allow students to select subjects in ways that result in a genuinely bespoke course. They honour the same regard for individuals that has always distinguished the school.
Returning to Geoff Maslen, he noted that:
When I first went to Preshil, I found it still abided by that philosophy, that it was then, as it must have begun, a very happy school; a place where the children were cheerfully busy, relaxed and socially confident; where their feelings and rights were respected and their attitudes and opinions taken seriously by the adults around them.
If he were to visit today he would recognise that while much has changed, the enduring elements of Margaret Lyttle's vision sit very well in their contemporary setting.