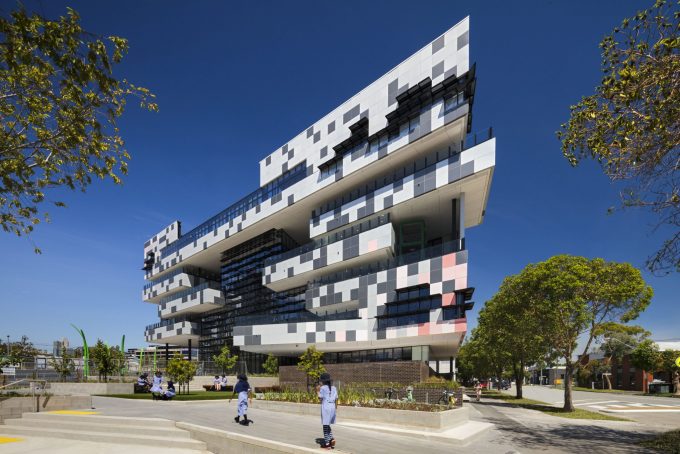 Principal Noel Creece offers a pithy description of the new-school-on-the-block in inner city Melbourne.
"It's not big – it just goes up," he says of South Melbourne Primary School in the densely populated  suburb of Southbank.
"There was no way the kids could have a large sprawling space in the middle of the city on such a small footprint so we had to build up instead of out."
South Melbourne opened its classrooms this year to much anticipation, with parents and students either excitedly embracing the new concept or warily standing back to observe.
The ground-breaking school rises through five storeys (six levels including the ground floor), with students hiking up and down flights of stairs to reach their classrooms.
From the outside, Noel says the school with its sharp lines, minimalist design and neutral tones looks like a corporate building similar to the modern architecture that adorns Melbourne's CBD.
The gleaming structure sits neatly on a 5000 sqm block which is tiny in comparison to traditional schools that sprawl over vast grounds complete with ovals, pools and fields. (Noel estimates South Melbourne's land is about one-tenth the size of the average school's.)
Of course, South Melbourne does not have a broad outdoor playground but that does not mean its city-dwelling students are missing out on lunchtime games and physical activity.
Kids can play in the forecourt on the ground floor or stage a few matches on the indoor basketball/netball court on the ground floor or outdoor basketball/netball court on level two.
Noel says it was necessary for South Melbourne to be built upwards because of the extremely high cost and premium availability of land in the inner city.
It was also necessary to cater to the rapidly growing population housed in towering highrise apartments mushrooming in the neighbourhood which is one of Australia's most densely populated areas.
(The Fisherman's Bend Urban Renewal Area where the school is located is welcoming about 3000 new residents each year.)
"There was actually a bit of a groundswell from parents lobbying the State Government to open two new schools in the area," explains Noel.
"We were the first and there is another school opening near us in 2019."
South Melbourne's classrooms are positioned on levels two, three and four, with the kindergarten and Prep students housed on the top floor which is level five.
"It's a novelty for the younger kids to be overseeing the city from the fifth floor," jokes Noel.
"It takes them about 11 minutes to get from the top to the ground floor because they don't use the elevators.
"You should see their little legs as they come down the stairs holding the bannister."
Level 1 is set aside as a shared community space where community groups can undertake activities such as yoga or host functions and events while the ground floor contains a gymnasium.
The 'co-mingling' of school and community is one of the innovative features of South Melbourne which Noel is excited to promote.
Although the building is owned by the Victorian Education Department it is designed to deliver community infrastructure – such as a maternal and child health centre, multi-purpose community rooms, indoor and outdoor sports courts – to fully integrate the school with the public.
"It's taking a while to commission but the vision is that I will be 'all of life' – you can bring your child in here at age zero and have them weighed and their percentiles measured at the maternal health centre and they could still be coming here when they are 21 and using the gymnasium for a sports competition," says Noel.
"At the moment the gymnasium is used exclusively by the school between 8.30am and 4.30pm but before and after school the City of Port Phillip?? Leases the space and it is open to the city to use."
In keeping with the seamless integration of school and community, South Melbourne school also has no fences bordering its grounds.
Noel says it was a deliberate philosophical decision to promote openness but also to educate students to "have your wits about you but don't be scared witless" when it comes to stranger danger.
"We are in the inner city so it's important for kids to be aware but also understand that not all adults have to be feared," says Noel.
Culture
As the principal of an inner-city school within the city limits, Noel has to manage the extremes of poverty, wealth and culture of his school community.
"It's quite unbelievable. Some kids are homeless and others might have just flown back from three weeks in Brazil," says Noel.
"We have kids who live in high-rises and others that come from housing commission.
"We are also very diverse multiculturally because of the nature of industry in the CBD. People from all countries are coming here and working in fields such as IT.
"For example we have Indians, Pakistanis, Chinese. The diversity of people you would see if you went for a walk along Southbank is akin to our school.
"As a school we connect culture and community."
The inner-city location means unlike suburban and regional schools that have to plan big days out or excursions, the South Melbourne kids can pop down the road to places like the aquarium and arts centre.
Their students also can literally walk out the front door and jump on a tram.
"The tram was relocated to be just outside our doorstep so kids can jump on a tram to their inner city apartment and not have to clog the road with cars," says Noel.
Teaching
South Melbourne School is considered a 'catalyst' school for its many experiments and innovations.
But Noel explains that "you can have the best building in the universe but if you don't have teachers that can teach well then you're wasting your time".
To ensure he had the right people on board, applicants were put through a rigorous and exhausting process which he jokingly compares to the reality TV program Survivor.
The teachers underwent a number of rounds of tests and trials, multiple interviews and teaching demonstrations before Noel was satisfied he had gathered together an "exceptional group of people".
"We are really intent on making sure we set the school up properly and build it up over the next few years and get the foundations done right," he says.
"Our philosophy is to raise students who are literate, numerate, curious and caring. That is fundamental. If we can't achieve that we would have failed the children."