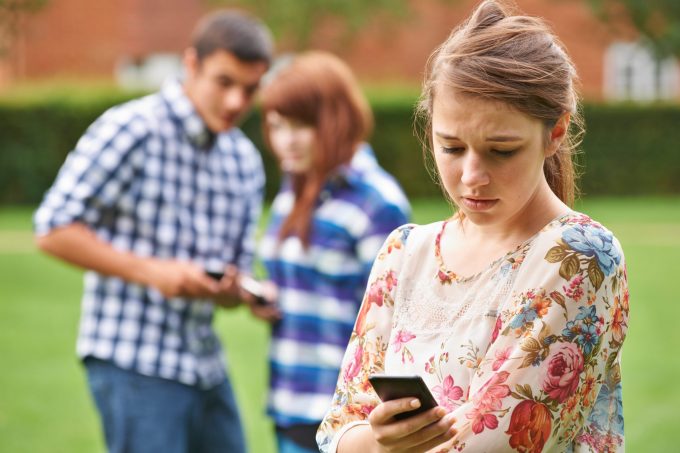 Australia's Office of of the e-Safety Commissioner has the task of tackling cyberbullying. 
The Office co-ordinates and leads the online safety efforts of government, industry and the not-for profit   community. It has a broad remit which includes providing:
a complaints service for young Australians who experience serious cyberbullying
identifying and removing illegal online content
tackling image-based abuse.
It has successfully pursued 800 complaints it received from young victims of cyberbullying. 
The office's research shows that 1 in 4 young people were contacted online by strangers or someone they didn't know, while 1 in 5 were socially excluded online. Similarly, repeated unwanted contact was the most common negative online experience reported by 16 percent of adults.
"Negative online experiences don't just affect young people, therefore it's essential that we instill the skills and strategies for dealing with difficult online experiences from a young age. Online safety is a life-long journey—not a destination," says Julie Inman Grant, eSafety Commissioner.  
Reassuringly, 66% of young people were able to reflect on their experience in a positive way—40% became more aware of online risks, while 33% became more aware of who their real friends were, and 23% learnt to use the internet in a more balanced way.
"I'm encouraged by the overwhelming number of young people who continue to learn from their negative online encounters. This is an important part of building resilience, critical reasoning and empathy skills, which should extend into adulthood" says Inman Grant.
Unfortunately, almost half of young Australians did not seek help from their parents about a negative online experience, and only 12% reported the encounter to a social media platforms.
"Talking to family or friends is an important part of dealing with online issues, as is using the formal reporting tools available through social media sites and apps to help get harmful material removed," says Inman Grant.
Young people can also report cyberbullying material to the eSafety Office if the content has not been removed from a social media site.
"Prevention, followed by early intervention through reporting are the most effective measures to addressing negative online experiences like cyberbullying," adds Inman Grant.
For more information about the research visit: www.esafety.gov.au/research
 How do I know if a student is being cyberbullied?
There are often signs that indicate a child may be the target of cyberbullying or struggling for other reasons.
Look for:
changes in personality, for example becoming more withdrawn, anxious, sad, angry or crying
appearing more lonely or distressed
unexpected changes in their friendship groups
less interaction with other students at school
possible peer rejection
decline in their school work
excessive sleepiness or lack of focus in the classroom and in other activities
higher levels of absenteeism
increased negative self-perception
a decline in their physical health
suicidal thoughts—these should be reported to the administration and the parents/carers immediately for appropriate action.
How should I respond to cyberbullying?
If you notice a child in your class or in the schoolyard showing any of the above signs, or other worrying and out of character behaviours, please tell them you are worried and want to help.
If they won't open up to you then recruit trusted others to talk to them, for example another teacher, guidance officer or school counsellor.
Keep a close eye on their interactions and ask other relevant staff to do the same, particularly at recess and lunchtime. If the child seems disconnected from others then encourage them to join lunchtime groups and recruit kind and supportive students to look out for them.
If other students appear to be targeting them or excluding them then there is a need for appropriate consequences in line with your school's bullying policy.
Any significant concerns should be discussed with the student and their parents or carers. Students should be provided with options for psychological support including school counselling or anonymous counselling through the Kids Helpline on 1800 55 1800.
Cyberbullying policies
Safe schools address cyberbullying before it happens
Safe schools have robust policies in place to address bullying and cyberbullying and develop an open, supporting and connected school culture.
If your school does not have anti-bullying procedures, you will find valuable information on state based approaches in the policies area of this site.
In addition, the National Safe Schools Framework helps Australian schools to develop effective student safety and wellbeing policies and the Safe Schools Hub provides strategies to help schools meet the recommendations of the National Safe Schools Framework.
Strategies your school can put in place now
There are many strategies that you can easily adopt in your school to make it an open community where every child can feel safe. These include:
Ensuring that every student, particularly those at risk, has a staff member that they can feel connected to and activities that they can feel a part of. It is very important that they feel valued as a member of the school community.
Encouraging all students to be active bystanders by safely speaking up and telling teachers and other adults if they see or hear of bullying.
Referring any student with social, academic or mental health difficulties to student support services. 
Implementing a cybersafety curriculum. We have several resources, which come with lesson plans and additional video resources.
Advocating on behalf of a student to report the cyberbullying to the relevant social media service. If the social media service fails to remove the material, report it to the Office of the eSafety Commissioner. Please note that evidence of both the actual cyberbullying and the attempt to report it to the social media service is necessary when they make their complaint.