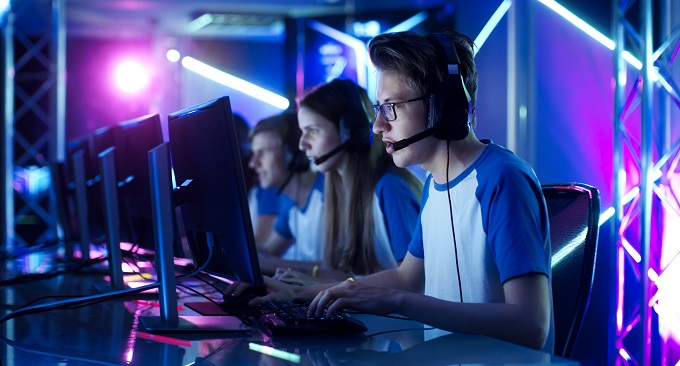 Gaming is soaring in popularity but experts are divided over whether students should be encouraged to play.
The popularity of gaming is impossible to ignore when you consider the statistics. Billions of people around the world play video games. In Australia, 97 per cent of households with children have computer games and 67 per cent of Australians play computer games, according to the Digital Australia Report 2018 by Bond University and the Interactive Games and Entertainment Association.
The survey also found 31 percent have competed at some stage in e-sport competitions and 33 percent have watched an e-sport tournament.
Grand final tournaments of games such as League of Legends – the world's largest e-sport – can attract as many as 80 million viewers to its finals tournaments – rivalling some mainstream sports.
Increasingly parents find themselves at loggerheads with children who spend more and more hours playing online team sports with friends. The intense popularity of the sport has led medical experts – including the World Health Organisation – to issue warnings on the potentially addictive nature of online gaming. WHO in fact has classified gaming disorder as a mental health condition, raising fears in parents about the amount of time children spend on screens.
Analysts who have crunched the numbers of gaming agree that its popularity has not yet reached a peak. In a recent Forbes article, it was estimated that e-sport revenues will exceed $1billion next year and the industry is considered untapped in terms of its potential.
Realising the popularity of the sport – particularly among young males – schools have begun introducing e-sport competitions and forming gaming clubs.
However experts such as Dr Kate Raynes-Goldie, a game designer and founder of Future Human Academy, do not agree with schools providing gaming as an extracurricular activity.
Schools News spoke to Dr Raynes-Goldie and League of Legends representative Ivan Davies for their differing opinions.
League of Legends
As a community and social play manager with one of the most popular esports in the world, Ivan Davies says gaming is "commonly part of a young person's life today and we should all look to find how we can best support this journey".
Ivan says Riot Games, the company behind League of Legends (LoL), is keen to foster sportsmanship as a core element of online play.
"We want to support the next generation in becoming empowered, knowledgeable, and respectful digital citizens through online play."
"Many thousands of students are playing League of Legends every day in Australia, we're keen to meet them on their chosen digital journey and find ways, with the support of schools and parents, to provide guidance and support."
The company has developed a high school League of Legends initiative helping facilitate schools that want to establish gaming clubs and e-sport competitions.
Ivan says around 20 schools in Australia have started a weekly club and over 100 schools from Australia will compete in inter-school League of Legends esports this year.
Most school clubs were started by a teacher responding to student requests. "League of Legends clubs are a space for productive and positive play, utilising the parallels between competitive gaming and traditional sports to teach important skills and values.  The program focuses on sportsmanship and teaching students how to handle online interaction in positive and healthy ways", he says of the League of Legends high school initiative.
"A League of Legends club is an authentic way to engage students and provide teachers with the environment and tools to teach digital citizenship.
"We have been working closely with teachers and researchers to understand the goals for 21st-century learners and digital citizenship.
"Together we have developed a teaching guide for teaching sportsmanship and online citizenship which aligns with the Australian National Schools Curriculum, designed a range of teaching resources and student learning activities, have run workshops on sportsmanship and supported teachers with a League of Legends learning day at the Powerhouse Museum in Sydney."
Like traditional sports such as soccer and rugby league or extracurricular activities like ballet and music, Ivan says it's important for parents to support their children's passions and be aware of the challenges they might face pursuing this pastime.
"Every child should feel that they're able to discover and express who they are," says Ivan.
"Not everyone is into sports like soccer and for many students esports is their chance to represent their school in something they are good at.
"But like traditional sports, students can be taught about sportsmanship and positive team based interaction by playing League of Legends.  
Dr Kimberley Voll, a senior technical designer at Riot Games, encourages parents to understand their children's gaming interests.
"Video games teach and challenge us, providing ways to socialise and connect with friends both locally and around the world," says Dr Voll.
"For painfully shy kids, online games can provide a more accessible way to develop social skills, rather than remaining isolated, helping them form long-lasting friendships.
"I encourage parents to spend time understanding what their kids are playing and why these games matter to them. Parents are amazing allies in gaming as a healthy part of a balanced lifestyle."
Gaming without computer screens
As a game designer who has been playing computer games since she was young, Dr Kate Raynes-Goldie is not opposed to the online world.
However, the popularity of gaming is such that the founder of Future Human Schools says she does not believe schools should also be promoting it.
"I don't agree with e-sport as an extra-curricular activity in schools because kids are already spending time playing games," says Dr Raynes-Goldie.
"I started gaming when I was older than a lot of the kids playing now and I developed all kinds of problems like RSI and I had to get glasses from staring at screens.
"Parents are worried about their kids being addicted to gaming but there are these other health issues they also need to consider."
Dr Raynes-Goldie now holds workshops encouraging children to create their own games in the "physical world" which do not involve screen time; to get student moving and socially interacting.
She says it is possible to promote game playing that is not "screen focussed" and that feeds children's innate love of invention and game designing.
One of the greatest challenges for parents and schools, she warns, is equipping young people to resist the addictive nature of computer games that are intentionally designed to keep young people hooked, therefore increasing revenue.