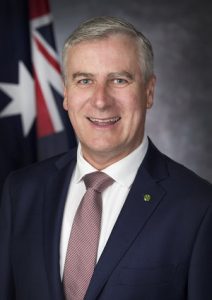 Michael McCormack needs a refresher course on Coalition school funding policy, according to Catholic Education Commission of Victoria's executive director Stephen Elder.
McCormack incidentally attended a rural catholic high school. 
It's no secret that the Turnbull government and the catholic school sector have been butting heads over funding. Both sides have accused the other of presenting misleading stats and arguments. 
---
---
At the centre of the ongoing controversy, on ABC radio last year, Education Minister Simon Birmingham rejected claims that Catholic schools were being unfairly treated under a then-newly proposed 'needs-based' model. He said:
"Everybody is being treated under a consistent funding model. Non-government schools, whatever their faith, whatever their background will be treated in exactly the same way. Catholic schools will receive over the next four years estimated growth in funding of $1.2 billion or around 3.7 percent per student."
---
---
Now, the CECV's Stephen Elder prompts: "Discriminatory transitional measures that give independent schools a decade to adjust but allow Catholic schools just six years – only revealed after the Gonski legislation was passed – will see Catholic systems lose $1.1 billion between now and 2027."
Speaking on the funding issue, Australian Education Union's Federal President Correna Haythorpe said: "The Turnbull Government is pouring billions into private schools for capital works and not spending a cent on buildings in public schools.
"Funding should be spent where it is needed most and with public school enrolments rising fast, that is in the public sector."
NSW Teachers Federation President Maurie Mulheron said: "By funding existing wealthy private schools the Turnbull Government is ignoring the capital funding needs of public schools. This year's federal budget must provide significant and ongoing capital funding for public schools." 
Elder added: "Last month CECV research revealed the Federal Coalition is spending $747 million each year funding some 200 wealthy private schools that already meet their school resourcing standard from their own pockets. Three quarters of a billion dollars is being handed over to wealthy schools that don't need it."