News
Technology
Bob Hawke College: Best practice makes perfect
This new school embraced a fusion of technology and sustainability to ensure the best outcomes for students and staff.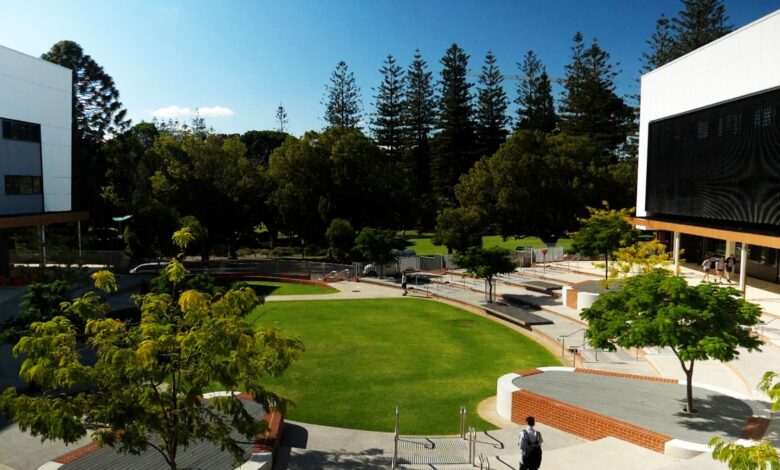 As a state-of-the-art school built from the ground-up, Bob Hawke College presented the Department of Education in Western Australia with an opportunity to truly rethink what inner-city learning looks like in the digital age.
Read the Term 3 edition of School News HERE
Their leading attitude towards technology as a pedagogical tool enables teachers and students to integrate the most modern methods of study into their daily lives seamlessly. Found in almost every room of Bob Hawke College, from the library to the principal's office, 58 ActivPanels reflect the school's wider approach to wastage and sustainability – with long-lasting, updatable technology that works in harmony with a clever BYOD policy. 
Bob Hawke College was designed to fit into its surroundings. From the ceiling-floor windows that give the impression that you're among the treetops, to the wide Gallery room that displays not only the artwork of the students, but also the heritage architecture of the surrounding town, it's clear that every aspect of this school has been meticulously thought-out.
"Usually, a town is designed around a school, but we had to fit into an existing urban space, which factored heavily into the architectural design," explains Nicole Cooper, Manager Corporate Services at Bob Hawke College. "It also meant we had a chance to really make some bold, positive changes to what a school can look like and how it can operate."
Bob Hawke College embraces a holistic and sustainable approach to learning, permeating everything the school does. Small things you notice as you watch the day-to-day operations of the school reflect this attitude. For example, at the beginning of the lesson children collect files from a class-specific container, with all the resources and workbooks they need for that period. Students then have less to carry to and from school, encouraging economic transportation to school via walking, biking or public transport. The college's bring your own device (BYOD) policy means less wastage, allowing students to make full use of the technology readily available to them and reducing budget allocation to devices that will ultimately require replacing.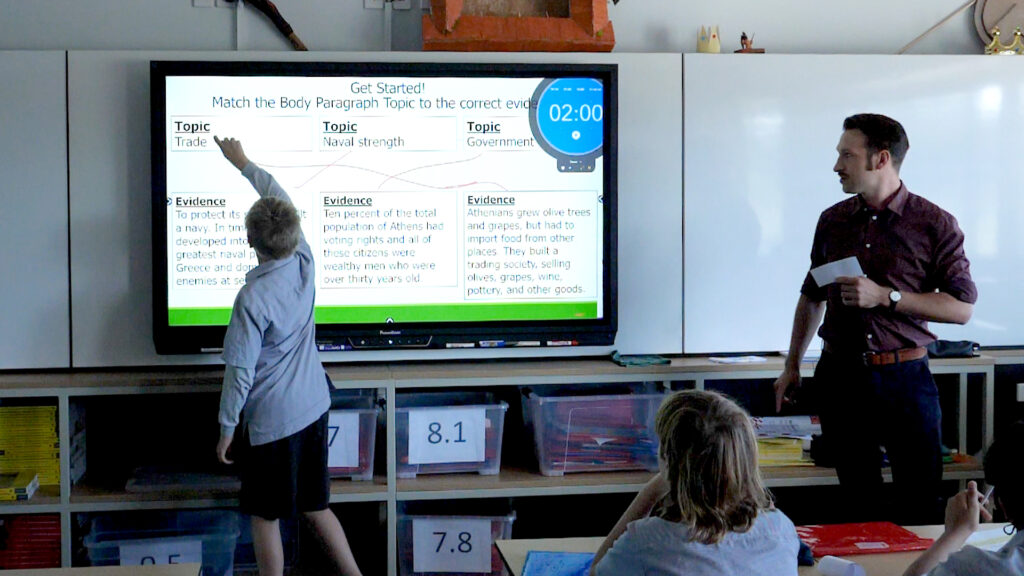 Transparency at the heart of learning
Transparency is a word that comes to mind often when touring the halls of Bob Hawke College. It is apparent in a literal sense in the glass walls of the classrooms, giving the rooms a modern, museum exhibition quality. These walls offer a symbolic kind of transparency also, giving onlookers an opportunity to learn how others are teaching and learning, encouraging pedagogical best practice to spread throughout the school's staff and students.
The extra-wide hallways of the school allow students to move from class to class with ease within the college, which had to focus on building upwards rather than outwards inside its limited land space. These hallways host an array of soft learning spaces; during class time they are filled with break-out groups, studying independently in these flexible learning areas.
Country-leading approach to technology
From its conception, Bob Hawke College was earmarked by the Education and Training Minister for WA to be leading in its use of technology. And, like its other core values, this tech-forward and innovative spirit integrates seamlessly into the school's day-to-day operations.
When deciding on the technology that would serve as the foundation of lesson delivery at the school, planners initially investigated projector-based interactive whiteboards (IWBs), but swiftly realised their investment would be better spent on a product with less maintenance requirements and more longevity in the market, meaning greater value for money in the long-run.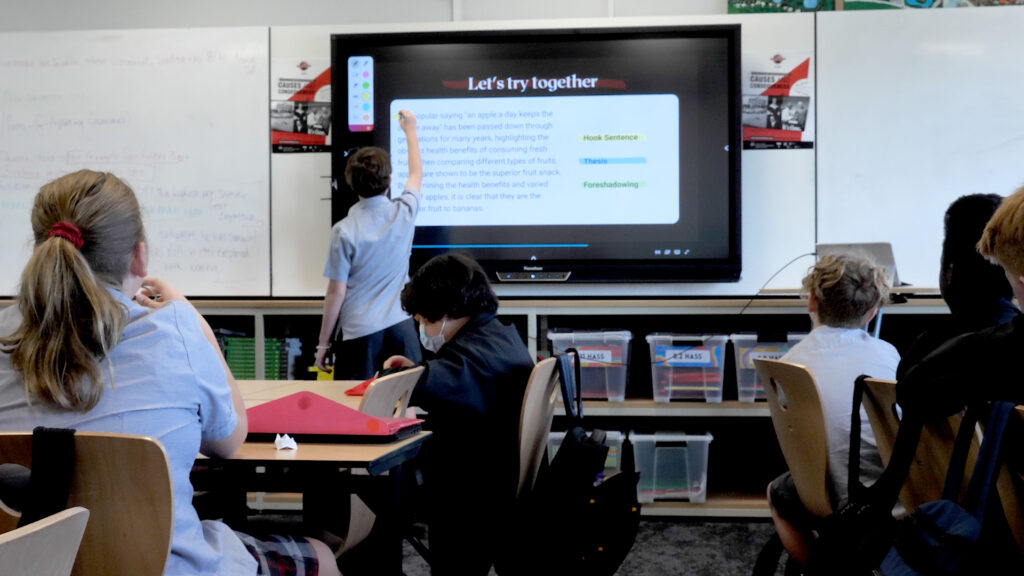 The school wanted to buy a product that had potential for regular system updates (without the parts replacement required of IWBs) and a range of user-friendly features that would intuitively fit into the lives of staff, both of which they found in the ActivPanel. "We were future-proofing our edtech investment," remarks Nicole. "Keeping up with technology that goes out of date and can't be updated without parts replacement would have been too costly in the long run."
The college installed 58 ActivPanels in over 50 rooms throughout the school, from the principal's office to the art room, with the remaining panels mounted onto mobile stands to go where needed.
 Plug and play
Training sessions were conducted with a small group of teachers, who then went on to support their colleagues in upskilling, sharing ideas and new ways of using the panels in their own sessions. Ultimately, the ease of use of the panels meant that the extensive support and training offered by Promethean was scarcely needed.
"The installation process was so good," recalls Nicole. "I don't want to say, 'plug and play', but that's honestly how it felt. We installed the panels without issue and since then they've been very easy to set up and get going."
The panels are multi-purposed, used throughout the school for a range of subjects and by the administrative staff in brainstorming and forward planning. During COVID-19 restrictions, the ActivPanels proved to be a valuable addition to the hiring process of new staff and teachers, allowing interviews to be conducted remotely through Teams. Potential candidates are able to create teaching presentations that they can then share to the hiring panel through screen sharing.
What's more, the panels' ability to connect to a wide range of devices is the perfect complement to the school's BYOD policy, reducing the need to allocate budget towards additional compatible devices.
Learning for life
The college aims go above simply teaching students, but in creating lifelong learners by the end of their high school experience. Students are active in their learning process – reflective of their own work. This was demonstrated in a Year 7 introductory lesson to essay-writing, where teacher Sam Marsh displays a dynamic "awesomeness scale" table onto the room's ActivPanel. Sam uses the Timer app as students write their sample body paragraphs. Then, after reading their work aloud, he invites them to come to the front and draw an X on his table where they feel their work belongs. This exercise in self-assessment also provides transparency, as students have a chance to learn how their classmates have approached the task.
Integrate AV is a Promethean Platinum Partner and has a dedicated education team who can assist you with an interactive flat panel solution for your school. Integrate AV is a supplier on contract with the NSW Department of Education Multimedia Solutions 278 State Contract, QLD Department of Education Standing Offer QEDSOA-71789 and the Tasmanian Information and Communication Hardware C150 contract.