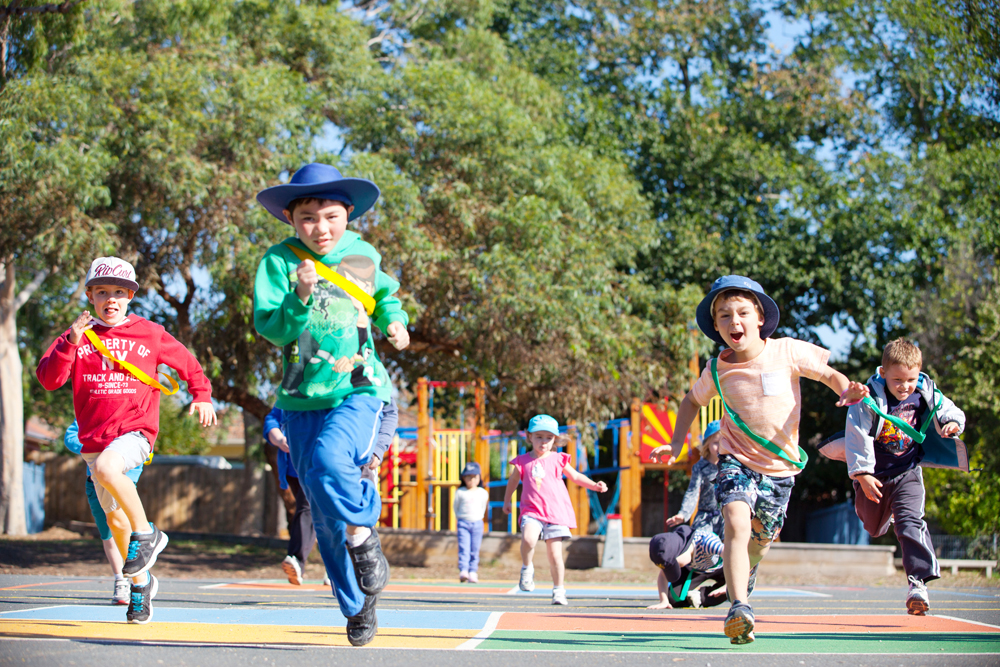 As family dynamics continue to evolve, more parents require of school hours care. Schools are providing it onsite and the regulatory and staffing challenges continue to get more complex, but where has it evolved from and what is the future of before and after care in primary schools across Australia?
If you were living in the 70s then you were listening to Skyhooks on the radio and you knew it was also a long way to the shop to buy a Chiko Roll (even if AC/DC had the words a little different). Societal norms at that time saw children making their own way to school and they were free to roam anywhere in the neighbourhood so long as they were home for dinner. Out of school hours care programs didn't really exist as there wasn't a need.
Fast forward a generation or two to today and our streets are a very different place. Society now deems them a much more dangerous place for young children to be and children finding their own way home from school is no longer considered the norm. With the rate of families in which both parents work continuing to rise (currently three in five), the demand for out of school hours care is stronger than ever (see Table 1) and, in many cases, is a non-negotiable requirement for parents when choosing schools.
Previously unregulated and flexible in their approach, out of school hours care programs have come a long way in the past 30 years. What was once an easy program to run in-house, thanks to the lack of licensing, regulation, legislation, and reporting requirements, is now a veritable labyrinth of laws, compliance requirements, compulsory staffing ratios and records management expectations.
The introduction of the National Quality Framework (NQF) in 2012, by the Australian Children's Education and Care Quality Authority, brought a renewed level of safety and quality to what had become a significant industry and provided benchmarks and targets that programs must abide by in order to gain and retain accreditation.
The government further endorsed the NQF by announcing a range of child care rebate schemes but only to parents utilising licensed out of school care services. These rebate schemes are now not only a fundamental benefit for families and parents but are also regularly featured, and hotly debated, in Federal elections.
The staffing landscape has also changed considerably since the early inception of out of school hours care.
Initially, run and staffed by mums and dads, school committees, volunteers and members of parent-teacher associations, before and after school care programs are now required by law to be staffed with childcare trained and qualified professionals with current first aid certificates and anaphylaxis training. Ensuring the right mix of team members to adequately cover compliance requirements can prove troublesome for small providers.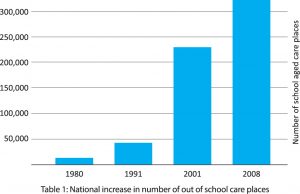 While the past 3 decades have seen significant advancements and changes to the out of school hours care industry, the journey is not over yet. As society continues to evolve so too do the needs of working families. This evolution in turn shapes and drives before and after care services.
What does the future hold?
The future holds many opportunities for out of school care, yet it also poses many challenges. With the NQF now a defining feature of the industry, schools and after care providers must be on constant alert for changes, updates and revisions in the governing guidelines to ensure their programs are compliant with current legislation. Noncompliance in some circumstances can lead to restriction or even closure of the program, so keeping abreast of NQF requirements is a must for all out of school care services.
As the NQF shifts from its foundational phase into a growth and refinement phase, we will no doubt see less of the major, easy to identify, changes to guidelines and significantly more minor changes, tweaks and modifications to tighten safety and increase the quality of licensed services. It will be imperative that all after care providers, whether schools or specialist providers, remain vigilant and attentive to the ever-changing NQF landscape.
Staffing programs with fully-qualified team members could also prove to be more of a challenge in the coming years. With staff to child ratios now firmly embedded in services, the focus is shifting more to the qualifications of individual team members as well as the blend of qualifications amongst the team in order to meet the ever-changing compliance requirements. Smaller providers and in-house operators that don't have a pool of staff to call upon may struggle to achieve compliance across their team.
Technological and digital advancements are changing the way we interact and do business on a daily basis and after care services are no exception to that. In what is becoming an instant download world, parents and families expect to be able to interact with service providers wherever and whenever they choose to. Gone are the days of nine to five customer service via the telephone, instead, more and more families are wanting to register, book, manage, cancel and pay for services at their own convenience.
The explosion in the number of websites, apps and social media channels dedicated to out of school hours care is a testament to the fact that parents are demanding more online interaction. With no end in sight for the information age we are experiencing, it's safe to assume that these basic technological demands will soon evolve into more customised, individual solutions for parents. But that's just the tip of the iceberg when it comes to challenges and opportunities for out of school care. Who knows what the future could hold? As work life becomes more fluid for parents we may see a demand for evening, night time or weekend care. Or, as schedules get busier and family time more precious we may see a demand for inclusion of structured language lessons, music lessons or sporting lessons during before and after care. It's anybody's guess what is to come. One thing we know for certain though is that times are changing and only those who change with it will succeed.