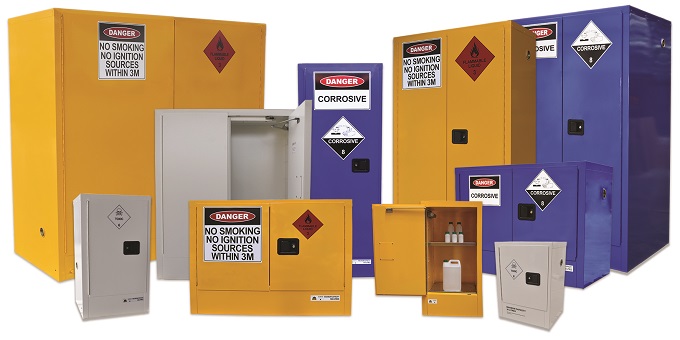 Do your storage solutions comply with Australian Standards?
WorkSafe found several compliance issues with hazardous substance regulations in several schools in WA. When news broke of this earlier in the semester, WA primary schools were put on notice about 'worrying levels' of workplace safety issues. It was a timely reminder for all Australian schools to make sure they are compliant.  
This article was written for our print issue – read the magazine here. 
Hannah Barry, reporting for WA Today, said: "Inspections carried out at 53 primary schools saw 239 improvement notices handed out to different schools throughout the state. More than half related to the use of hazardous substances on campus, and ranged from problems with labelling chemical substances to failing to provide training to cleaners, handypersons and gardeners who handled the materials."
It is an important reminder for schools to be proactive in making sure their storage facilities meet Australian Standards.
Health and safety refresher:
Make sure all staff are trained and up-to-date on the hazardous substances they use, how chemicals and sharps must be labelled, stored and disposed of. Check that your cleaners, caretakers and gardeners are complying because they were singled out by the WA inspectors for their lack of compliance.
Chemical storage is essential to the health and safety wellbeing of your school and you need to have a management plan in place.
Create and update a register or list of hazardous chemicals around your school and maintain current Safety Data Sheets (SDSs) as these provide information on chemical identification, chemical stability and reactivity to help with separation, segregation, storage and disposal.
Note: chemical suppliers always include a free SDS from the manufacturer or importer of every chemical.
Label accurately, because incorrect labelling of chemicals is a tragedy waiting to happen.
Access to hazardous goods should be restricted to authorised and trained personnel only and should be carefully organised and securely stored in suitable locked cabinets.
Separate incompatible substances by distance or a thermal barrier.
Industry viewpoints:
 We spoke with Kevin Lampard from Global Spill, about safety protocols and compliance for schools.  
"A common mistake we see is storing aerosol cans in flammable liquid safety cabinets. Many people see a flammable diamond on the aerosol can but don't realise flammables can be either liquid or gas (or solids, but that is a long story for another day!). Flammable gases and flammable liquids have different classifications and very different storage requirements; primarily to do with ventilation, which is why aerosols should be in a highly ventilated cage as opposed to a safety cabinet.
"Don't swap storage facilities out of convenience. For example, you wouldn't store corrosive substances in a cabinet designed for flammable liquids. A well-made, AS-compliant corrosive safety cabinet should include internal surface coating for long-term protection in corrosive environments. This will protect against any drips, leaks, spills or corrosive vapours and will not react/erode in the same way that other surface finishes may.
"Remember that health and safety requirements tend to be specific according to the chemical. A good starting point is to refer to State or Territory health and safety requirements on the government education department websites. E.g. the QLD education department publishes an easy-to-follow factsheet on GHS compliance."