Property
Schools branch out, plunge into nature play
Sustainable play space environments benefit from a combination of architectural landscape design, and pedagogy-informed equipment options.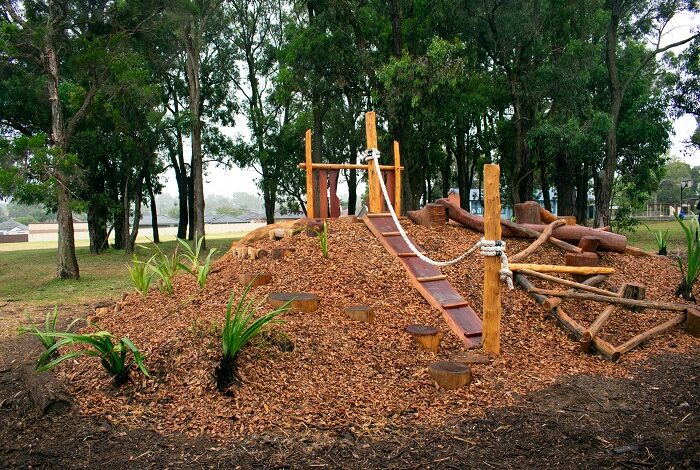 A review conducted by University of South Australia researchers, Kylie Dankiw and Katherine Baldock was the first to provide empirical evidence that supports the development of innovative nature play spaces in childcare centres and schools.
The study notes that nature play boosted fitness, motor skills, learning, as well as social and emotional development in children. They also suggested possible improvements in cognitive and learning outcomes, including "children's levels of attention and concentration, punctuality, settling in class (even after play), constructive play, social play, as well as imaginative and functional play".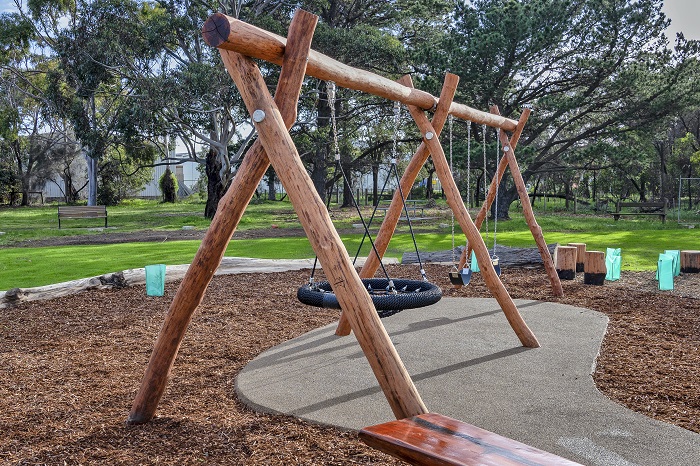 Dankiw commented: "It's about making mud pies, creating stick forts, having an outdoor adventure, and getting dirty.
"These are all things that children love to do, but unfortunately, as society has become more sedentary, risk averse and time-poor, fewer children are having these opportunities. By playing in nature, children can build their physical capabilities – their balance, fitness, and strength. And, as they play with others, they learn valuable negotiation skills, concepts of sharing and friendships, which may contribute to healthy emotional and social resilience."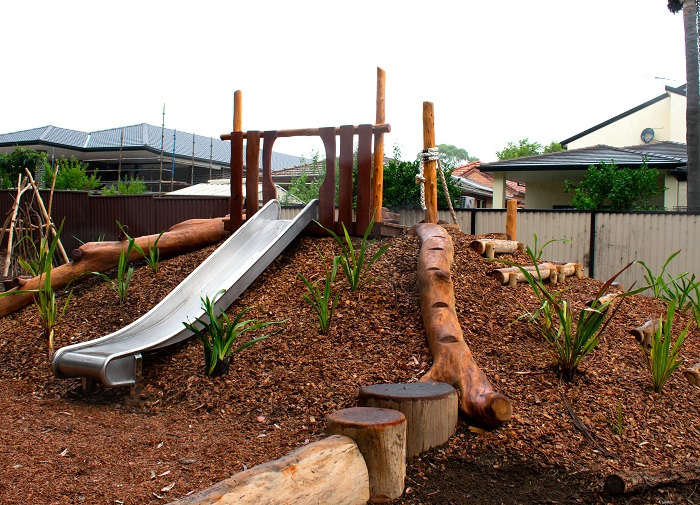 While some schools are moving classes completely outdoors to fully immerse students in nature, many mainstream schools are instead integrating aspects of nature-based learning into their school environments.
Play spaces are a versatile way to accomplish this while giving new life to underused areas of your campus. Embarking on a school-wide project to transform your existing environment into thriving learning areas and imaginative play spaces can be fun as well as productive. And, as mentioned, nature play spaces are frequently versatile enough to double as teaching environments, with natural seating for group work, hideaways for quiet reading, and even musical instruments, log animals, and sensory gardens for creative inspiration.
Keen to explore recent installations relevant to Australian schools, we approached nature play facilitators to find out more.
School sector expertise from the industry
Timber Creations' Madelyn Smith talked us through a recent project undertaken at Banksia Rd Public School to transform an awkward mound of dirt which had been used as a rubbish dump into a usable playground space.
She revealed: "The mound was cleaned up, compacted, and a range of interesting ways to clamber and climb it were added as well as a slide. The final outcome included branch scrambles, balance beams, ramps, stepping logs, as well as discovery play elements tying into the rest of the school, such as rope climbs, a sorting bench, a self-build cubby, balance beam, and more. The mound was finished off with a mulch covering, and Doryanthes plants, that will grow roots to further protect the mound—plus, the children will get to enjoy weaving play with the enormous Gymea Lily flowers."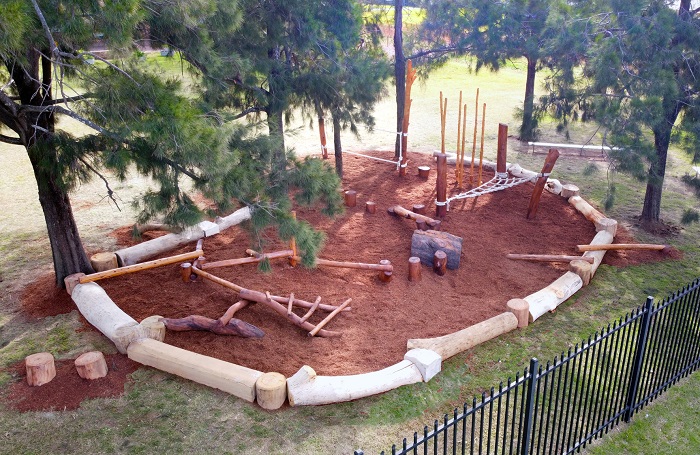 Nature play, at its core is anything you can find naturally occurring in the environment to explore, Madelyn explained, "but adding small touches of nature can transform ordinary play equipment too".
"Unaltered found pieces, like logs and rocks are fantastic, but consider swapping standard climbing equipment with those made from different natural materials. Cubby poles with natural timber defects are great for sensory discovery; percussion instruments made from hollow logs lead to experimentation and deeper learning about natural sounds and noise-making. Almost anything in the playground can be made from natural materials, for a more environmentally sustainable and exciting discovery playground.
"It's also about working with what you have! Use those slopes and trees and let the space inform your playground–show children how different environments can be used for play. Plants, trees and natural elements change with the seasons, and non-prescriptive play pieces keep challenging students in different ways. In these environments, students learn by doing—they invent, risk-assess, challenge themselves, fail, and re-assess. This type of play supports growing independent learners."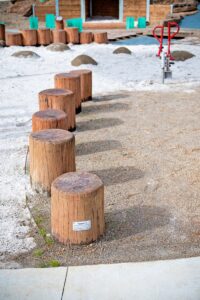 Imagination Play representative Madeline Jones told us about a recent brief her team received from Blue Landscape Architects, for Kingston Reserve in Victoria to create a memorable experience for children by incorporating traditional playground elements into the natural environment.  The space won a Gold Award from the Australian Institute of Landscape Design and Managers in 2020. 
She explained: "The first step is to consider available space and surrounding natural elements to help define the goal so schools can realise their vision. Traditional playground elements can be enhanced with natural timber to give kids the sensory input they crave. Textured sand, wooden steppingstones, timber hideaway, natural rocks, and digging tools encourage kids to explore natural textures, invent games and develop unstructured play scenarios.
For schools taking nature play environments a step further, Madeline said: "Encouraging kids to interact with their local ecosystem through the use of bird feeders, composting, or growing plants is cost effective and utilises readily available materials. These elements can be easily incorporated into the curriculum and often use recycled or existing materials on the school site."
Ultimately though, school playgrounds "need to be safe, sturdy, and easy to supervise", Madeline stressed. "Nature play is a broad concept. Plants, sand, water, dirt and rocks are all a part of nature play, but great nature play design takes those elements and creates a safe framework that inspires imagination.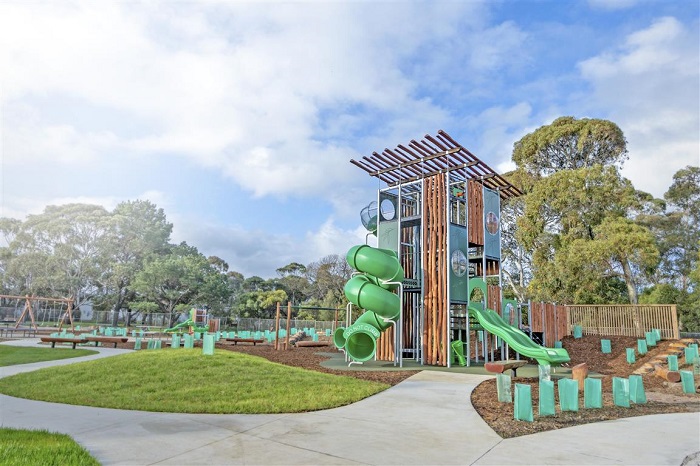 "Combining traditional playground elements with natural textures is a great way to integrate play spaces into a school's surrounding environment. It can be as complex as installing structural timber climbing frames with slides and monkey bars, or as simple as fitting a timber teepee and stepping logs.
"The core idea is to provide children with natural sensory input, while guiding them towards unstructured play. The natural and irregular shapes found on logs, steppingstones, balance beams, and rocks help children assess and negotiate risks, while building confidence and problem-solving skills."