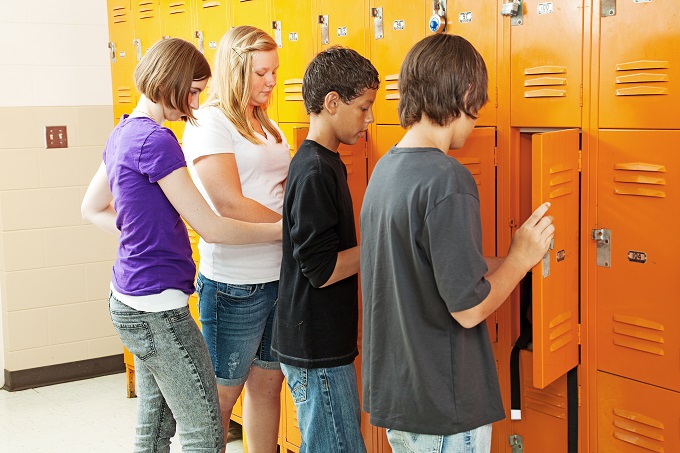 Private schools in Australia generally have lockers for high school students to store their heavy bags inside, but many state schools report not being able to justify funding for the project.
Is it true that lockers are a vital component of a happy school life or can they cause students more stress?
Before the school year starts, students worry about the locker lottery. Especially those students at an awkward middle school age where everything is a huge deal, lockers can become the number one concern for anawkward pre-teen.
The Kensington Universal AC Lock & Charge Station was engineered to meet the demands of classrooms, healthcare offices and retail spaces needing a durable storage solution for tablets, laptops, and e-readers.


James Dibou, Kensington
They worry: which locker? Will I remember the lock combination? Is it too far from class? Which books do I leave in and take out, etc.?
However, with privacy also a massive issue for children (especially teens), once they get over their initial locker anxiety students like to have a safe, private place in which to store their belongings.
Far from simply being a nice addition to your school storage solutions, lockers can offer many important benefits to students:
Security.With most students carrying a mobile phone, tablet or laptop, lockers for schools are more important than ever when it comes to keeping cases of theft and damage to a minimum.
Many schools now provide laptops for students to use during their lessons, and some install lockers with charging facilities for their storage, which is safer and encourages them to leave their phones in their lockers all day!
Lockersteach independence. Give students the responsibility to look after their own possessions, value their belongings and respect their peers.
Health and safety. Heavy backpacks cause back pain and problems, so school lockers play an important role in ensuring the health and wellbeing of students.
Individuality.Lockers give students a personal area that they can call their own in a school where they must otherwise try to conform.
Privacy. Lockers create boundaries that teach students about mutual respect.
Why you shouldn't dismiss lockers as a costly extravagance…
Heavy school bags. A 'fact sheet' released by the Chiropractor's Associate of Australia reports results of a 2011 observational study of more than 340 schools. The key finding of the study revealed 90 percent of school children have bad posture when carrying their bags and could experience spinal damage as a result, while 75 percent are not using their backpack's ergonomic features, which could prevent such damage. Many students carrying an average of 17 percent of their body weight on their back, which is almost twice the recommended carrying weight of ten percent.
According to a 2002 international study, Backpacks on! daily backpack carrying is a frequent cause of discomfort for school children. The rising prevalence of laptops in secondary schools goes a little way to alleviating the weight of the bag, but several books are still required.
Types of lockers…
Minior exam hall lockers. Valuables lockers are a welcome addition to any school hall or gymnasium. When students enter exam conditions they can switch off their mobile phone and store it in a locker with their keys and wallet.
Gym lockers. Larger locker cabinets are ideal for sports locker rooms or changing rooms, choose a size that has ample storage space for keeping clothes, shoes and other personal belongings safe. Compartments may have a hanger bar and even a mirror.
Charge,lock and go lockers. These have a variety of perfectly sized compartments spaces for anything electric and handheld – a great storage solution for tablets, laptops, and e-readers allowing charging access and ventilation.
Schoollockers. There are lockers specifically designed for school backpacks, books and laptop computers. They tend to have a reinforced door and key, padlock or keyless digital locks.
Materials? Durable plastic, or high-quality steel – simply make sure it is sturdy and easy to clean. Plastic feet prevent your floors from getting scratched up and you must prevent overturning, so a wall attachment may be needed.