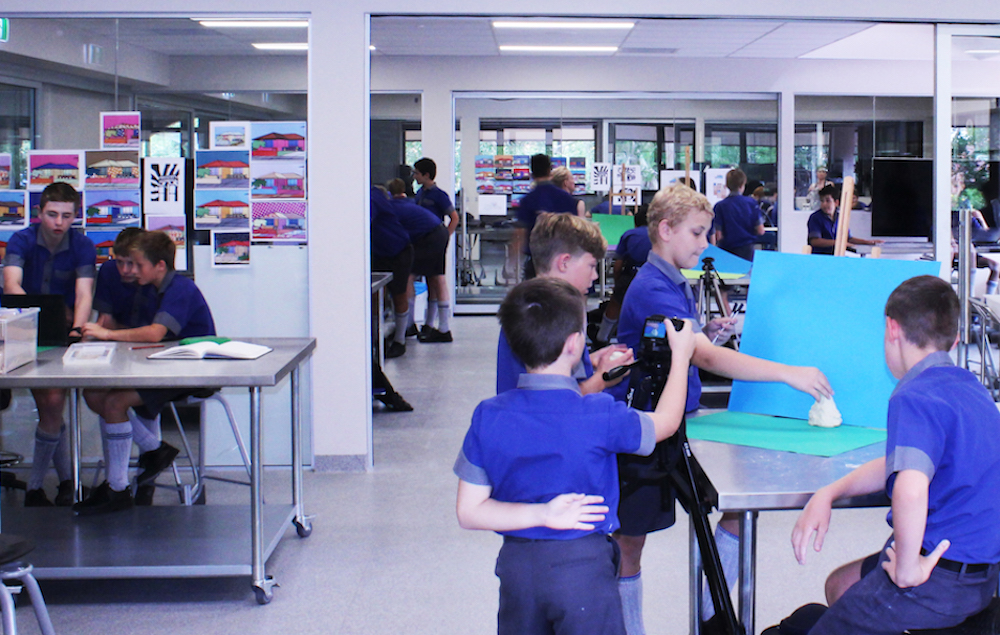 At the heart of all good schools are great people (staff, students, parents, and alumni) and rigorous educational programmes. I am proud to say that Churchie has benefited immensely in both these areas over its 100-year history and I look to continue developing young men of exceptional spirit, character and academic rigour who are guided by professional and dedicated staff.
Beyond its people and its programs, the environment in which learning takes place is also crucial. A school's classrooms, research areas, collaborative working spaces and co-curricular facilities provide the space for engagement and learning. We strive, therefore, to provide world-class facilities to support student learning and educational practice.
However, how can we know that the building programmes we see in schools around the world will result in improved teaching and learning for our students? Does the classroom space make a difference? This has been an area in which, as a school, Churchie has sought to investigate over several years. What we have found has informed the most ambitious building project undertaken in the school's history.
By way of background, there has been a resurgence of interest in classroom and school design. This has highlighted just how little we know about its impact on teaching and learning. Historically, literature in this area has focused on the design of buildings rather than their actual use—the pedagogies and learning experiences that occur on the inside. Furthermore, there has been a lack of research methods capable of measuring, empirically, the impact of the physical learning environment on teaching and learning. A pressing concern to the school leadership was for future financial and human investment to be considered and support our exceptional staff to create those learning experiences that we know have the greatest positive impact on our students' learning.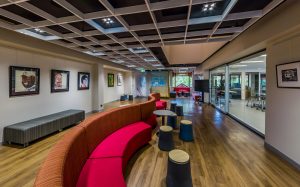 To develop a methodology for researching the impact of learning spaces, Churchie's Dr Terry Byers partnered with Dr Wesley Imms, associate Professor at the University of Melbourne, to create the New Generation Learning Space (NGLS) project. Between 2011 and 2016, NGLS completed four studies to produce an approach, and a suite of tools to measure the pedagogical impact of different learning environments.
This novel approach isolated the impact of different learning environments to examine how they influenced student and teacher activity. We discovered that considering the impact of the physical learning environment on learning, how it is inhabited and used, is at least as important as its physical design and fit out.
Beginning as a pilot study of a single retrofitted classroom in 2011, at no additional financial cost to the school, the study expanded to a major building refurbishment. This phase saw the completion in 2016 of a flagship precinct that houses arts, design and tehnology areas; the Hayward Midson Creative Precinct. The spaces created by the refurbishment of two adjacent buildings embody a dramatic application of the principles of innovative learning environments. They are multi-modal and technology-infused, with flexible layouts to shift learning from traditional or teacher-dominated spaces to something that is focused on students. The spaces are adaptive and purposeful, giving users the ability to move elements and shape the space to their own environments.
The NGLS project provided an iterative and longitudinal process of evaluation of not only the design, materials, and technologies that worked (and those that did not), but also the pedagogical return on improved student learning experiences and outcomes. It also developed the knowledge and skills of its teachers. By this time, the NGLS project and the partnership with the University of Melbourne had become reinforced by two Australian Research Council (ARC) Linkage Projects and the 2014 Melbourne Graduate School of Education Research Partnership Excellence Award.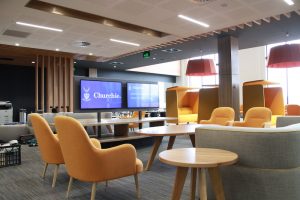 A key finding of the research at Churchie was that the practice of teachers in the new learning space neither conformed to traditional or progressive pedagogical models. The greatest academic gain was observed by those teachers whose dominant pedagogical approach was best described as full-guided instruction. Repeated lesson observations revealed that teachers significantly refined their explicit instructional approach, in contrast to the overtly didactic, whole class and lock-step instruction observed in a traditional layout (static desks arranged in a set layout facing the front of the room).
A greater prevalence of formative evaluation elicited through class discussion and questioning refined the explicit instruction of concepts to address gaps in student understanding. The refinement of this instruction then led to a greater prevalence of responsive student-led and informal learning experiences in different communities of learning (individual, pair and small class) and spatial settings. Teachers had increased opportunities to move about the space and provide more focused instruction and feedback to individual students. In fact, greater differentiation of learning was observed, not because of the spatial design, but the process of evaluation providing the impetus for reflection, feedback and professional growth for all teachers.
Dr Terry Byers and Associate Professor Wesley Imms have recently published an article in Learning Spaces (2017 Issue 3:3) about the Hayward Midson Creative Precinct. However, the most recent and dramatic change to the Churchie landscape has been a new building project—our largest and most ambitious—which has, as its foundation, the impactful knowledge gained from the New Generation Learning Space project.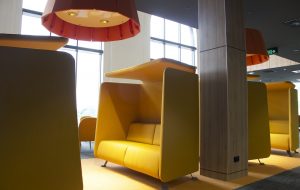 The Centenary Library brings together several Churchie departments that are all focused, in their own way, on the delivery of an educational, pastoral, or technical service to the academic life of our students. Operating as a tertiary-inspired library environment, with extended operating hours, there are many dozens of learning spaces that have been informed by our research. The Centenary Library seeks to promote creative, flexible, and effective approaches to thinking and learning. Students may participate in a range of activities and communities of learning that extend from an individual through to mixed aged classes. In addition to large class learning areas, there are numerous small group study rooms and over 80 individual learning places.
The Centenary Library is also a vibrant research site where the learnings and measurement processes developed by the New Generation Learning Space project actively monitor and assess the way in which students are using the rooms and teachers are delivering their classes. I was proud to announce last year Dr Terry Byers' appointment to the newly created role of director of The Centenary Library. As we embark on our second term of schooling within this building, Dr Byers will continue to review how students are using the spaces, how teachers exploit the affordances for pedagogical gain, and how The Centenary Library benefits the wider Churchie and educational community.