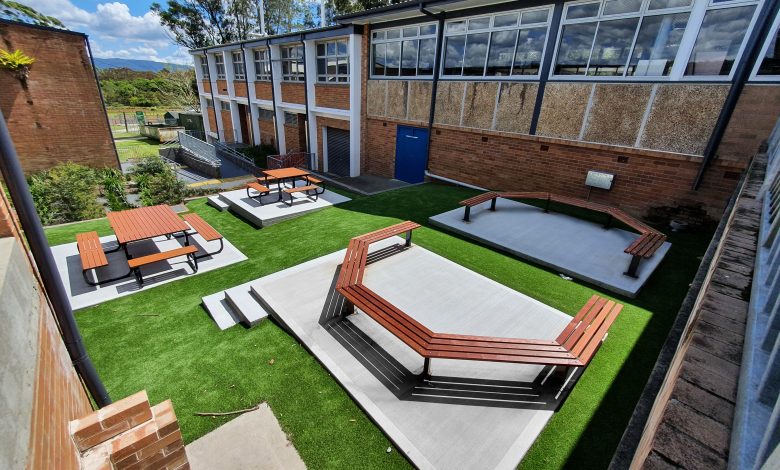 Spending time outdoors has proven benefits for mental and physical wellbeing. There's something intangible about being out in the fresh air, especially on sunny days, feeling the breeze in your hair and smelling the grass that never fails to lift even the gloomiest of moods. Outdoor space can be especially important in schools, where students and staff spend most of the school day indoors. The setup of outdoor spaces then, is critical, for students and staff to come together during break times, to relax their brains, socialise, and rest, ready for the next class. 
Read the Term 3 edition of School News HERE
Given the importance of outdoor rest space in schools, the next question is logically – what is the best way to set up that space? Each school will be different, depending on the size of your roll, the nature of the outdoor space, and how the space will be used. 
Some schools double outdoor seating areas as outdoor classrooms. Bringing lessons outside can expose children to extra fresh air and sunlight during their school day, and provide a welcome change to the classroom.
Outdoor furniture can be picked to accommodate collaborative work during outside learning activities. Large picnic tables are popular for this reason. They can be the usual rectangular model or the pentagonal shape, which works to create natural groups of up to 10 or even 15 students at a time.
These large tables can be used by students to both socialise during lunchtimes and do group work in class time. Teachers can take advantage of such seating to break classrooms into teams of students for a given activity. Smaller tables that seat four might be a more natural choice for a smaller sized school.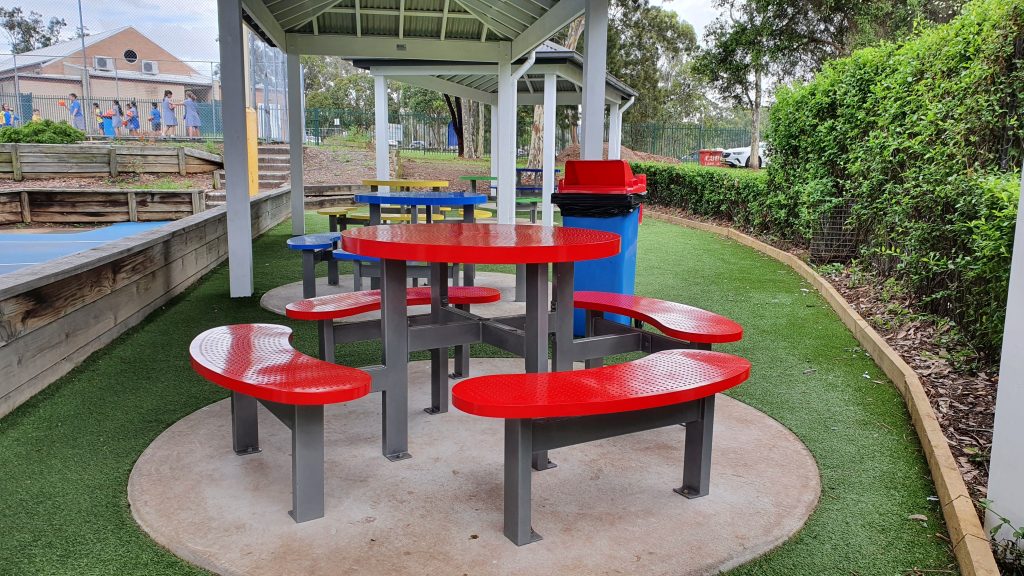 For teachers and principals wanting a more portable solution to outdoor spaces, stackable or modular bench seating might be an attractive option. These benches are lightweight and portable, often made of a durable aluminium that can withstand knocks and the general wear that comes with movement. There are also durable plastic options that come in fun colours and shapes which may give younger students a kick during outdoor time as well as bringing colour and vibrancy to the space. Plus, with the modular options, arrangements can be endlessly customisable so students can sit in pairs, all the way up to large circular arrangements.
In Australia, where the sun can be harsh and the rain torrential, sheltered outdoor spaces are crucial. Outdoor furniture for schools often have options for a small shelter attached to the seating. This creates a shaded spot for eating lunch, or outdoor work. Outdoor shelters can also be purchased separately and placed over existing furniture to add to the comfort of the space.  
Lindsay Stead from Astra Street Furniture said steel framed and aluminium outdoor furniture offer the strength that schools need, and the durability for long term function and good looks.
"The shape or profile of the seating is important to consider, not only for aesthetics to make your school look good but also for safety in the school grounds. Year-round comfort is achieved through choosing the right material for the location, for example timber is great for undercover areas whereas aluminium is best for more exposed locations out in the weather."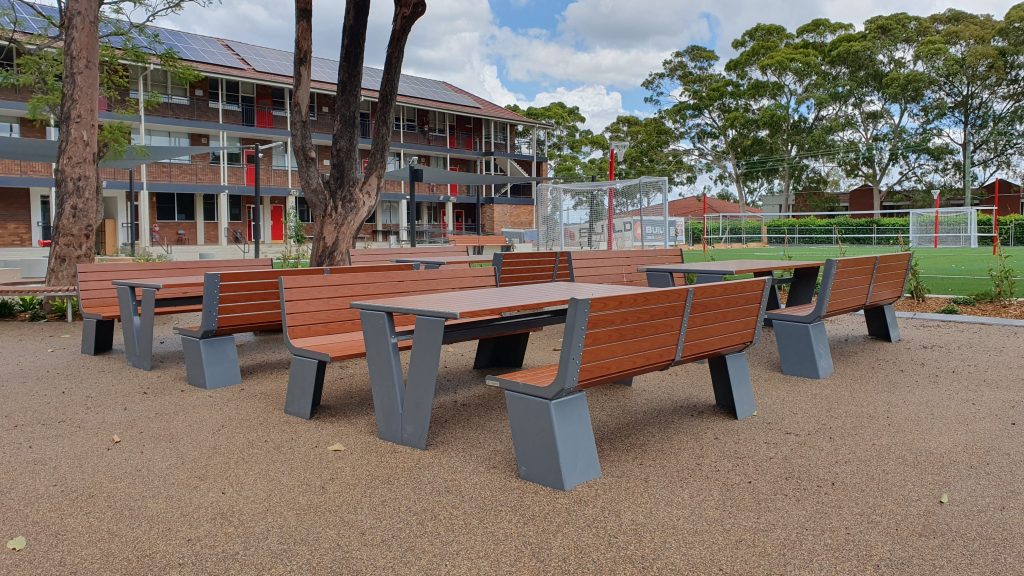 "Most schools notice how students rally to group together for a catch-up during break times. Four-sided table settings are essential for fostering this group spirit to improve positivity and wellbeing."
Mr Stead said schools should consider whether the location needs the flexibility to move seats, or needs the security and tidiness of fixed outdoor furniture. Seats and table settings are available in free-standing or bolt-down/in-ground options. 
"The most appropriate material to use for outdoor furniture is very subjective as there is a broad range of situations at schools. Timber is a natural material with low carbon content and is close to nature for a more sensory, natural theme in softscape areas. If used on hardscape areas, timber will leach tannins which stain surfaces and will also require maintenance to keep it looking good.
"Aluminium is a long-lasting maintenance-free material and is easy to clean making it ideal for schools. Plastic or recycled composite materials are similar to aluminium for low maintenance, but they can be heavy, tend to soften in the sun and do not stay perfectly straight."